Missouri Journalism Students to Gain Hands-On Experience Covering Dec. 27 Bowl Game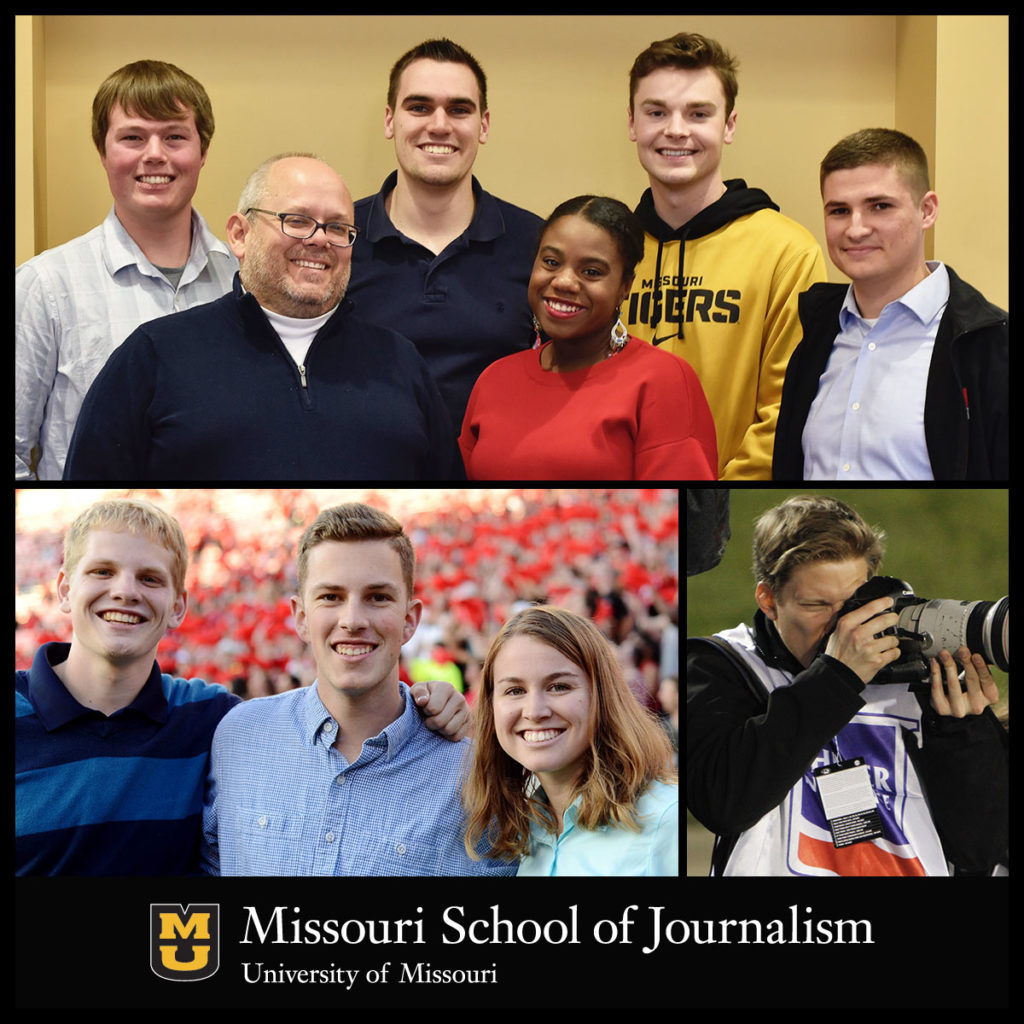 At top, the KOMU-TV team. Left to right: senior Joey Schneider; Randy Reeves, KOMU news director; seniors Ben Burke, Chelsea Haynes, Justin Kollar and Matt Vereen. Bottom-left, the team from the Columbia Missourian. Left to right: juniors Peter Baugh, Tyler Kraft and Anne Rogers. Inset at lower-right: Emil Lippe, senior.
Columbia, Mo. (Dec. 18, 2017) — Advancing to a bowl game is a dream for college football players, but also for the journalists who report on them.
Students from the Missouri School of Journalism, who covered the Missouri Tigers (7-5) throughout the 2017 season for KOMU-TV and the Columbia Missourian newsroom, will arrive in Houston in time to cover the Texas Bowl on Dec. 27. The Missouri Tigers, who will face the Texas Longhorns (6-6), last played in a bowl game in 2015 when they beat the Minnesota Golden Gophers during the Citrus Bowl.
Student journalists plan to report on the game and players from the Houston area, but also intend to provide news coverage about the impact of (and recovery from) Hurricane Harvey, which devastated the city in August. In addition to writing stories, they'll shoot photos from the field and post updates to social media in the press box alongside veteran journalists. The Missourian team will produce a special bowl game section that will be published on game day.
Although the students gain much in the way of "Missouri Method" hands-on experience covering home and away games throughout the season, new challenges and opportunities await them as they prepare to work in an unfamiliar city and an NFL stadium.
"We will have a tight deadline for the game because of its late start time, and I'm looking forward to challenging myself with that," says junior Peter Baugh, a Missourian reporter from St. Louis who traveled multiple times for football game coverage this season.
"I'm hoping to build on where I need to improve my storytelling abilities and improve as a videographer," adds senior Joey Schneider, a sports reporter from KOMU, who started volunteering for the NBC affiliate as a freshman, helping with social media for the station's high school football segment "Friday Night Fever."
As KOMU and the Missourian newsroom leaders give students final directions, they know the young journalists are ready.
"They've all been great team players here," says Randy Reeves, KOMU news director. "They've been the kind of kids who don't just do the minimum. They are the guys who are stepping up to do tasks that are sometimes not that glamorous…anybody who is covering something this big has earned their spot by working hard otherwise."
"They got pretty deep into coverage during the season, so this is kind of a reward. They get to take a trip," adds Pete Bland, Missourian sports editor. "I'm just hoping they continue their strong coverage. They did a superb job this semester. I think it's just an opportunity to end on a strong note."
KOMU and the Missourian will pay the students' expenses as they travel to Texas. KOMU students will drive station vehicles and stay at the designated media hotel in Houston. They'll "rub shoulders" and network with other sports reporters as they cover game-related events at the hotel, such as news conferences and media luncheons, says Reeves. The Missourian team plans to stay with a photojournalism student who lives in Houston.
Since the students must be in Houston prior to Dec. 27, their jobs will disrupt holiday plans a bit. For now, they're too excited and thankful for the opportunity. "Journalism isn't a routine job," says Missourian reporter Anne Rogers, a junior from Des Moines, Iowa, majoring in journalism. "It's not a 9-to-5 job, so it's preparing me for the future."
The students are also looking forward to following their Southeastern Conference team to Texas and watching them play a former Big 12 rival.
Missourian photographer Emil Lippe, a senior from Dallas studying journalism with an emphasis in photojournalism, says he has several friends who attend the University of Texas. "One of my best friends graduated from UT last year, so we're getting to see our schools go head to head," he says.
The Missouri-Texas game will be broadcast on ESPN at 8 p.m. (Central) on Wednesday, Dec. 27.
Updated: October 26, 2020
Related Stories
Expand All
Collapse All
---