Columbia Missourian, Missouri Journalism Students Clean Up at Associated Press Sports Editors National Contest
Multiple Students Are Recognized for Their Work at the Missourian
By Nathan Allen
Master's Student
Columbia, Mo. (Feb. 28, 2011) — The Columbia Missourian won five top-10 writing awards in the 2011 Associated Press Sports Editors (APSE) annual award competition. That total topped any newspaper in the under-30,000 circulation division in the national contest.
The Missourian is a community newspaper produced by students at the Missouri School of Journalism and managed by professionals.
From left: Len Goldman, Will Guldin, Dieter Kurtenbach, Robert Mays, Erica Mendez, Joan Niesen, Alex Ruppenthal, Pat Sweet.
---
"This isn't the kind of success that happens overnight," said Tom Warhover, the Missourian's executive editor. "Most days, it shows in the digital and print pages of the Missourian. This time, it showed in this amazing run of awards from APSE."
The Missourian sports section and "Tiger Kickoff" both received recognition in the under-15,000 circulation division in the categories of "Best Daily Section" and "Best Special Section," respectively. Graduate student Erica Mendez designed "Tiger Kickoff."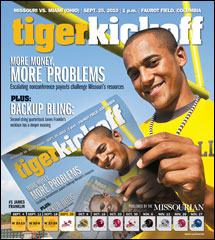 Four students received top-10 awards for their individual stories. In the under-30,000 circulation division for feature writing, Robert Mays, BJ '10, was recognized for an article he wrote as a senior, "Former MU Wide Receiver Danario Alexander Used to Challenges," In that same category, senior Len Goldman was recognized for his article, "Senior Forward Muscles Past Hearing Loss On Court and Off."
Two students placed in the top 10 in the under-30,000 circulation division for explanatory stories. Graduate student Joan Niesen's article, "MU Paying Big Bucks for Nonconference Opponents" and senior Alex Ruppenthal's article, "College Coaches Finding Ways to Monitor Athletes' Social Networking Activity," were both recognized.
Placing in the top-10 in the under-30,000 circulation division breaking news category, Goldman and Niesen worked with Dieter Kurtenbach, BJ '10, and seniors Will Guldin and Pat Sweet to report and write "Derrick Washington Suspended Indefinitely from MU Football Team."
"This is wonderful news," said Greg Bowers, associate professor and the Missourian's sports editor. "Any sports department success is a team success, and I couldn't be prouder of the team of student designers, reporters and photographers at the Missourian, along with the professional editors who guide them."
Grant Hodder is assistant sports editor of the Missourian.
Updated: May 20, 2020
Related Stories
Expand All
Collapse All
---