Columbia Missourian: 'Significant' Revenue from Google Surveys
Feedback from Readers and Advertisers Has Been Positive, Marketing Manager Says
By Catherine Payne, NAA Content Producer
Originally published Dec. 3, 2014. Republished by permission of NAA.
Are readers willing to pay for newspaper digital content with money or time? One daily newspaper found out that the answer is yes.
Since June 23, the Columbia Missourian has been using Google Consumer Surveys to generate revenue. Readers can access digital content by paying a membership fee or by answering a short survey through a Google program.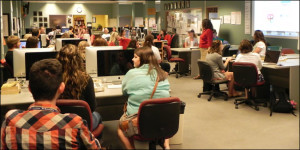 "We're very happy with how it has worked out," Bryan Chester, marketing manager at the Missourian, said in a phone interview last week. "We're proponents of this."
The Missourian, managed by professional editors and staffed by Missouri School of Journalism students, turned to Google surveys because its 24-hour paywall did not produce desired results.
The 24-hour limit for free content at ColumbiaMissourian.com had a negative effect on Web traffic, Chester said.
In addition, the time meter was not conducive to sharing content on social media. By the time a story went viral on social media, which could take a couple of days, the content would be behind a paywall, Chester said. People did not see value in becoming a member to access that specific content, he added.
The Missourian looked at survey systems used by the Steamboat Pilot & Today in Steamboat Springs, Colorado, and especially the Albuquerque Journal in New Mexico, which also has a membership model.
The Missourian started using surveys, which members can avoid, in June after a brief delay. There were about two weeks of back and forth with Google, which manages the back end, Chester said. It took time for the Missourian to implement the code on its website as an accompaniment to the membership model, he added.
Market research firms pay Google 10 cents for a completed survey, according to the Missourian. The search engine giant pays the newspaper 5 cents for a survey response. Google has said it does not access personal information.
Survey Questions

Dan Potter, general manager of the Missourian, said the survey questions are "harmless" and "kind of fun to answer."
"We haven't had anything whatsoever risque that would bother us with our readers," Potter said over the phone last week. "Other newspapers never had a problem."
I agree that the surveys are not onerous or too personal. When I clicked on a story Tuesday, I got the question "Imagine you are searching for a new job. If you could use only one job website which would you use?" For another story, I got the question "In the past 30 days, how often have you used Google Maps?"
The one- or two-question surveys appear on desktop and laptop computers as well as on tablets.
Google said it will experiment with mobile on 10 to 15 percent of impressionable pages, Chester said. "We have not seen a lot of revenue from that yet."
Results
The Missourian's survey model has been well-received, Chester said. The student body is happy that the site remains as open as possible while generating revenue, he added.
"Page views are up about 20 percent since the end of our time-metered model," Chester said. There is greater potential to gain page views through social media, he added.
"We've seen a steady increase in revenue over the first four months of the program," Chester said.
Potter said the revenue stream was immediate. When I asked if he could share an exact number, he said the amount was "Significant. It is like replacing the revenue that an additional ad rep would bring in each month."
Chester said advertisers have responded well because the website's growth means greater reach for them. "Advertisers that are paying a flat rate are getting extra impressions at no extra cost," he added.
Next Steps
"We'll continue to use surveys as long as they continue to be a significant revenue source," Chester said.
Chester said the Missourian is a laboratory for the industry so they are happy to help other news organizations learn about the program.
For more information, contact Potter.
Updated: July 31, 2020
Related Stories
Expand All
Collapse All
---