Strategic Communication Students Help Columbia Missourian Set a New Sales and Page Count Records for Centennial Homecoming Special Edition
Columbia, Mo. (Oct. 18, 2011) — Strategic communication students in the media sales class helped the Columbia Missourian's advertising department set new page count and total sales records for the annual Homecoming special supplement.
This year's 56-page edition, "A Century of Coming Home," was twice as large as the 28-page issue published in 2007.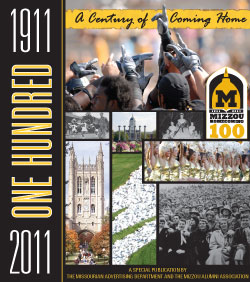 "I'm very proud of the efforts the students made in selling for the Homecoming special section," said James Sterling, the Missouri chair in Community Newspaper Management. "This section, because of its online component, gives the students experience in talking with clients about both print and digital." Sterling co-teaches the class with Brad Best, the advertising editor of the Futures Lab at the Reynolds Journalism Institute.
Senior Caitlin Brandel was one of the 19 students who helped the Missourian's full-time ad staff beat the previous record.
"It was good to get pushed out of my comfort zone and call on business owners," she said. "I was their main contact at the Missourian. Now I feel like I could go in and talk to them like we are good friends."
Missourian advertising director Jack Swartz noted that the students were actively involved in the entire sales process, from setting the appointment, to pitching the product, to closing the sale, to working on the ad design.
"The nice thing is that once the product is published, students have an excellent tool, both in a print and digital format, to show to prospective employers after they graduate," he said.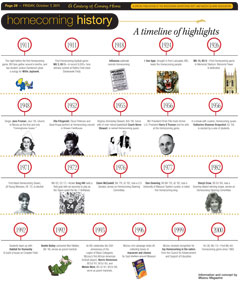 The Missourian's advertising department and the Mizzou Alumni Association developed the editorial and advertising content. Highlights of the supplement included:
A complete schedule of events.
Background on Chester L. Brewer, the father of Mizzou's century-old Homecoming tradition.
The history of Truman the Tiger.
A timeline of Homecoming highlights.
Information about game day transportation and parking.
Homecoming royalty.
Articles about various Homecoming activities.
The special section was distributed in the Missourian, by MAA and to area hotels and retailers. A digital version also was produced in a partnership with the MAA to email to alumni.
Updated: June 4, 2020
Related Stories
Expand All
Collapse All
---