Journalism Students Contribute to, Participate in 2016 Homecoming Activities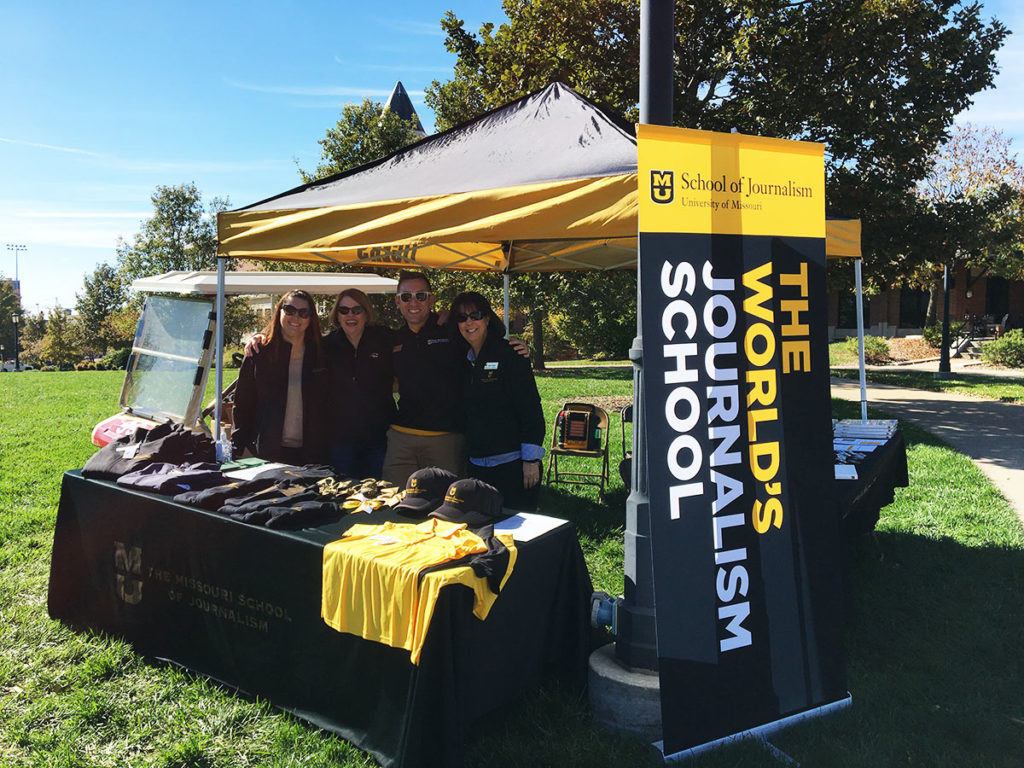 The Festivities Offered Events for Students, Faculty, Staff and Alumni
By Madeline Jones
Columbia, Mo. (Nov. 1, 2016) — Missouri School of Journalism students showcased their talents as part of the University of Missouri's 105th Homecoming celebration titled "A Tail of Tradition." The festivities included the creation of the 2016 Homecoming Guide and honoring an alumnus, as well as the selection of students for Homecoming royalty and the Steering Committee. The School's faculty and staff also greeted alumni and guests at the event's headquarters on Traditions Plaza.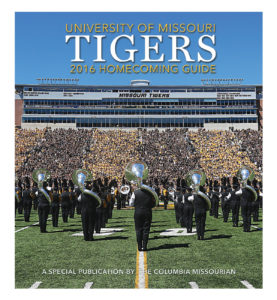 The 2016 Homecoming Guide
Students studying news reporting and students studying media sales combined their expertise to publish the 2016 Homecoming Guide at the Columbia Missourian.
The 64-page guide was written entirely by students in Associate Professor Jeanne Abbott's news reporting class. Features included tailgating recipes, a three-page feature story on the MU baton twirler and 20 years of homecoming game scores. Alumni memories and information about opponent Middle Tennessee State University as well as information about the Homecoming parade, decorations, candidates and other traditions were added as well.
Students in Professor Jim Sterling and Assistant Professor Brad Best's Advanced Media Sales class sold $6,855 worth of advertising revenue for the guide, the most students have ever sold for the publication.
"For reporting students, it gives them sort of a themed school topic. "There's personal interest there," said Bryan Chester, marketing manager at the Missourian. "For the media sales students, it gives them a very practical, useful set of skills."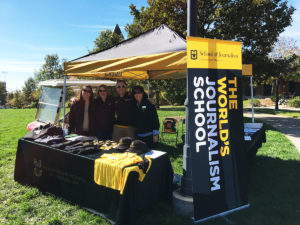 Mizzou Homecoming Hall of Fame
David Novak, BJ '74, was one of three inaugural alumni inductees into the Mizzou Homecoming Hall of Fame sponsored by the Mizzou Alumni Association. This new Homecoming tradition is designed to honor high-achieving alumni who have demonstrated excellence in their chosen field. Novak is the executive chairman of Yum! Brands, the world's largest restaurant company. He is also a best-selling author and philanthropist. As an inductee, Novak was recognized throughout the weekend and served as a grand marshall of the Homecoming parade.
Homecoming Royalty
Mary Kate Kelly, a senior strategic communication student, was one of five candidates for Homecoming queen. Representing Mizzou Alternative Breaks, Kelly was chosen based on her contributions to MU and performance at two interviews.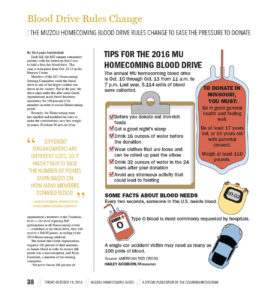 2016 Homecoming Steering Committee
Seven journalism students served on the prestigious Steering Committee. Lillie Heigl, Miranda Lee, Maddie Lupori, Katie Rinehart, Cameron Rolf, Jacob Scholl and Hanna Yowell – along with 31 MU students from other schools and colleges – organized and executed multiple Homecoming-related events such as the parade, talent show, food drive and largest student-run blood drive in the U.S. This year the MU community collected 4,374 units of blood.
Lee, Rinehart, Rolf and Yowell served on the Public Relations Committee. Some of their tasks included formulating marketing and public relations strategies to reach alumni, designing the website and managing MU Homecoming social media accounts and other promotional efforts.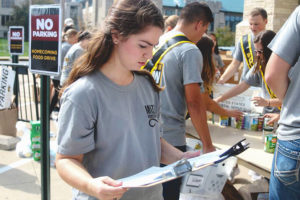 "My journalism education has more than prepared me for this role," Lee said. "The Missouri Method has allowed me to use what I've learned in class to assist in making the 105th Homecoming at Mizzou the best yet. Everything we do as part of the Steering Committee is based off of technique and strategy, all of which we have learned in class."
Tail of Tradition Homecoming Headquarters
The area outside sterling was transformed into the Homecoming Headquarters on Friday, Oct. 21, where students, staff and faculty greeted visiting alumni. The Journalism School participated this year by setting up a tent to welcome returning alumni and other friends. Alumni were given a journalism alumni pin, copy of the School's commemorative book and had the opportunity to purchase special apparel items such as cashmere sweaters, hats and polos.
Updated: October 6, 2020
Related Stories
Expand All
Collapse All
---