MU Students Develop Plans to Boost Weston Business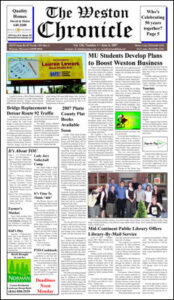 Columbia, Mo. (June 28, 2007) — This summer, Missouri School of Journalism strategic communication students spent a week in Weston, Mo., developing promotional campaigns to increase tourism in the small town just north of Kansas City, Mo. The course, "Creating and Implementing Effective Strategic Communications: A Hands-On Experience," is taught by Craig Ligibel, BJ '70, MA '71, retired president of VML, a worldwide advertising and marketing agency based in Kansas City. West Valentine, a Kansas City marketer and author, joined Ligibel this year in working with the class. VML also assisted with research and implementation during the project.
For each of the eight years Ligibel has taught the course, he has taken a small group of talented students to a local Missouri town. There, they set up a mini-advertising agency, working with the community and local merchants to research and develop better advertising and promotions strategies. Past course locations have included Rocheport, Salisbury, Marshall, Carrollton, Trenton, Clinton and Harrisonville, all in Missouri. The following is a local account of the students' work that appeared in The Weston Chronicle.
---
By Beth McPherson
The Weston Chronicle
Plans to encourage both hometown and tourist shopping could be put into motion this summer, following a study by students in the Missouri School of Journalism's strategic communication program.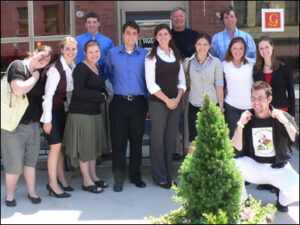 The students and their mentor spent May 14-18 in Weston, Mo., staying at the hotel and a bed and breakfast, talking with residents and tourists and soaking up the flavor of the town.
The class performed online and live surveys and developed programs to boost community pride and visibility throughout the Kansas City area.
Craig Ligibel, leader of the 10-student group, said the purpose was to give the students first-hand experience helping businesses develop promotions plans.
"We wanted to help Weston merchants better serve Weston residents and help make it a tourist destination," he said. "What we have are ideas and concepts, not ads. We're working to think in strategic directions."
Ligibel is one of the founders of VML in Kansas City. One of his former partners, John Valentine, attended the presentation on Friday. Also at the presentation were West Valentine, who assisted through the week, Jim Sterling, who holds the Missouri Community Newspaper Management Chair at the School and Kathy Sharp, strategic communication assistant.
"We were blessed with a lot of information," Ligibel said, pointing to a number of studies done in the last year. "Weston is a very introspective town."
In introducing the students and their results, Ligibel cautioned merchants that there are no magic bullets, no one thing that can do the job.
"Weston is blessed with about 10 different major attractions," he said. "There are so many things here. Any town would kill for just one or two of them."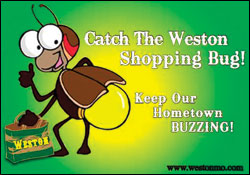 "You're doing lots of things right," he noted. "We're thinking about ways to move ahead and offer fresh insights."
Students Laura Blood (who will be back in town for a six-week internship*) and Matt Taylor focused on a "Shop at Home" campaign. Their project was to try to bridge the gap between businesses in Weston and the potential customers who live in the area.
In surveys, Blood and Taylor found that residents would shop in Weston if more products were available. People said businesses had good or excellent customer service and were friendly. They wanted more stores, variety and better prices.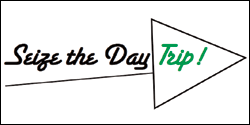 The two said merchants needed to let shoppers know what was in it for them – keeping money in town, feeling pride in their community, and knowing that merchants love the town, not because it is a very lucrative economy.
Playing off the former logo for Weston, the students designed a lightning bug logo with the phrase "Catch the Weston Shopping Bug! Keep Our Hometown Buzzing!"
Possible campaigns include a rewards program, "Show the Glow/Second Saturday Kickoff," a firefly catching contest and a "Where's Wally" scavenger hunt.
Tourists
Students Erin Willis and Tara Smutz encouraged merchants to start marketing to a broader, younger demographic (ages 25-45) because they enjoy quality dining, unique shopping, special events and a break from the grind.
Willis and Smutz suggested using Web sites, banner ads, blogging, MySpace and YouTube to raise awareness among that age group, in addition to the town focusing on day trippers.
Their suggested logo features an arrow and the tag line, "Seize the Day Trip!" They also incorporated it into print ads and suggested it could be used for bumper stickers and t-shirts.
To review the results of the studies or provide feedback on the campaigns, contact the paper or the Weston Chamber of Commerce. To learn more about the "Creating and Implementing Effective Strategic Communications: A Hands-On Experience" course, please contact Kathy Sharp at the Missouri School of Journalism.
*Blood won a $1,500 marketing scholarship offered by Ligibel that allows her to return to Weston and help implement the strategies developed by the class.
Updated: April 17, 2020
Related Stories
Expand All
Collapse All
---