Missouri Alumni in Hong Kong Welcome Dean David Kurpius
Mizzou Strengthens International Ties in High-Growth Asia Pacific
Hong Kong (March 11, 2016) — Dean David Kurpuis made his first international visit as head of the Missouri School of Journalism to Asia Pacific, where he was greeted by University of Missouri friends and alumni in Hong Kong.
The welcome reception drew a large, highly-diverse group of MU graduates working in a broad range of respected media organizations, including Reuters, The Wall Street Journal and Forbes Asia; leading global corporates such as Alibaba, Onkyo, Nomura, FleishmanHillard, Deutsche Bank, and Ogilvy; as well as government and academic circles. Some alumni traveled from Beijing and Taipei to join the event, which was held at The China Club, overlooking Victoria Harbor and the heart of Hong Kong's vibrant business center.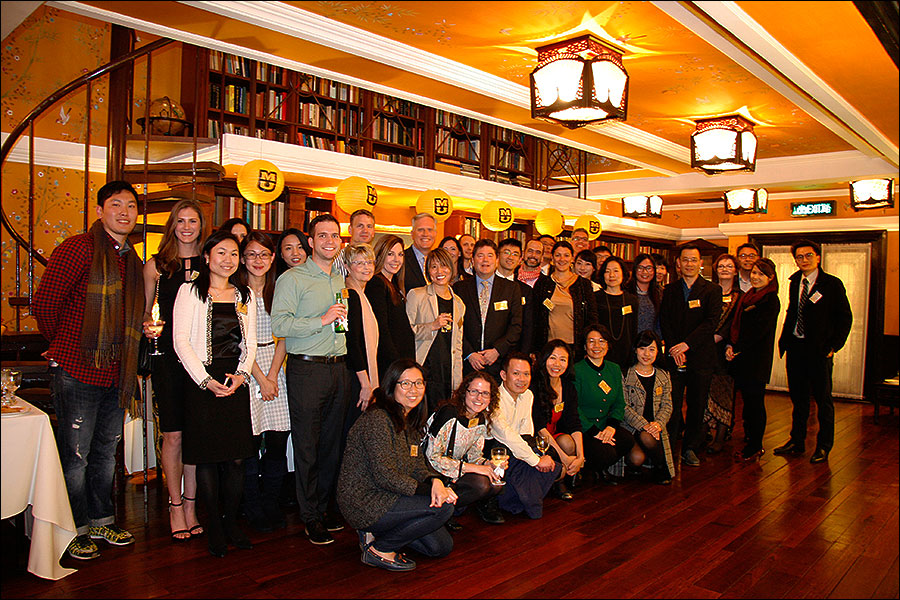 In his remarks, Kurpius underscored the strategic role of the Asia Pacific region in journalism and strategic communication, and pointed to the School's long history in China as part of the international vision held by Walter Williams, founder of the world's first journalism school on Sept. 14, 1908. Williams came to China in 1921 to help establish a journalism school at what is now Peking University where communications has grown as a robust part of the curriculum.
"Today, we are building on our mutual cooperation with Peking University as well as strengthening active partnerships with Hong Kong Baptist University, Hong Kong University and Chinese University of Hong Kong," said Kurpius. "We are committed to further internationalizing the focus of 'the world's journalism school' through a number of innovative programs and partnerships that enrich learning through real-world experience and increase opportunities for our students. The ongoing internship program with McCann Erickson in Hong Kong and other business hubs outside the U.S. is a prime example of this, and there are many more in development."
Kurpius added, "We are also intent on attracting the best and brightest students from this region to our campus. The success of our impressive Asia Pacific alumni is testament to the quality of the MU J-School experience."
The event provided an opportunity for Kurpius to share recent news and highlights, such as the more than 560 awards won by the Missouri School of Journalism just last year, including a national Edward R. Murrow and an Online News Association General Excellence Award. He also described the continuously evolving creativity and innovation being demonstrated daily by MOJO Ad and AdZou students through integrated communications campaigns for actual corporate clients, as well as the competition currently underway to develop new apps for the Apple Watch.
The event was hosted by longtime Hong Kong resident and third-generation MU alumna, Lynne Anne Davis, BJ '87, whose grandmother graduated from the School of Journalism in 1932. Davis is the president of Asia Pacific for FleishmanHillard, a global strategic communications agency, headquartered in St. Louis, and oversees its expansive network of 17 offices in 10 Asia Pacific countries.
"The J-School experience set me on a course that brought me here today: doing what I love in a place with unlimited opportunity for the power of strategic communication as Western brands invest in Asia and Asian brands expand to the world," Davis said. "It's a thrill to be surrounded by such impressive fellow alums half a world away from Columbia. The Mizzou spirit and influence is alive and growing in Asia."
Kurpius began his tenure as the School's ninth dean on July 1, 2015.
Updated: September 16, 2020
Related Stories
Expand All
Collapse All
---