After Missouri Governor Resigns, Missourian Reporters Tell Underclassmen How They Covered One of the Biggest Stories of the Year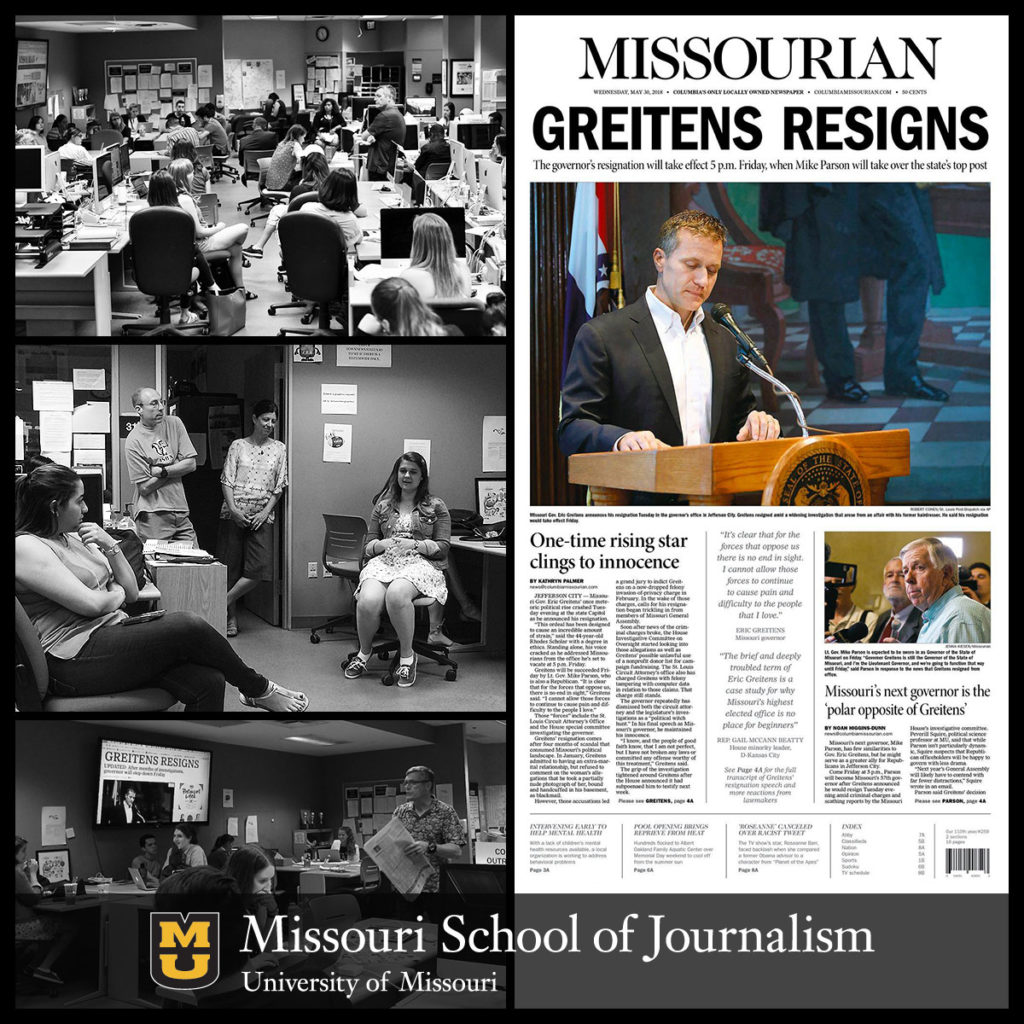 The recent resignation of Missouri Gov. Eric Greitens provided a group of Mizzou undergraduate students with an unplanned, breaking-news opportunity to interact with other journalism students covering the story and see firsthand how the Missouri Method – learning by doing – yielded deadline-driven results.
By Nate Brown
Columbia, Mo. (June 8, 2018) — For a group of sophomores, breaking news turned a routine class trip to the Columbia Missourian into a master class on the Missouri Method.
During the Missourian's daily budget meeting, the introductory news students heard from the reporters and editors who worked on the big story of the day: the resignation of Missouri Gov. Eric Greitens.
News Editor Elizabeth Stephens emphasized although rumors began swirling Tuesday afternoon about a possible resignation, the paper was in a wait-and-see mode until Greitens addressed the public.
"The cost of being wrong is higher than [the reward of] being first," she told the JOURN 2100 students.
Graduate student Kathryn Palmer, who wrote the cover story, told the students she was in Jefferson City for a hearing and was preparing to leave when she learned of Greitens' upcoming media conference.
"There was uncertainty to what was going on," she said. "I didn't hear the 'R' word until five minutes before [the media conference] started."
Mark Horvit, director of the Missouri School of Journalism's State Government Reporting Program, commended Palmer on her work to the students.
"It's not luck," he said. "[She] put [herself] in the right place. That's the key."
Print and Digital News student Noah Higgins-Dunn said he was in the newsroom on general assignment when the story broke. His front-page story focused on Lt. Gov. Mike Parson, who became Missouri's 57th governor on June 1. Higgins-Dunn had previously reported on Parson and his possible ascension to governor.
"There are people there to help you" on a large story like this, Higgins-Dunn told the visiting class. In fact, reporters and editors alike praised the group of advanced News Reporting students who made calls and got reactions from legislators to supplement Higgins-Dunn's and Palmer's stories.
"There might be one name on the byline," Palmer said. "But it's seriously a group effort."
That group effort extended to two assistant city editors – graduate student Sky Chadde and undergraduate Titus Wu – who previously covered the state legislature for the Missourian.
"Because it's summer, there are fewer reporters in the newsroom," said Professor Mike Jenner, interim executive editor for the Columbia Missourian. "This is a good example of everybody dropping what they were doing to pitch in to help."
Assistant Professor and Director of Photography for the Missourian Brian Kratzer also commended Kyle Brown, who designed the front page; photo editor and graduate student Liv Paggiarino; and photojournalism student Jenna Kieser, who immediately drove to the state capital for photos.
Even with a newsroom full of reporters, added Higgins-Dunn, "The key is stepping up and saying 'I got this.'"
The lively discussion then shifted to possible articles for the next day's paper – stories that were dropped from Wednesday's issue, the impact of Greitens' resignation on Missouri's U.S. Senate race, Mizzou basketball star Jontay Porter and the NBA draft – and who would cover the transition of power from Greitens to Parson on June 1. It didn't take long for advanced journalism student Matthew Hall to step up and volunteer for the June 1 trip to Jefferson City.
For Hall – and his classmates – it's just another day working the Missouri Method: learning by doing.
Updated: November 4, 2020
Related Stories
Expand All
Collapse All
---