Missourian Front Sports Page Cited as One of the 'Most Interesting Weekend Front Pages' by National Design Critic
The Photo, Headline and Sidebar Treatment Are Described as 'Brilliant'
Columbia, Mo. (Sept. 11, 2012) — "Brilliant" is how designer Charles Apple described the front page of the Sept. 9 sports section of the Columbia Missourian in his blog on the American Copy Editors Society website. Titled "the most interesting weekend front pages," his column ran on Sept. 10.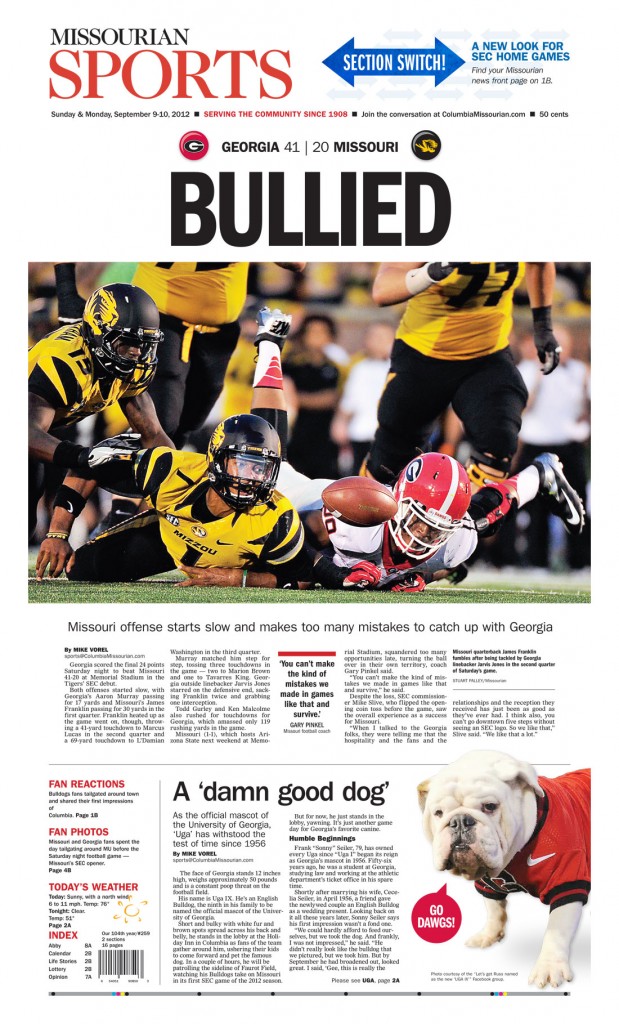 "The lead photo by staffer Stuart Palley: Brilliant. The headline: Brilliant. The treatment of the sidebar about Uga, the bulldog mascot of the University of Georgia: Brilliant," Apple wrote.
"For home football weekends this fall, the Missourian is pushing most of the paper inside and playing up football coverage," he also noted.
The page covered Missouri's 41-20 loss to the Georgia Bulldogs in its Southeastern Conference opener. The headline, "Bullied," tops a full-column photo of one of the game's fumbles. A "damn good dog" feature on Uga, who is pictured wearing a red-and-black Georgia jersey and commenting "Go Dawgs," carries the bottom of the page.
"I was blown away," said Tom Warhover, the Missourian's executive editor. "The two-way arrow above the flag was simple and elegant but – above all – exceedingly clear. The rest of the page was simply beautiful. It shows what print design can really do by way of storytelling."
Warhover credited Erica Mendez Babcock, a new assistant professor and the paper's print design editor, for her leadership. Alexandria Baca was the designer; Stuart Palley, the photographer. Both are journalism master's students.
"It shows what an ambitious group of students can do when led by a talented designer and professor," he said.
Other news media that were profiled in Apple's blog included the Wisconsin State Journal, the Des Moines (Iowa) Register, the Pittsburgh (Pa.) Post-Gazette, the Virginian-Pilot, the Columbus (Ohio) Dispatch, the Dayton (Ohio) Daily News and the Journal Star in Peoria, Ill.
Apple is a freelance visual journalist and instructor. A longtime news artist and designer, he is the former graphics director of the Virginian-Pilot and the Des Moines Register. Apple teaches design and graphics workshops and seminars.
The Missourian is one of the School's hands-on, real-media news outlets and serves a community of more than 135,000 residents.
Updated: June 17, 2020
Related Stories
Expand All
Collapse All
---