$120,577 Donation to MU Honors Journalism Alumnus, Supports Columbia Missourian
Columbia, Mo. (June 5, 2008) — A gift to the Missouri School of Journalism will provide opportunities for students, faculty and staff to gain professional journalism experience at the Columbia Missourian.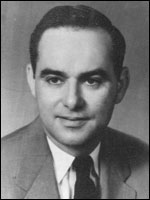 June Reynolds Miller donated $120,577 in memory of her late husband, MU alumnus George H. Miller, BJ '40, to create the George H. Miller Columbia Missourian Endowment Fund.
"George was always fond of MU; he favored it more than the other schools he attended because it's where he became interested in journalism," June Reynolds Miller said. "He thought highly of the professors who mentored him and taught him the 'nuts and bolts' of journalism. I made the endowment in his honor and to provide opportunities for the journalism school."
George H. Miller graduated from MU in 1940 with a bachelor's degree in journalism. He was an honor student and member of Kappa Tau Alpha honor society. He served as an officer in the U.S. Navy during World War II and retired from the Naval Reserve in 1975 as a lieutenant commander. Miller wrote regular columns for The Madison Courier and Weekly Herald in Indiana from 1964 to 1995. In 1957, he began working for the University of South Florida in Tampa, Fla., where he was director of the cooperative education program for 12 years.
"We are delighted by this generous gift in honor of a distinguished alumnus," said Dean Mills, dean of the School. "It will help us provide the invaluable hands-on experience of working under professional faculty editors to continuing generations of Missouri students."
The Columbia Missourian is a daily community newspaper directed by professional editors and staffed by MU journalism students. Students are responsible for reporting, designing and copy editing, as well as compiling information graphics, photography and multimedia for the newspaper. The Missourian debuted on Sept. 14, 1908, the same day classes started at the School.
The George H. Miller Columbia Missourian Endowment Fund supports 100 by 100: The Centennial Campaign for the Missouri School of Journalism. The campaign seeks to raise endowments to strengthen Missouri's position as the world's premier school of journalism. Endowment earnings benefit all areas of the School, including the media laboratories, faculty salaries, technology and scholarships. Outright contributions, estate commitments and planned gifts such as charitable trusts and gift annuities made before Dec. 31, 2008, will be recognized in the campaign total.
Updated: April 28, 2020
Related Stories
Expand All
Collapse All
---