Missouri School of Journalism Kicks Off New Founder's Day Tradition of Giving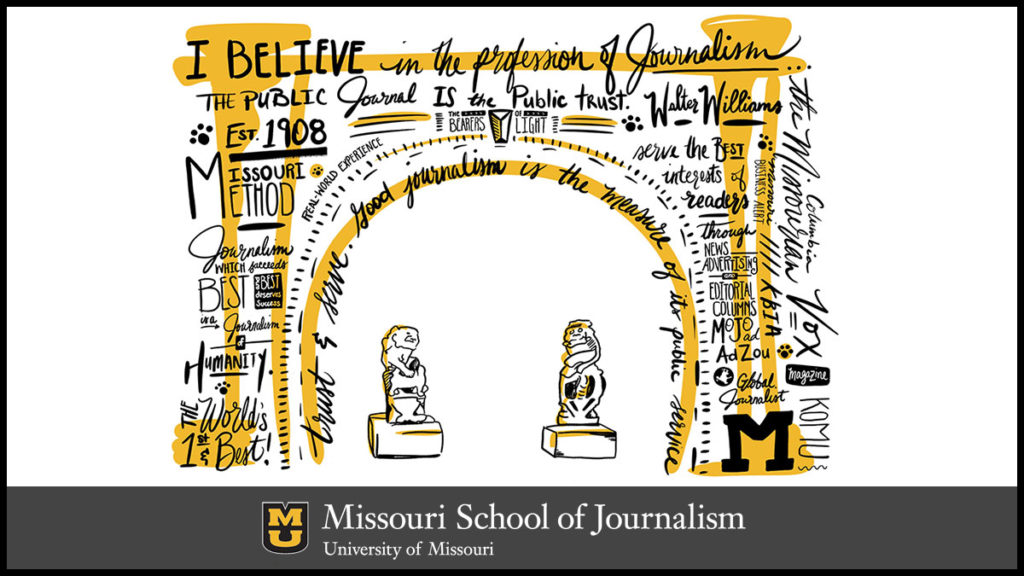 From now through September 14, J-School alumni are encouraged to celebrate their Missouri Method experience and support future generations of students with a gift of $19.08 to the School in honor of its founding year.
Columbia, Mo. (Sept. 10, 2019) — On Saturday, Sept. 14, 2019, the Missouri School of Journalism will celebrate 111 years of the Missouri Method. As part of a new Founder's Day tradition of giving, the School invites its alumni to show appreciation for their experience as a student while supporting future generations of journalists and strategic communicators with a gift of $19.08 to the School in honor of its founding year.
"Support from our alumni is vital to expanding the opportunities we provide our students and strengthening our position as the world's leader in journalism education," said Dean David Kurpius. "Since the Journalism School opened its doors in 1908, the generosity of countless individuals has fueled the Missouri Method and allowed us to award scholarships, recruit world-class faculty and researchers and build new facilities and learning spaces."
Alumni giving is also considered a measure of student satisfaction in national college ranking reports such as those produced by U.S. News and World Report, which means gifts to the J-School help the University remain competitive.
All gifts given in honor of the School's Founder's Day will be directed to the Journalism Annual Fund, an unrestricted fund that gives the School and its faculty the flexibility to both meet ongoing needs and target opportunities that can further enrich the educational experiences of all students.
By banding together in the spirit of Founder's Day, J-School alumni can make a powerful statement about the importance of the Missouri Method and journalism education. If you'd like to take part in this inaugural celebration of giving, make your investment of $19.08 online via the Mizzou Give Direct website.
Anyone who donates $19.08 by September 30, 2019, will receive a high-resolution digital download of the above archway image – designed by Jessica Zabriskie, BJ '13 – as a token of our appreciation for their generous gift to the School.
Updated: November 10, 2020
Related Stories
Expand All
Collapse All
---