New Leadership Giving Program Encourages Alumni Support, Engagement
The 1908 Society Will Help Prepare Students for an Increasingly Dynamic Industry
Columbia, Mo. (Dec. 1, 2016) — The Missouri School of Journalism has launched a new leadership giving program that encourages unrestricted annual investment to support the School's strategic priorities.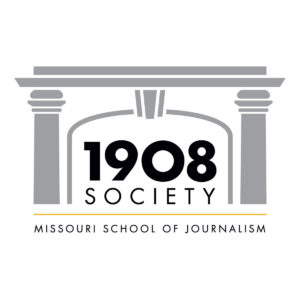 The 1908 Society, named for the year the School was founded, is a network of engaged, committed alumni and friends whose support is focused on sustaining Missouri's leadership in journalism higher education. The Society is among the most direct, positive ways alumni can support the School.
"This funding is essential to our ability to prepare journalists and strategic communicators for an increasingly dynamic industry," said Dean David Kurpius. "To best serve our students, faculty and profession, we need the flexibility of unrestricted funds to direct resources where they are needed most, to seize new opportunities and to address unforeseen challenges."
Membership requires an annual gift to the 1908 Fund for Journalism Excellence – $2,500 for an individual or couple in a fiscal year (July 1 through June 30), or $1,500 for alumni and friends 35 and under, and University of Missouri employees. The gift can be made in pledge installments throughout the fiscal year.
The program is focused on access, information and engagement for members. Supporters receive enhanced communication from Kurpius about what's going on in the J-School, as well as invitations to special events and behind-the-scenes media-focused trips throughout the year that are exclusively for 1908 Society members. Members also are invited to provide input and share insights that can shape the School's future.
Jody and Dick Feldman, both 1978 journalism graduates, are the founding co-chairs of the 1908 Society. They are hopeful that the program will encourage other alumni to be more involved in supporting the School.
"It's more important than ever that those of us who have benefitted from a world-class education help secure the same for current and future students," Dick Feldman said.
For more information, visit giving.missouri.edu/1908Society, or contact Shannon Burke-Kranzberg, director of advancement at 1908Society@missouri.edu.
Updated: October 9, 2020
Related Stories
Expand All
Collapse All
---