Journalism Alumnus John Lesser Honored with Tribute Bench
The Inscription Thanks Faculty for Teaching Him Professional Skills and Ethics
Columbia, Mo. (Aug. 25, 2015) — Jean Lesser wanted her husband's 87th birthday to be a special occasion. Knowing John Lesser's affection for his alma mater, she chose to name a Tribute Bench in the Missouri School of Journalism Courtyard in his honor.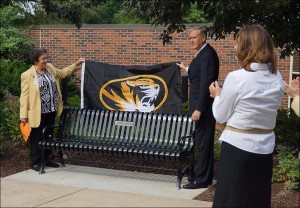 The cast-iron bench, located in front of Neff Hall, honors Mr. Lesser, a 1950 graduate of the School. The inscription, in Mr. Lesser's words, reads, "Thank you to the faculty of the School of Journalism for teaching me professional skills and ethics."
During the Aug. 18 ceremony dedicating the bench, Pete Millier, director of the Mizzou Botanic Garden, recognized Lesser's career achievements. Also on hand were members of the Columbia Chamber of Commerce and the University of Missouri Friends of the Garden.
"John Lesser has spent more than 60 successful years in the advertising and promotions field, serving major corporate clients such as Sharp, Toshiba, Panasonic and Olympus Optical, just to name a few," Millier said. "In 1971 he founded John Lesser and Associates and today continues to consult with Nishiyama Corporation. Mr. Lesser credits the MU School of Journalism with his success and has expressed his pride in our campus and gratitude for the professional skills and ethics that he learned at the J-School."
David Kurpius, dean of the School of Journalism, noted Lesser's bond to the School during the ceremony.
"I understand that years ago, while attending a conference in Kansas City, Mr. Lesser took the time to drive over to Columbia to visit his alma mater," Kurpius said. "While standing between Neff and Walter Williams Halls – likely very close to this spot we're in today – he was overcome with emotion remembering his days as a student. That's a wonderful testament to the power of the Missouri School of Journalism."
The Lessers, residents of Kings Point, New York, were unable to travel to Missouri for the dedication ceremony, but were able to later enjoy a YouTube video of the program.
The Mizzou Botanic Garden, which comprises the MU campus, including 11 thematic and seven special collection gardens, is open year-round and is free to the public.
Updated: September 10, 2020
Related Stories
Expand All
Collapse All
---