Missouri School of Journalism to recognize 84 students at Dec.16 graduation ceremony
The program will begin at 2 p.m. in Jesse Auditorium
The Missouri School of Journalism will recognize 84 students at the 2 p.m. commencement ceremony on Friday, Dec. 16, in Jesse Auditorium. Seating is open and no tickets are required.
A link to a live stream of the ceremony will be available on the MU Graduation and Commencement Live Streaming page.
Graduate degrees will be awarded to two doctoral candidates and 15 master's students.
Of the 67 undergraduates, 28 focused on some aspect of journalism; 39 on strategic communication. A total of 28 graduates earned Latin honors by achieving at least a 3.5 grade point average for the last 50 credits.
The top 10 percent of the School's graduates will be inducted into Kappa Tau Alpha, a journalism honor society founded at the Missouri School of Journalism in 1910. The KTA reception will be held before the ceremony from 10 – 11 a.m., Friday, Dec. 16, in the Fred W. Smith Forum, Room 200, in the Donald W. Reynolds Journalism Institute. The eight new members of Kappa Tau Alpha are:
Master of Arts: Shelby Henderson, Kaili Ward
Bachelor of Journalism: Lilly Beckwith, Taylor Bunch, Ahmad Elsholi, Alexandria Eskijian, Kristina Essig, Claire Hamlin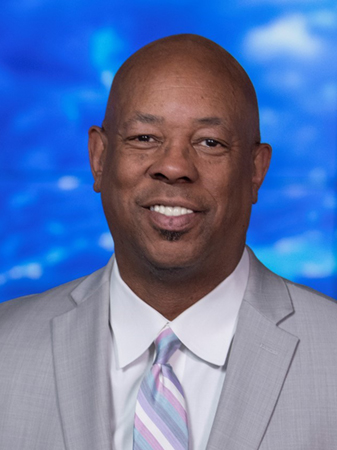 The alumni speaker is Art Holliday, BJ '76, news director at KSDK, 5 On Your Side, in St. Louis, Mo. His broadcasting career spans more than four decades in news and sports, including more than 40 years at KSDK. Holliday came to the station in 1979 and worked as a sportscaster until 1989 when he began a 22-year stint co-anchoring Today in St. Louis with Jennifer Blome. Besides anchoring, Holliday served as managing editor and twice was executive producer of the morning newscast. He most recently co-anchored the 4 p.m. newscast alongside Kay Quinn and Scott Connell and co-hosted a radio show on KTRS with Blome. Before joining 5 On Your Side, Holliday worked in the sports department of KOCO-TV in Oklahoma City for a little over two years.
Holliday's broadcasting work has been recognized with numerous awards, including induction into the Missouri Broadcasters Association Hall of Fame in 2022, three sportscasting Emmys in 1985, 1988, and 1989. In 2001, Holliday was inducted into the Hall of Fame of the Greater St. Louis Association of Black Journalists. In 2002, the National Alliance on Mental Health presented Holliday its annual Media Award, and the following year MU selected him for its prestigious Faculty-Alumni Award. In 2009, Holliday was inducted into the St. Louis Media Foundation Television Hall of Fame.
He is a native of St. Charles, Missouri, and earned a Bachelor of Journalism degree from the University of Missouri-Columbia. His interests include photography and documentary filmmaking. His first documentary, "Before They Fall Off The Cliff" was accepted by multiple film festivals, and is being used by the Crisis Intervention Team of St. Louis County to train police officers on how to de-escalate encounters with citizens who have a mental illness. He's currently working on "Johnnie Be Good," a music documentary about Rock and Roll Hall of Fame pianist Johnnie Johnson.
The master of ceremonies will be Ana Gutierrez, a first generation immigrant from Bogotá, Colombia. She studied journalism with an emphasis in democracy, and minored in Middle Eastern studies and political science. She worked at KCOU 88.1 during her time as a student, producing and co-hosting her weekly live show "Welcome to Therapy." Gutierrez also served as blog director and live events coordinator at the radio station. She was a communications intern in summer 2022 at the Iberoamerican University Foundation in Barcelona, Spain. She is graduating with magna cum laude honors. After graduation, Gutierrez is pursuing a role in arts and culture reporting at a music magazine.
Abigail Ruhman will present the "Thoughts of the Class." Ruhman is graduating with a Bachelor of Journalism, a Bachelor of Arts in sociology and women's and gender studies, and with minors in history, peace studies, and leadership and public service. She will also receive a writing intensive certificate and multicultural studies certificate.
As a student journalist, she worked at the School's NPR-member station KBIA, and had work featured on the School's NBC affliate KOMU and in Vox Magazine. Ruhman was the recipient of the Missouri College Media Association's Newspaper Division 1 Column Writing award, the LGBTQ resource center's Catalyst Award, the Award for Academic Distinction, and an AHCJ Academic Fellowship. She was an NLGJA CONNECT project scholar and a research assistant for the Department of Women's and Gender Studies. Ruhman was a writer and editor for the Center for Academic Success & Excellence and an Associate Producer for KBIA's "High Turnout Wide Margins." She interned at The Center Project and True North. After graduation, she hopes to find a podcasting job.
Honorary degree
Debbye Turner Bell, DVM '91, is being recognized with an Honorary Degree of Doctor of Humane Letters, honoris causa. Each year the university recognizes prominent individuals, whether they attended the university or not, by presenting them with honorary doctorate degree, the highest form of recognition offered by MU to persons of exceptional distinction.
Turner Bell is a veterinarian, journalist, minister, advocate for animal health, Miss America Pageant winner, motivational speaker and a corporate trainer. She might be best known as the first Miss Missouri to be crowned Miss America, in 1990, but it was her lifelong dream of becoming a veterinarian that led her to the Miss America Pageant — and to the University of Missouri.
Turner Bell earned a Doctor of Veterinary Medicine degree in 1991 from MU, using her Miss America scholarship funding to help finance her education. The MU College of Veterinary Medicine awards the Miss America Scholarship to one veterinary student each year in honor of Turner Bell.
Turner Bell's commitment to excellence is reflected in her own life lessons – it took seven years and 11 tries in two states before she was crowned Miss America. Her enduring passion is motivational speaking, and over the years, Turner Bell has spoken to hundreds of thousands of students at countless schools, youth organizations and college campuses, including Cornell University, University of Notre Dame and Auburn University. She has addressed audiences in the corporate, academic and community service arenas. Her topics include personal excellence, determination, goal setting and the importance of a solid education.
For three years, she served as the lead U.S. news anchor for Arise News, a global cable news network. She hosted a daily evening news broadcast called "Arise America," and from 1995 to 2001, Turner Bell co-hosted a television magazine program called "Show Me St. Louis." She was an expert contributor to the show "DOGS 101" on Animal Planet and for 11 years Turner Bell worked as a staff correspondent for CBS News starting in 2001. While at CBS, she was named "The Early Show's" resident veterinarian sharing a wealth of advice about quality pet care. In 2002, Turner Bell garnered an interview with President George W. Bush and his wife at the White House for a Pet Planet segment about the first family's pets.
While reporting for CBS Evening News, one of her stories provided an in-depth look at the working dogs of the Bureau of Alcohol, Tobacco and Firearms federal agency for CBS Sunday Morning. Turner Bell also hosted a prime-time television magazine program called "48 Hours on WE."
Turner Bell has served as an exceptional ambassador for the University of Missouri throughout her career and has returned home to the MU campus as a commencement speaker and, more recently, for her induction into the 2018 Homecoming Hall of Fame. Her drive for excellence is unmatched and will continue to inspire future generations.
---
Abigail Ruhman, BJ '22 — "Thoughts of the Class"
Thank you for the chance to share this moment with you. After years of writing, editing, and trying to remember the last time we saved the file we are working on, we finally made it, Class of 2022.
We are about to be the storytellers we looked up to for so long. It's easy to tell our own stories in terms of moments like these. Moments where we get to say "Look at what I did, and what I will do next."
This achievement belongs to each and every one of us because you will cross this stage and will accept your diploma, but we did not become the journalists or strategic communicators that we are on our own. Our success does not exist in a vacuum.
We had open doors that allowed us to ask as many questions as we needed and collaborative newsrooms and agencies that meant we could dream up something completely new. There were classmates who listened as we talked about pitches like they were the thing that would change the world. Mentors who believed in us until we finally believed in ourselves. Friends and family who put life back into the concept of a work/life balance.
When life threw all it had at us, we weren't alone. We had people in our corner who helped us navigate learning to report during a pandemic or create a campaign. The people surrounding us in this room taught us how to stand up for ourselves and our stories. They put us into the professional world so we could learn a lesson that doesn't exist in a textbook or lecture: While we are the ones navigating our path toward success, it is the connections we've made that keep us moving forward.
Being a successful storyteller means becoming that connection for someone else. Because we may spend hours overthinking which b-roll works best, which nat sounds bring us into the scene, or the perfect ad copy or design element for a client campaign, we must remember the most important thing we can have is the trust of the people we tell these stories for.
From the audience to sources, we have the responsibility and honor to tell these stories in a way that turns subjects into people. Because the Missouri School of Journalism gives us access to a community of people who will help us long after this moment. They are the kind of people who understand that when all else fails, people need stories, and stories need people.
May we always have each other and this moment to look back on as proof that we are graduates from the world's first journalism school and we did that together.
So, as our tassels move over and we move on, we are more than what we did and what we will do on our own. We are the connections we made and the stories we will tell with and for others.
Thank you and congratulations.
---
Art Holliday, BJ '76, alumni speaker
I'm a proud graduate of the Mizzou School of Journalism.
And, I'm the father of a Mizzou graduate.
M-I-Z!
What's up, Mizzou mafia!
Faculty, staff, parents, relatives, and you graduation crashers who just dig caps and gowns. We're here to celebrate the J-School class of 2022.
In J-School, I'm sure at least one instructor advised you to avoid cliches in your writing. I tell my young reporters all the time: if you're about to write a familiar phrase that you've heard more than ten times, write something else.
You don't have to read between the lines to know that you can't judge a book by its cover. And that original writing is an uphill battle. But, if you play your cards right, the grass is always greener on the other side.
Uh-uh! No cliches today. So, if I slip up and use a well-worn graduation phrase like "follow your dreams," that's lazy writing. You will not hear me say "follow your dreams." If you do, let me have it.
Here's what I was like back in the 1970's at Mizzou: I was an introvert, painfully shy and quiet. Me standing up here and talking to you without being nervous? You're looking at a miracle.
So much so, that sophomore year when I told some students in the Mizzou dining hall that I was a broadcasting major several people laughed.
"You never say anything" one guy said.
So to all the introverts in the house, there is hope.
It's time for show and tell. I brought some photos about my journey.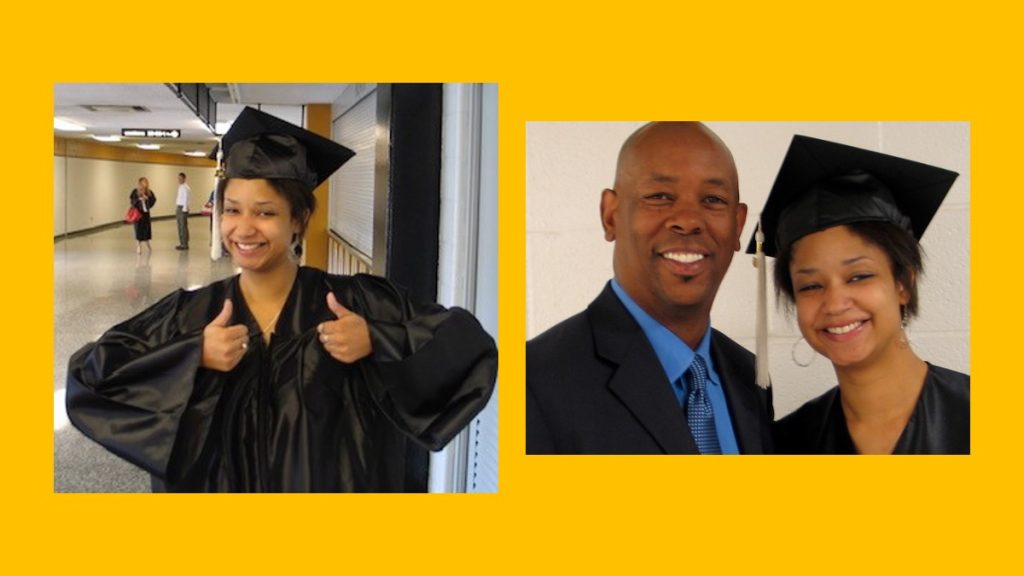 I don't need to tell you parents this is a big day. As the father of a Mizzou graduate, let me speak on behalf of the parents in the audience today. It wouldn't kill you students to be nicer to your parents. Hug 'em extra hard today and tell them how much they mean to you. Tomorrow is not guaranteed. Just sayin'.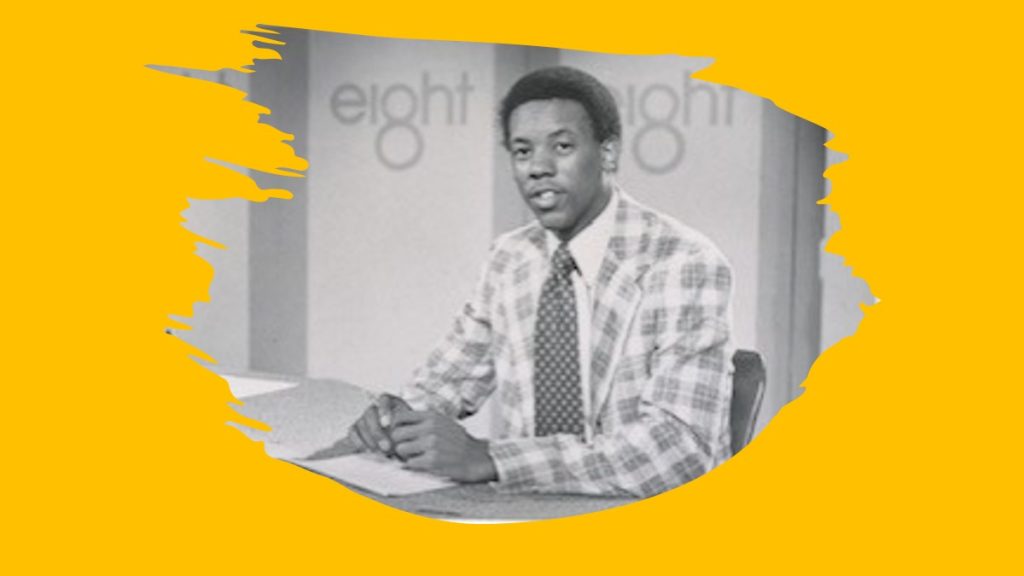 I suspect that you graduates took a lot of photos during your J-School journey. We didn't have cell phone cameras in the dark ages when I was a student here and I didn't take enough photos. This is my only J-School photo. Channel 8 KOMU, when I had hair and a glaring lack of fashion sense.
I'm grateful this photo is in black and white. If it was in color, you might lose all respect for me.
In 1979, after almost three years at an Oklahoma City TV station, my hometown TV station KSD-TV in St. Louis came calling. Actually, it was a J-School classmate Rick Gevers who called me.
He was working at Channel 5 and he called to let me know there was a weekend sports opening. Jay Randolph and Ron Jacober decided to take a chance on a 25-year-old sportscaster who was greener than St. Patrick's day beer.
I turned down a job in Tampa, Fl. Which wasn't easy because it was a bucket list destination. Warm weather city by the water, young and single and going to the beach.
But coming home was a no-brainer because of Austin and Cleo Holliday, my late parents.
I thought I knew how much it would mean to them to be able to watch me on TV, but I underestimated the joy it gave my parents.
I now know my career decision was a gift to them.
Decades later when their final days were spent in a nursing home, I was glad that I was well known in St. Louis.
We should all be afraid of how our loved ones are treated in nursing homes these days. I can't prove it, but I believe my parents got better care because I was a TV newscaster who made regular visits.
Coming home to St. Louis also meant I was a sportscaster who got to cover my beloved Cardinals in half a dozen world series. If you want to have a laugh, google Art Holliday and Vince Coleman to see my viral video live shot from the 80's.
It's taken on a life of its own, so much so that Vince Coleman mentioned me by name in his red jacket Cardinals hall of fame speech several summers ago.
Many of you have plans about how your career will turn out. I had plans. This photo was my plan.
I thought I was going to be a sportscaster my whole career and maybe get a shot at the network. None of my plans involved being a morning newscaster or a news director.
Write down your plans in pencil, not ink.
Because as I found out, the journalism business may have its own plans for you. But here's the good news: like you, I am the result of the Missouri Method of journalism instruction.
Mizzou gave me the ability to learn a lot of different things and reinvent myself: sportscaster, photographer, news anchor, executive producer, general assignment reporter, news director.
Our J-School gave me the foundation for a long career that did not go according to plan.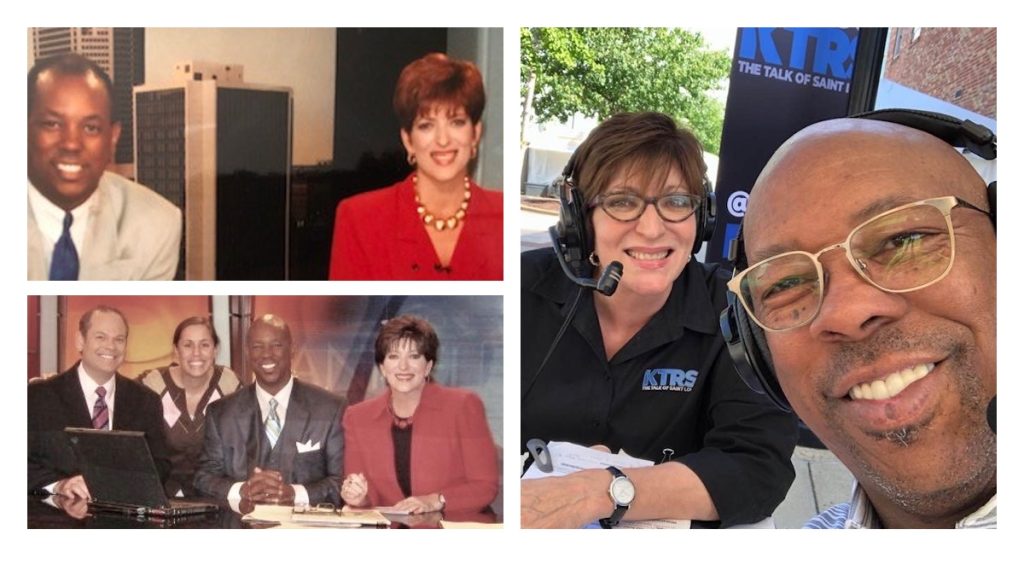 1989, I was called to the GM's office. I had never been to the general manager's office. There was fear and introspection about what I may have done wrong to get called to the general manager's office.
Bill Bolster was the GM. He was kind of scary and if you got on his bad side, you were dead man walking. Bolster quickly got to the point.
"Art, we're going to make some changes on our morning newscast and I think you'd make a good co-anchor for Jennifer Blome."
Who knew he had just created a 22-year anchor team? Meteorologist Scott Connell was part of our team for 20 of those 22 years and our show had a lot of success.
When we peaked in the mid-2000's, we had the highest ratings in the country for a couple of years. More recently, Jennifer Blome and I got the band back together for a radio show for a couple of years.
During my four decades at KSDK, I've had the good fortune to cover the Blues first Stanley Cup championship, the Rams Super Bowl run, I floated through the business district of Eureka, Mo. while covering a devastating flood, I interviewed NBC News anchor Brian Williams in Ferguson a few days after the city erupted following the Michael Brown police shooting.
When I was a J-School student, I had no idea I would interview rock stars like the Rolling Stones' Keith Richards, actors like John Goodman, comedy superstars like Jay Leno, superstar athletes, and a long list of memorable characters.
On the rare occasions like this when I'm asked to talk about my career, I'm reminded of how grateful I am for finding a career that has kept me engaged all these years.
And, I had a lemur crawl onto my head during a radio show. I don't know if all lemurs are chill, thank goodness this one was. This will forever by one of my favorite photos.
Many of you graduates are quite talented. Talent is important, but so is effort.
Ten things that don't require talent:
Arriving early
Being prepared
Working hard doesn't require talent
Getting the facts right and being fair to the people in your stories
Bringing positive energy to your newsroom
Being coachable doesn't require talent
Putting the team first
Taking responsibility for your mistakes
Challenging yourself to get better at your craft
Being the solution instead of the problem
None of these things require talent but they do require extra effort and a positive attitude. They will all serve you well in your careers.
Every time I think about my time at the J-School from '74-'76, I think about the conversation with my first year of J-School winding down. I made an appointment to speak with Leigh Wilson who was in charge of the Broadcast department. Mostly, I wanted advice on summer internships.
He said there's nothing wrong with internships, but he cautioned that I wouldn't get paid and there would be a lot of grunt work. Wilson had another suggestion: Why don't you enroll in summer school? I'll make you a teaching assistant so you can earn some money and you can anchor 6 p.m. sports Monday through Friday to get some more on-air practice.
That sounded amazing. While I had his undivided attention, I asked the question that gnaws at a lot of young journalists: have I made the right career choice?
Leigh Wilson had worked at NBC, CBS, and ABC accumulating photographer and documentary credentials five miles long. Time stood still while I waited for his answer. I cared what he thought about me. He could have demoralized me.
Because back in the day, faculty members had no problem being brutally honest, even if it meant crushing dreams. Wilson assured a very insecure journalism student that I had what it took.
So if Leigh Wilson believed in me, then I better buy a ticket and jump onboard *that* train. And I did. That was a turning point in my confidence.
I loved my J-School years and I appreciate them much more now than I did at the time. I'm still friends with some of the people I went to School with and I've followed the careers of classmates who became managing editor of USA Today, executive producer of Entertainment Tonight and multiple classmates who made it to network TV news.
For those reasons and more, I'm tremendously honored to be speaking to you today because there are countless other Mizzou J-School grads worthy of such an honor.
Three weeks before I graduated Mizzou, I was hired for my first job. Three weeks before I graduated Mizzou I was hired for my first job. KOCO-TV, Oklahoma City, as a weekend sportscaster in January 1977.
One day in the break-room a KOCO salesman asked a question I've replayed many times. "Do you think you were hired because you're black?"
Keep in mind, this was the first and only conservation I ever had with this person. Without knowing anything about me, that's how he saw me, a token hire. He obviously didn't care that I graduated from the best journalism school in the nation and worked my ass off while I was there.
He just saw skin color and made assumptions based on that, something that happens every day in this country and all over the world. That incident still ticks me off all these years later because it's a pretty messed-up question for a 22-year-old.
But there was an unintended consequence. That question became fuel for me. Because success is always the best revenge against people who doubt you and disrespect you. "Do you think you were hired becaue your black?"
I think I said something like, "I don't care. I have the job. Why don't you ask the news director who hired me?"
Not bad for a 22-year-old. My 68-year-old self would have a lot more to say to that guy if he asked me that question today.
In 1979 when I joined channel 5's sports department, there was no master plan to work at KSDK for 43 years. I get asked about that all the time, why did you stay so long? Life got in the way of my plans.
Back in the 80's when I was doing sports, the news director at WABC in New York asked for an audition tape of my work. Then he promptly got fired. Had that news director kept his job, maybe that would have changed my KSDK longevity.
Bob Costas almost changed my channel 5 life span. In 1990, without my knowledge, Costas convinced people at NBC sports that I was good enough to get two live auditions to be a sideline reporter for the national basketball association.
To make a long story short, NBC hired Ahmad Rashad, and as Costas has often reminded me, there's no shame in losing out to Ahmad Rashad, who had a long broadcasting career.
Factually true, but I wanted that job badly, which also would have changed my career longevity in St. Louis
I'll bet a lot of you saw the Chicago Bulls documentary "The Last Dance"? They repeatedly showed Michael Jordan hanging out with Ahmad Rashad, who became one of Jordan's best friends? If I had gotten that NBA job…i could have been Michael Jordan's best friend. And I'd have an even better story to tell you today
You will constantly be reminded that journalism is a business. Business decisions will often be made by news managers, general managers, consultants and CEO's
Decisions that often affect you. Sometimes you benefit with a promotion and a hopefully a pay raise. Sometimes you'll take a pay cut or an unpaid furlough. Sometimes you'll feel like you got screwed or underestimated. The decisions are rarely personal, even though it feels like it. I know from personal experience
After 22 years of co-anchoring today in St. Louis, the fox station finally caught up to us in the ratings. In came the consultants to make recommendations on how to fix our show. Their conclusion was that I was the problem.
The consultants didn't care about my 22-year history of success or that KSDK's morning newscast had a ratings victory my last month on the show. I was voted off the island and suddenly I became a general assignment reporter for the first time 30 years into my career.
It was an unpopular decision in the newsroom and the community. After 30 years at channel 5, suddenly I had the ability to be a wrecking ball if I chose to go that route.
I could have undermined the news director and been extremely disruptive. Part of me wanted to lash out and get even.
Instead, I decided to be a professional who still had a job to do. I kept my mouth shut, did my job, and supported my team and my community because it was bigger than just me.
It's still painful, but it wasn't personal. It was business.
Your character will be revealed by how you handle adversity in your career. You will never have to apologize for taking the high road, hard as that may be.
——————————-
One of the reasons I chose journalism is I love to write, including the occasional poem. I wrote this poem after hearing an interview in which an aging movie director was talking about what he hoped to accomplish during his remaining years, late in life. Definitely, something I can relate to.
At one point the movie director asked a rhetorical question that many people my age ask: How many summers do I have left?
How many summers
Do I have left?
Fifteen, twenty?
That's a question that's hefty
Time is deceptive
It's slow then it's fast
Before you know it
The future is past
Baldness, wrinkles,
And scars symbolize
A life that is lived
All the lows and the highs
Finding joy in your life
That's the fountain of youth
Loving and laughing
And searching for truth
As you get older
You start to reflect
Did I influence lives?
Did I really connect?
I now have less time
To make my mark
To right my wrongs
To light up the dark
I have less time
To get it right
To stand up for something
Keep fighting the fight
Time is a teacher
That each day is a gift
Not to be wasted
But used with great thrift
Keep having birthdays
Until you cannot
You only live once
Better shoot your best shot
As time ticks away
I look forward and back
I still have some dreams
Before fading to black
Father time is a burglar
Years are the theft
How many summers
Do I have left?
When you're in your early 20's at the beginning of your career, it may be hard to relate to this poem, but you will. My 46 years since Mizzou has flown by.
To use a sports metaphor, I'm in the 8th inning of my career. The ballgame is almost over. But there's no clock in baseball, so who knows how long the game will last?
Finally, remember this: it's okay not to always have the right answer.
As a newbie news director, I'm not afraid to tell people in my newsroom "I don't know, let me get back to you."
That response will also come in handy when your parents ask, "when do you plan to move out of the house?"
And you'll say, "I don't know, let me get back to you."
From the class of 1976 to the class of 2022, you and I chose the right journalism school. We got a degree from the *first* journalism school and the best journalism school. Which means there's an incredible journey ahead.
I wish you the best of luck.
M-I-Z
Oh man, I almost forgot…follow your dreams!
Updated: January 11, 2023
Related Stories
Expand All
Collapse All
---