Kappa Tau Alpha National Award Named for Executive Director Keith P. Sanders
Columbia, Mo. (March 10, 2010) — One of Kappa Tau Alpha's national awards has been named the Keith P. Sanders KTA Outstanding Service Award in recognition of the exemplary service of its longtime executive director. Sanders is a professor emeritus at the Missouri School of Journalism.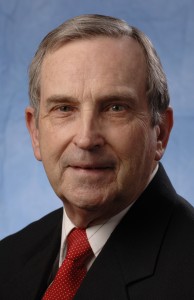 The surprise announcement was made during the honor society's centennial luncheon by national president, Jane B. Singer. Sanders was presented with a plaque during the presentation.
"The Outstanding Service Award is given by local KTA chapters in appreciation of outstanding accomplishment, typically by professional practitioners or faculty colleagues," Singer said. "So many of the very best people in our field are members of KTA – and though they probably don't know it – Keith almost certainly had a hand in making sure their scholastic achievements were recognized and rewarded. He does so much for KTA, and does it so incredibly well year in and year out, it's hard to know where to even begin the list!"
KTA was founded on March 10, 1910, at Missouri, the world's first school of journalism. It inducts journalism and mass communication students who rank in the top 10 percent of their class, promoting excellence in scholarship and honoring those who achieve it. The Greek letters convey the idea that "the truth will prevail;" the initials "KTA" also suggest the English words "knowledge, truth, accuracy," encapsulating the mission of the society.
Sanders has served as the executive director of Kappa Tau Alpha, the national college honor society in journalism and mass communication, for 19 years. KTA is the seventh-oldest national honor society and recognizes academic excellence and promotes scholarship. In 2000, Kappa Tau Alpha named Sanders as one of the five most significant leaders in its entire 90-year history.
Since joining the School in 1967, Sanders has devoted much of his career to his mass communication scholarship. He has served as the official dissertation adviser for 35 doctoral students and has advised many others as a member of their dissertation committee. In 1993, Sanders won the prestigious O.O. McIntyre Professorship for excellence in teaching. He has led doctoral seminars, taught courses on mass communication theories and graduate research methods. Sanders has also served in several administrative positions at the School, including several stints as interim associate dean for graduate studies and director of research as well as chairman of the editorial department from 1976-79.
Sanders has provided long-term leadership in teaching, research and service to journalism education. He has served 34 years as an editorial board member and 11 years as associate editor of Mass Communication & Society (originally Mass Communication Review). The journal, published by Taylor and Francis, uses an interdisciplinary approach to advance mass communication theory.
Sanders' contributions to the Association for Education in Journalism and Mass Communication (AEJMC) also include four years on the standing committee on research, a term on the editorial board of Journalism Monographs and various leadership positions in the Mass Communication & Society Division. The division recognized Sanders with its highest service award, the Trayes Professor of the Year, in 1987. In 2008 he received the AEJMC Presidential Award for Distinguished Service to Journalism.
Sanders has received several University of Missouri awards in recognition of his high standards in teaching and research, including a Faculty-Alumni Award for Outstanding Achievement in 1986, the Distinguished Service Award presented by the University's Faculty Council in 1984 and the Joyce A. Swan Distinguished Faculty Award in Journalism in 1973. He received a Certificate of Distinction from the Association of College Honor Societies in 2000 and has been listed in every edition of Who's Who in America since 1996.
Sanders earned his doctoral degree in mass communication from the University of Iowa, his master's in journalism from Ohio University and his bachelor of science degree in journalism from Bowling Green State University. He was an instructor at both Iowa and Bowling Green. Before joining the School, Sanders reported on sports in Ohio for the Ashland Times-Gazette, the Dover Daily-Reporter and WOUB-TV in Athens.
Singer said that when she and KTA Vice President Joe Campbell sent out a note to the chapter advisors, asking for their approval for renaming this award, the enthusiastic responses just came flooding in by return e-mail from all across the country. The endorsements included some from Sanders' former students.
"Put me down for an enthusiastic 'yes' — great idea!" said Stephanie Craft, an associate professor and KTA chapter adviser at Missouri. "Yes, yes and YES. I can't think of anyone who does more service for KTA," Sheri Broyles, MA '81, now a professor at the University of North Texas. "Yes, resoundingly!" Chris Allen, PhD '96, now a professor at the University of Nebraska-Omaha.
"We can never thank Keith enough for all he does, but we did think that pairing 'Keith P. Sanders' with 'KTA Outstanding Service Award' had a nice ring to it!" Singer said.
Updated: May 7, 2020
Related Stories
Expand All
Collapse All
---