MU alumnus Chris Allen named outstanding adviser for national honor society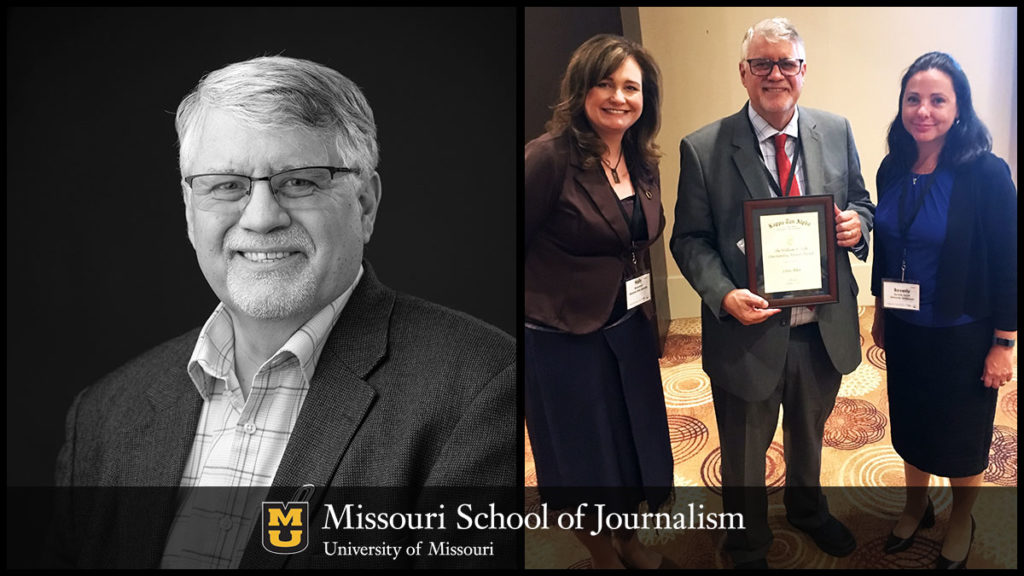 Mizzou alumnus Chris Allen, Ph.D. '96, of the University of Nebraska-Omaha won the William H. Taft Outstanding Adviser Award during the annual AEJMC convention in Toronto.
Columbia, Mo. (Aug. 16, 2019) — Kappa Tau Alpha honored Dr. Chris Allen, Ph.D. '96, of the University of Nebraska Omaha (UNO) with the William H. Taft Outstanding Adviser Award during the annual convention of the Association for Education in Journalism and Mass Communication in Toronto earlier this month.
The Taft award is named in honor of the national honor society's longest-serving executive director. Allen is the 35th award recipient and led the effort to establish a KTA chapter at UNO in 2006, where he has served as the adviser ever since.
As the KTA adviser, Allen said he is honored each year to induct journalism students who perform at the highest level.
"These are the very, very best students," Allen said. "And this award means something. To be a member of KTA means you have achieved at the very highest level and you are an exemplar of our industry."
Allen himself was inducted in Kappa Tau Alpha as a doctoral student at the University of Missouri, where the society is based.
Michael Hilt, dean of the College of Communications, Fine Arts and Media at UNO, has team-taught journalism capstone courses with Allen and praises Allen's dedication.
"I witnessed firsthand how he helped our students understand the industry," Hilt said. "Beyond that, however, is how he helped them to develop as caring citizens in our society. For Chris, it was not just about succeeding in broadcasting nor any other career. It was about helping them succeed in life."
Allen has been teaching at UNO since 1996. He began his career in high school, working as a disk jockey for KBOE-AM/FM radio in Oskaloosa, Iowa. A Fulbright scholar, Allen later reported for KRNT Radio in Des Moines, Iowa. Between 1996 and 2003, he taught as an associate professor at the University of North Dakota School of Communications. Now, in addition to teaching, Allen serves as the general manager for UNO Television and The Knowledge Network.
As a researcher, Allen has studied broadcast history, journalism history, journalism and pop culture and journalism ethics. Internationally, Allen has been involved in multiple projects in Afghanistan, helping to strengthen journalism education at Kabul University and Balkh University.
About Kappa Tau Alpha
The Kappa Tau Alpha national honor society was founded at the University of Missouri School of Journalism in 1910 and has chapters at 96 universities. The national headquarters has been permanently located at Mizzou since 1944. Students must be in the top 10 percent of their journalism and mass communication class to be invited to join.
Updated: November 10, 2020
Related Stories
Expand All
Collapse All
---