Professor Emeritus Keith Sanders Wins AEJMC Presidential Award for Distinguished Service to Journalism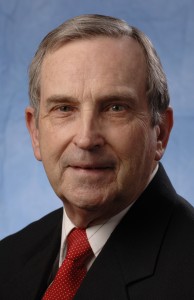 Columbia, Mo. (Oct. 13, 2008) — Keith Sanders, professor emeritus of the Missouri School of Journalism, received the 2008 Presidential Award for Distinguished Service to mass communication and journalism from the Association for Education in Journalism and Mass Communication. Sanders accepted the award during the organization's recent business meeting in Chicago.
The award recognized Sanders' long-term leadership in teaching, research and service to journalism education. He has served 34 years as an editorial board member and 11 years as associate editor of Mass Communication & Society (originally Mass Communication Review). The journal, published by Taylor and Francis, uses an interdisciplinary approach to advance mass communication theory.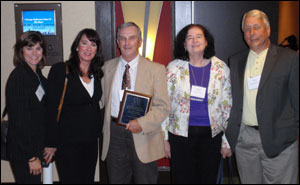 Sanders' contributions to AEJMC also include four years on the standing committee on research, a term on the editorial board of Journalism Monographs and various leadership positions in the Mass Communication & Society Division. The division recognized Sanders with its highest service award, the Trayes Professor of the Year, in 1987.
Sanders has served as the executive director of Kappa Tau Alpha, the national college honor society in journalism and mass communication, for 17 years. Founded at the School in 1910, KTA is the seventh-oldest national honor society and recognizes academic excellence and promotes scholarship. In 2000, Kappa Tau Alpha named Sanders as one of the five most significant leaders in its entire 90-year history. Since joining the School in 1967, Sanders has devoted much of his career to his mass communication scholarship. He has served as the official dissertation adviser for 35 doctoral students and has advised many others as a member of their dissertation committee. In 1993, Sanders won the prestigious O.O. McIntyre Professorship for excellence in teaching. He has led doctoral seminars, taught courses on mass communication theories and graduate research methods. Sanders has also served in several administrative positions at the School, including several stints as interim associate dean for graduate studies and director of research as well as chairman of the editorial department from 1976-79.
Sanders has received several University of Missouri awards in recognition of his high standards in teaching and research, including a Faculty-Alumni Award for Outstanding Achievement in 1986, the Distinguished Service Award presented by the University's Faculty Council in 1984 and the Joyce A. Swan Distinguished Faculty Award in Journalism in 1973. He received a Certificate of Distinction from the Association of College Honor Societies in 2000 and has been listed in every edition of Who's Who in America since 1996.
Sanders earned his doctoral degree in mass communication from the University of Iowa, his master's in journalism from Ohio University and his bachelor of science degree in journalism from Bowling Green State University. He was an instructor at both Iowa and Bowling Green. Before joining the School, Sanders reported on sports in Ohio for the Ashland Times-Gazette, the Dover Daily-Reporter and WOUB-TV in Athens.
AEJMC's mission promotes the highest possible standards for journalism and mass communication education while providing opportunities for faculty and students to showcase new knowledge in the field. Missouri Journalism faculty and students presented 36 research papers and served in many leadership positions during the organization's annual meeting in August.
Updated: April 29, 2020
Related Stories
Expand All
Collapse All
---