117 Graduates Will Be Recognized at Fall Commencement Ceremonies
Columbia, Mo. (Dec. 6, 2005) — The Missouri School of Journalism will recognize 117 graduates at its fall commencement ceremonies that will be held 4:30 p.m., Friday, December 16, at the Hearnes Center.
The doctoral degree will be awarded to seven students; 27 will receive the master's degree. Of the 83 undergraduate students who will graduate, 28 studied strategic communication; 13, broadcast news; 16, magazine; 19, news-editorial; and 7, photojournalism.
Ten graduates will be inducted into Kappa Tau Alpha, the journalism honor society, for earning the highest grade point averages in the graduating class. They are: Jocelyn M. Biltgen, Joanna Sue Carter, Raymond T. Murray, Ekaterina Pesheva, Dana Kristen Smith, Danielle Stampley, Camille Styles, Becky A. Thomas, Erica Marie Thum and Rachel E. Zawila.
Twenty-nine graduating seniors will be recognized with Latin honors. These students have at least a 3.5 grade point average for their last 60 graded credit hours.
Joyce King Thomas, BJ '78, will be the graduation speaker. She is the chief creative officer of McCann Erickson's flagship New York office, overseeing a department of more than 100 writers and art directors. She is one of only four female chief creative officers in the 33 largest American advertising agencies.
Thomas began her career as a writer at small agencies in the Midwest before moving to New York City in 1982. Since then, she has worked for several of the country's largest agencies, on some of America's best known brands: Wendy's, Marriott, Chase Manhattan Bank, Jell-O and Frito Lay, among them.
Thomas' work for MasterCard best exemplifies her search for ideas that speak to both the heart and the mind. The "Priceless" campaign, which began with a commercial she wrote nine years ago, now runs in more than 100 countries and has invaded popular culture, showing up everywhere from Late Night with David Letterman to The Simpsons to the Brazilian presidential election. The campaign reversed MasterCard's 15-year share decline and has resulted in double-digit growth in nearly every quarter since then.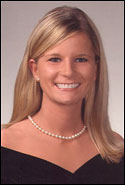 Thomas' work has won awards at Cannes, the One Show, Addy's, as well as other major shows. She is a member of the Ad Council and a board member of the One Club.
Thomas lives in Brooklyn Heights with her husband of 25 years and two teenage sons.
Additional information about the commencement ceremonies is available from the MU Commencement website.
Student Speaker: Adrianna Broyles
Adrianna Broyles will receive her Bachelor of Journalism degree in magazine journalism and minors in film studies and Spanish. A native of Aurora, Mo., she has written for the Columbia Missourian, Vox magazine, Adelante and The Maneater. Broyles interned at KYTV in Springfield, Mo., KPBS in San Diego and Texas Monthly in Austin, and studied abroad in Spain for two semesters. She plans to write for magazines and volunteer abroad after graduation.
Emcee: Andrea Oleen
Andrea Oleen is graduating with a Bachelor of Journalism degree in broadcast news and a Bachelor of Arts degree in political science. In January she will be the 11 p.m. anchor at WENY NewsChannel 36 in Horseheads, New York. A native of Lindsborg, Kan., Oleen was the founding president of MU's Evangelical Lutheran Campus Fellowship and an active member of Alpha Delta Pi sorority.
Commencement Speech by Joyce King Thomas, BJ '78
---
Thank you, Dean Mills. Congratulations, graduates. And congratulations to parents of the graduates. I'm sure this is a day you will never forget. I would also like to thank my own parents for being here today and for resisting the urge to bring a video camera. I am honored to be speaking to all of you.I graduated from the Missouri School of Journalism in 1978, and it is wonderful to be back. Though, on the down side, when I agreed to come, I began having the dream that I used to have when I was a student here. You know the one. It's the end of the semester, and you suddenly realize you had a class you never attended.
Aside from that dream, our college experiences have no doubt been very different. In addition to my studies, my time at Mizzou was marked by loud music, fraternity parties, Frisbee and a phenomenon that began my freshman year, streaking. In fact, Mizzou became the national streaking champions my freshman year, in the spring of 1974, when 609 naked people ran through the Quad.
Your college years were no doubt marked by more serious events: the attacks of 9/11, Enron perp walks and a hurricane that laid bare the extreme economic inequalities in the U.S. With some loud music, fraternity parties and Frisbee thrown in.
So what could I possibly say to you?
Being educated as a journalist, I began by doing some research.
I Googled commencement speeches and read the remarks of people like Steve Jobs of Apple, Toni Morrison and Jon Stewart. And I realized something very, very important.
I am nowhere near as funny as Jon Stewart.
But then came two news stories that led me to the subject I'd like to talk to you about today.
Earlier this fall, The New York Times featured a front-page article about a study conducted at Yale University. According to the study, more than 60 percent of female students surveyed said that they would put their careers aside to raise a family. If you actually read the study, you would read that the women were talking about leaving the work world for a limited time. Nonethless, this news caused tremendous hoopla. Were young women of the post-women's movement era suddenly realizing they could not have it all? Was all the work of the early feminists going down the drain? Not to mention the tuition dollars these young women's parents had scraped together?
The second bit of news came from my own industry: advertising. A prominent international creative director was asked why there are so few women serving as the top creative director in advertising agencies.
His response was, quote, "women are crap," "women do not work hard enough" and, when asked to clarify his comments, he said, quote, "the creative director job is not a joke job." Presumably that is the kind of job women do best.
This response was reported in a blog written by a female creative director who happened to be in the audience. It was then picked up and reported in The New York Times, The Wall Street Journal, Ad Age, Adweek and went out on wire services to every newspaper in the country. He was forced to resign his position.
There are only four female chief creative officers in the 33 largest American advertising agencies. As one of those four, I received many calls to rebut his remarks. A few of my responses could actually be printed.
So, today, as you graduate and head out to begin your careers, I would like to talk to you about "having it all."
Can women and men, "have it all?" Can we have rich family lives and brilliant careers? Is it possible to be a mom and a manager? Let's take that further: Is it possible to juggle a career and a deep love of the outdoors? Or a desire to make a difference in your own community?
The answer is: You must.
Because, all you have to offer, as journalists or photographers or marketers is your own very unique point of view. That point of view comes from your own unique experiences. What your parents have taught you. The things you have seen and loved. The things that move you and touch you and compel you.
The things that make you…you.
I can give you two examples from my own experience.
In 1998, I was working on a pitch to win the MasterCard advertising account. It was a tough project, so I came to work on a Sunday, a day I prefer to spend with my family.
My art director partner and I sat ping-ponging ideas back and forth. We spoke about how MasterCard can buy everything except what is priceless. I suddenly had a vision of being with my then 11-year-old son at a baseball game, which he dearly loved. I remembered how the rhythm of the game lets you relax and communicate with a child who's rapidly becoming an uncommunicative teenager. And that became the first ad in MasterCard's priceless campaign.
The second example occurred during my first week as chief creative officer at my agency.
It was a tremendously busy, challenging week. Remember, like the man said, it's not a joke job. All week, I had juggled tough issues like staffing, deadlines, client complaints. I arrived home at 7:30 p.m. on Thursday night. My youngest son, Jackson, appeared to have flu symptoms. But it didn't seem like the flu to me. After calling his doctor, my husband and I drove madly to New York Hospital where Jackson had an emergency appendectomy. We had a rough night waiting for the procedure, worrying that the appendix might rupture before the surgeon arrived. But, finally, at 6 a.m. the next morning, Jackson had the surgery. He was fine. I spent the next two nights in a chair by his bed writing an article for an advertising publication that I had promised I would write. I didn't have a typewriter so I used my BlackBerry. The subject of the article was "How I spent my first week as creative director," and the appendectomy was the thread that connected the story. Many women, and even a few men, who I did not know wrote to me about how moved they were by the article.
I learned once again that my experiences with my children not only enriched every single solitary moment of my life, but also enriched my work.
And I believe my work life has enriched my children's view of what life can be as well. But that is a story for another day.
I'll leave you with two thoughts:
One, don't forget to live while you're working. It's like breathing while you're running. Not always easy, but vital for your survival.
And two, most of you out there have something about you that challenges the status quo. It may be your sexual preference, a physical disability, your country of origin, your race, or just an unusual way of dressing…like my eldest son who can't seem to wear pants that don't reveal his boxers. Guess that's what I get for raising him in Brooklyn.
Whatever it is you've got, flaunt it. Use it in your work. It's all you've got. And I promise you, your chosen profession, and maybe, the world, will be all the better for it.
Thank you.
Student Speech by Adrianna Broyles, BJ '05
---
As I sat down to write this speech, typical graduation speeches came to mind. Although I'm sure all of those messages passed from this podium to those seats out there are worthwhile and should be kept in mind, I couldn't help but think I was trying to fill in the blanks of some predetermined graduation speech mad lib. "My fellow graduates, we are the generation of now." "We can do anything we put our minds to." "We're starting a new chapter." Etcetera, etcetera. All good points, but these are the things you are supposed to say at graduation.In fact you are supposed to do lots of things in life. I've done a lot of things I was supposed to: I gained the freshman 15. I fell out of love, back in love and back out again with my high school boyfriend that year too. I fell in and out of love with my parents, best friends, journalism and even myself in the years that followed. I even think you're supposed to try out being a vegetarian punk rocker in college just so that you can remember that there's Booche's and Bob Dylan waiting for you when you return. If anything, my life has been a succession of completed supposed to's.
In fact, my fellow classmates and I might have more rules to follow now than ever. Not the stated rules of etiquette of our parents' and grandparents' generations, but modern, unstated rules that dictate the best way to get from A to B, the best way and quickest way to succeed.
My fellow classmates and I are very aware of certain rules we are supposed to follow to get anywhere. You get in the Journalism FIG, you take J200 your freshman year, you take extra stories and show up at the news meetings every day, you intern at the biggest and best places that will take you to build up your resume to get The Job. These are most definitely the means to a successful end. Just as using the inverted pyramid or rule of thirds are the means to a successful story or photo. But these supposed to's aren't have to's. My professor Byron Scott warned me early this semester that I could break the rules as long as I knew them first.
College is another "supposed to." And look at us, we're here completing one of the big things in life you're supposed to do. But right now, my encouragement is to go out and forget for a moment what you're supposed to do. You're not supposed to be the next Elizabeth Vargas, the next James Nachtwey, the next Tom Junod, the next Patrick Healy (for those of you who remember the recent MU grad turned New York Times reporter we all wanted to be). It's easy to get lumped into the category of recent college graduate in the next few months. But you're more than a reporter, a designer or a photog. You have ideas and suggestions and innovations and a million bright things to contribute to this world. Use what makes you different, not what makes you alike. Do what you love, not what you feel you have to. You're not obligated to anything or anyone, except your student loans. Well, student loans and a big "thank you" to the people who have helped along the way to get to this place in your lives.
I've heard people say that we are a generation of young people who go forward on the coattails of our parents' success. Maybe I just don't get out of Lee Hills Hall very much, but I don't see that here. Blame it on trying to impress great teachers like Jacqui Banaszynski or Jan Colbert (yes, that's my shameless shout out thank you to you both), but we're a pretty driven bunch. I should say you all are a driven bunch. Being around you has made me all the more determined, and for this, I must thank you.
Updated: April 28, 2020
Related Stories
Expand All
Collapse All
---