Missouri School of Journalism to recognize 105 students for December commencement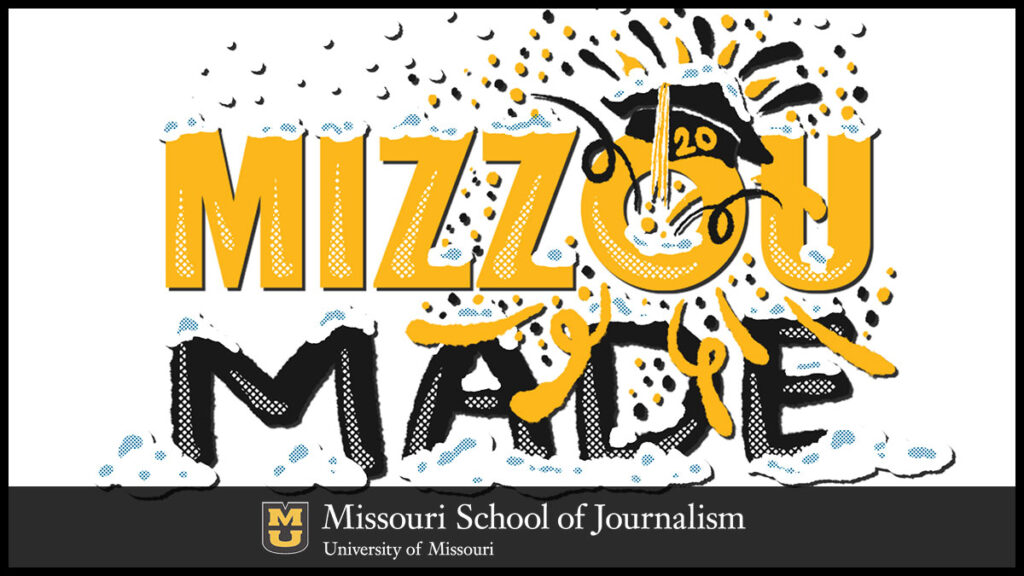 Interact with family, friends, faculty, fellow Tigers and MU alumni on social media as we congratulate the class of 2020.
Columbia, Mo. (Dec. 4, 2020) — The Missouri School of Journalism will recognize 105 students on Friday, Dec. 18 during Mizzou's social media celebration for December 2020 graduates. The celebration will be taking place on the Journalism School's Facebook page.
This celebration is intended to mark the traditional winter commencement and to allow families and friends an opportunity to publicly recognize the accomplishments of their Mizzou graduates – but it is not intended to replace the commencement ceremony.
Campus leadership is working on plans to invite all December graduates back to campus for an in-person commencement event at a later date. More details about that event will be communicated from MU leadership when available.
"This social media celebration expresses the pride and heartfelt congratulations the faculty and staff have for each of our graduates," said David Kurpius, dean of the Missouri School of Journalism. "While all of us wish we could be in person to celebrate this momentous occasion, all of us in the School want to make sure our students know how proud we are of their many accomplishments and the dedication they have demonstrated during their time here at the School."
Graduate degrees will be awarded to one doctoral candidate and 18 master's students, three of whom earned their degree online, and one person is receiving their graduate certificate for interactive media.
Of the 86 undergraduates, 49 focused on some aspect of journalism; 37 on strategic communication. A total of 46 graduates earned Latin honors by achieving at least a 3.5 grade point average for the last 50 credits.
The top 10 percent of the School's graduates have earned the opportunity to be a member of Kappa Tau Alpha, a journalism honor society founded at the Missouri School of Journalism in 1910.
"Kappa Tau Alpha membership is a mark of academic distinction and honor," said Yong Volz, associate professor and MU KTA chapter adviser. "My hearty congratulations to these students for their high achievements, especially for their fortitude and perseverance in accomplishing all this in the midst of a pandemic!"
The 11 new members of Kappa Tau Alpha are:
Doctor of Philosophy: Lei Guo
Master of Arts: Madison Axford, Sarah Everett, Steve Garrison, Trevor Hook
Bachelor of Journalism: Ava Davis, Ashley Dorf, Kaitlyn Hoevelmann, Emmy Lucas, Emmalee Reed, Alexandra Sharp
The schedule of the Journalism School's commencement activities:
10 a.m. Official welcome and best wishes from Mizzou campus leaders. Available on Mizzou's official Facebook page and shared on the Journalism School's Facebook page.
2 p.m. Congratulations from Dean Kurpius.
2:10 p.m. Recognition of Kappa Tau Alpha new members.
2:15 p.m. Recognition of the Missouri School of Journalism winter 2020 graduates. A video will display names of our graduates in alphabetical order according to the following schedule.

Doctoral candidates/Master's candidates
Bachelor of Journalism degree
Bachelor of Journalism with an emphasis in Strategic Communication

2:30 p.m. Congratulations from J-School faculty and staff.
For the full list of MU commencement activities including other MU schools and colleges schedules, and a digital December 2020 commencement program, please visit the official Mizzou Commencement website at https://commencement.missouri.edu.
View All Graduation Videos: J-School YouTube Channel

To help mark this moment, check out the Mizzou virtual commencement celebration tools
| | | |
| --- | --- | --- |
| | | Celebration Graphics for Students: Downloads for #MizzouMade Graduates to join in on Mizzou's Virtual Celebration. Just use right-click (PC) or control-click (Mac) to select any item to download. See this content guide for ways to use these fun pieces. |
| | | Celebration Graphics for Family and Friends: Downloads for families and friends to join their #MizzouMade Graduates for Mizzou's Virtual Celebration. Just use right-click (PC) or control-click (Mac) to select any item to download. |
| | | Commencement Email Header: Here's your chance to create a really fancy Mizzou Made Virtual Celebration email. |
| | | Commencement Zoom Background: Make the most of your celebration with these commencement photo backgrounds for Zoom. Perfect for grads and their family members. |
| | | Printable Party Supplies: This page is full of items to download and use immediately on social media or any digital format. Just use right-click (PC) or control-click (Mac) on any item you'd like to download. |
| | | Social Media Images: Find platform-specific downloadable images to share on any social media page. |
| | | Complimentary Alumni Association Membership: The Mizzou Alumni Association is proud to give every Class of 2020 graduate a one-year digital membership! Click here to accept and unlock your membership. |
Updated: December 21, 2020
Related Stories
Expand All
Collapse All
---