136 Graduates Will Be Recognized at Fall Commencement Ceremonies
Columbia, Mo. (Nov. 29, 2004) — The Missouri School of Journalism will recognize 136 graduates at its fall commencement ceremonies that will be held Friday, Dec. 17, in Jesse Auditorium in Jesse Hall.
Twenty-two graduating seniors will be recognized with Latin honors. These students have at least a 3.5 grade point average for their last 60 graded credit hours.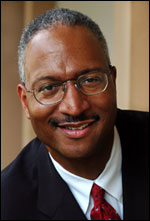 Mark E. Russell, BJ '84, will be the graduation speaker. He recently assumed the managing editor responsibilities of the Orlando (Fla.) Sentinel. Russell leads a newsroom of 330 journalists covering national, foreign, metro, sports and business news, features, special projects and El Sentinel, the company's weekly Spanish-language newspaper. Previously he worked in management and reporting positions at The Plain Dealer in Cleveland, the largest newspaper in Ohio and The Wall Street Journal.The graduates are from 12 states and Canada.
Further information about the commencement ceremonies is available from the MU Commencement website.
Biography: Mark E. Russell
Mark E. Russell, BJ '84, is the managing editor of the Orlando Sentinel. He joined the Florida newspaper in October, having moved from the assistant managing editor/metro at The Plain Dealer in Cleveland, the largest newspaper in Ohio. In his role at the Sentinel, Russell, 42, oversees all news-gathering, editing, photo, graphics and multimedia content functions for the paper. Russell leads a newsroom of 330 journalists covering national, foreign, metro, sports and business news, features, special projects and El Sentinel, the company's weekly Spanish-language newspaper.
Prior to his position at The Plain Dealer, Russell was its business editor for four years. He initially joined the newspaper in 1987 as a business reporter and later moved to the city desk and then served as an assistant city editor. Russell left The Plain Dealer to join The Boston Globe as assistant metropolitan editor in 1993, a position he held for two years before returning to The Plain Dealer. Earlier in his career, Russell was a staff reporter for nearly three years in The Wall Street Journal's Cleveland and Pittsburgh bureaus.
Russell received a bachelor's degree in journalism from the University of Missouri-Columbia. He currently serves as a director of the Missourian Press Association, which oversees the journalism school's daily newspaper. Russell places a high priority on connecting with the community and working with and mentoring young students. He has been a frequent speaker at high schools and colleges. Last year, Russell received a fellowship from the McCormick Fellowship Initiative, an executive development program for high-performing senior managers and executives of color in the news media. The McCormick Fellowship Initiative is a program of the McCormick Tribune Foundation in partnership with the National Association of Minority Media Executives Foundation.
---
Text of Commencement Speech
Mark E. Russell, BJ '84
Dec. 17, 2004
Thank you, Dean, for that fine introduction. It is a pleasure to stand on this stage, at America's greatest school of journalism. It was here 20 years ago that I received my bachelor's degree in journalism one May afternoon. It was one of the proudest moments of my life to that point.
Some of my journalism instructors – Daryl Moen, George Kennedy and Brian Brooks – are still faculty stalwarts today. They must have been very young professors then because I see that I have as much, if not more, gray hair than some of them.
In the two decades since I left Mizzou, our field has undergone dramatic changes. The Internet has transformed how we research stories; Nightline, in its infancy as a news magazine in the early '80s, is now a graying example of a television news magazine genre; and we have magazines devoted to shopping – for men, no less. Think Cargo. Yes, the media landscape has changed much since I left these hallowed halls to join the Wall Street Journal in the early summer of 1984.
And yet the fundamentals of journalism haven't changed much at all. Be a good reporter. Get the story right. Be persistent. Be fair. Be a watchdog. Be ethical in your treatment of others. Hustle. Tell the untold stories.
At a time when the ethics of our professions are under assault and the reputation of journalists hovers somewhere around that of a used-car salesman, we need to re-dedicate ourselves to the principles of journalism. And this school has been teaching those principles for decades. You are living them now in the J-School, at KMOU, the Missourian, the magazine and Web site. You'll take with you a series of lessons that will guide you throughout your careers, whether it's in broadcasting, public relations, advertising or my beloved print.
And, remember, there are few shortcuts in journalism. People sometimes note that I started at the WSJ right out of Mizzou and say that's what they want to do: go to a national publication.
I always discourage such thinking. Indeed, if I had it to do over, I would have spurned the Journal's offer, and headed instead to the Louisville Courier-Journal, which flirted with offering me a job back in the spring of '84.
That's because I needed the grounding of working on a metro newspaper right out of school. I needed the experience of covering cops and courts, the nightbeat and basic GA assignments. Such work builds journalistic muscle to handle the longer, more complicated stories later in a career. Remember, this field is not a sprint; it's a marathon.
It took me three years to figure that out before I left the Journal to join The Plain Dealer in 1987.
You are entering the field at a time when we need your critical thinking on how to attract ever more diverse and younger readers. Newspapers need to change their definitions of what's front-page news, their coverage approaches and promotional campaigns to attract such readers. Some papers, including the Chicago Tribune, have started daily sections designed to appeal to younger readers.
Others, such as my old paper, The Plain Dealer, have started weekly sections to appeal to young hipsters in Cleveland. And, yes, Cleveland has some young hipsters. The Plain Dealer also started a weekly golf section to cater to the fanatics who populate Cleveland's fairways for six months out of the year.
We will be depending on some of you to help us brainstorm even better, more effective vehicles to attract those readers.
And, clearly, we've got to capture the growing populations of potential minority readers. In greater Orlando, for example, Hispanics now outnumber African Americans as the region's largest minority. Near Orlando the Osceola County city of Kissemme (near Walt Disney World) is teeming with newly arrived Puerto Rican families and other Latinos. They hunger for some lifeline to their new community, but relatively few subscribe to the newspaper. We must change that by enticing those readers with relevant content and stories and photos that affirm their presence and power. We must make sure the mirror we hold up reflects the nuances and complexity of the Latino revolution in Orlando. And the same thing is happening with other groups in places like Columbus, Minneapolis, Boston and, yes, even Columbia, Missouri.
The ability to get information that other people don't have and sources don't want to reveal is what good journalist do — even some who can't write home for money. Our industry needs more reporters.
At every job I've had in four newsrooms, I've had to re-learn how to do my job. This is a good thing. Don't expect to be the master of the universe because you've been successful in one city — and one thing or another.
That's where the changes in the medium are critical. When I started at the Journal everyone in my Cleveland newsroom used Royal manual typewriters. Now there are no typewriters in newsrooms. But during the East Coast power blackout two years ago people were writing stories in longhand because the computers could not be powered up. And some were probably wishing they had a manual typewriter or two handy.
Of course technology changes things. Be willing to adapt to the new ways, but carry the fundamentals of reporting with you. Get the facts. Get them right. Get them fast. Then, worry about the technology.
Now, I know some of you are worried about the influence of business and shareholder pressure to perform on the newsroom. Well, I am not as worried. I think most business people recognize that what we do is special and that it is the cornerstone of the product. After all, we are selling the credibility of the news report to readers and advertisers alike. But we as journalists are not insulated from the cost-cutting and drive for efficiency that has engulfed the rest of corporate America.
When media companies are more profitable, they are healthier stewards of the public trust. Reporters and editors don't have the luxury that I did 20 years ago to come out of school completely ignorant of the economics of putting out a newspaper or broadcasting a news show. You don't all have to become business reporters, but you ought to understand how your company makes its money and what role the newsroom or broadcast plays in that performance.
So, as you depart these halls to enter newsrooms, broadcasting stations, Internet companies, grad schools, PR firms and family businesses, remember that you carry with you the distinction of being graduates of this great school. You can help transform an industry that I love and cherish. And we're relying on you to help us reinvent what we do to survive – and thrive – long into this century.
---
Bio: Kevin Andounian
Kevin Andounian is graduating from the advertising sequence of the Missouri School of Journalism. It was the prestigious reputation of the J-School that brought him here from his home in Lisle, Ill., a nearby suburb of Chicago. Andounian has been highly involved on campus, most notably with his fraternity and many other volunteer experiences. He also served as vice president of the Advertising Club this past year, responsible for communications and recruitment of new members. In the weeks following graduation, Andounian will be interviewing with several advertising agencies in Chicago, Dallas and New York. In the distant future, he hopes to run his own PR/Ad agency.
---
Bio: Darryl Franklin
An international student from Canada, Darryl Franklin came to Mizzou in the fall of 2000. Franklin began working for the KOMU-TV as a freshman by shooting highlights for the Friday Night Football show. He worked his way up to the prestigious Evening Desk role before schedules at the station were changed, and veteran faculty member Ken Eich forced Franklin into early retirement. Needing to find a new role at the station, Franklin then assumed the task of reporter where he traveled all over Missouri covering everything from Presidential visits in St. Charles to juice bars in Gravois Mills. Somewhere in-between, Franklin, a foreigner himself, was part of the School of Journalism's first Cross-Cultural Journalism class outside the United States when he joined nine other J-School students to study abroad in Guadalajara, Mexico, under the leadership of Professor Fritz Cropp. Franklin would like to thank his parents both of whom are in attendance for this evening's ceremony, for their support over the years. He would like to thank all of the students and professors who helped him along the way, in particular to Broadcast Chair Kent Collins for making his on-air performance that much sexier over the years and to KOMU News Director Stacey Woelfel for his efforts at the station toward fixing the printers. Franklin would like to offer his sincerest congratulations to all of the December 2004 graduates.
Updated: April 1, 2020
Related Stories
Expand All
Collapse All
---