School of Journalism to Recognize 441 Graduates at Spring Commencement Ceremonies
Columbia, Mo. (May 8, 2007) — The Missouri School of Journalism will recognize its 441 May and August graduates during commencement ceremonies at 4:30 p.m., Saturday, May 12, at Mizzou Arena. Family and friends of the graduates do not need tickets to attend. Seating will be open.
Graduate degrees will be awarded to 57 students, including six doctoral candidates and 51 master's recipients. Missouri, the world's first school of journalism, was the first to award graduate and undergraduate degrees in journalism.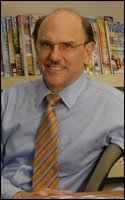 Of the 384 undergraduate candidates, 18 studied convergence journalism; 86, magazine journalism; 57, newspaper journalism; 13, photojournalism; 62, radio-television journalism; and 148, strategic communication. Of the graduating seniors, approximately 30 percent are receiving minors.
The first graduates of the Walter Williams Scholars program will graduate this spring: David Hubbard, Jeremy Goldmeier and Sarah Payne. The program, created in 2004 in honor of the School's founding dean, recognizes the highest-achieving incoming journalism students at Missouri. To be considered for the program, applicants must earn an ACT score of at least a 33 (1460 on the SAT). Graduating Walter Williams Scholars will wear a red honor cord with their academic regalia.
The convergence journalism graduates are the first full group of students in this emphasis area, which was established in 2005. Following the Missouri Method, convergence students learn to work in teams to produce stories for the Columbia Missourian, KBIA-FM and KOMU-TV as well as their websites and other digital services.
Overall, 136 graduating seniors, or approximately 35 percent of the class, will be recognized with Latin honors. These students have at least a 3.5 grade point average for their last 60 graded credit hours.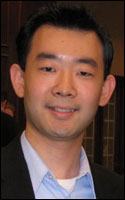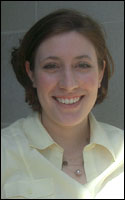 The top 10 percent of the School's graduates will be inducted into Kappa Tau Alpha, a journalism honor society founded at the Missouri School of Journalism in 1910 with the goal of uniting students of exceptional achievement from the nation's leading schools of journalism and mass communication. The ceremony will be from 2-3 p.m., Saturday, May 12, in Fisher Auditorium in Gannett Hall. This year's inductees are:
Doctoral Candidates
Jensen Moore
Master's Candidates
Gidget Alikpala
Genevieve Contey
Felicity Duncan
Michael Fuhlhage
Alisa Hofsess
Jeremy Littau
Adam Schreck
Leslie Yingling
Maria Ines Miro-Quesada
Priya Ratneshwar
Bachelor's Candidates
Rachel Bailey
Benjamin Blackman
Kathryn Carpenter
Alexis Chartrand
Anna Comstock
Lindsey Douthit
Ryan Famuliner
Michelle Felter
Erin Goldenhersh
Katherine Harben
Megan Henderson
Stephanie Hugger
Hannah Johnson
Kristin Kellogg
Jenifer Langosch
Sara Morrow
Jennifer Price
Sarah Reedy
Katherine Renick
Kathryn Rundell
Rachel Scheiner
Megan Schumacher
Ashley Spratt
Kari Stephansen
Dana Strueby
Cristof Traudes
Amber Wilson
Julie Wyatt
The alumnus speaker will be John Riha, BJ '73, editorial director of Special Interest Media for the Des Moines, Iowa-based Meredith Corporation. He oversees a group of 144 titles covering building and remodeling; decorating and design; gardening and outdoor living; food and entertaining; diet and health; and various crafting activities including quilting, scrapbooking and knitting.
Riha previously served as executive editor for Better Homes and Gardens magazine, where he managed the daily work of the magazine and developed editorial content, ranging from home design and architecture to gardening and outdoor living to food and family matters.
Riha has more than 30 years of publishing experience. He was the founding editor of Renovation Style and also served as managing editor for Traditional Home. Riha originally joined the company in 1983 as the editor for the building and features section of Country Home.
An accomplished writer, Riha has published articles and books for This Old House, Esquire, Family Money, GQ, Men's Journal, Black and Decker Home Improvement Library and many others.
The Master of Ceremonies will be Andrew Shin, who will graduate with a major in radio-television journalism. As a reporter and anchor for two of the School's real-media outlets, KOMU-TV and KBIA-FM, Shin has covered many Columbia-area news stories and community events. He has been a community leader in the MU residence halls for three years, and has earned the Residence Hall Association's "Congressperson of the Year" award. Shin, a native of St. Louis, plans to pursue a career as a general assignment reporter and anchor for television.
Christa Koskosky, a strategic communication major, will serve as the student graduation speaker. From Shorewood, Ill., she has served as a writing intern at the MU News Bureau and a promotions intern at KOMU-TV. Koskosky has been actively involved with residential life, working as a journalism student coordinator and journalism peer advisor. The National Residence Hall Honorary named her the Peer Advisor of the Year 2005-2006. Koskosky plans to return to the Chicago area and work as a public relations specialist.
All graduates will receive a copy of the "Class Tribute," a booklet in which seniors, their families and faculty had the opportunity to make a gift in honor of their loved ones and to thank all those who made their success possible. Gifts to the 2007 tribute – in increments of $20.07 – raised more than $1,000 for the Missouri Journalism endowment.
Further information about the commencement ceremonies is available from the MU Commencement website.
Alumnus Speaker
---
John Riha, BJ '73
May 12, 2007
I was lucky.
My family prepared me well for a career in journalism.
Both my grandfathers were carpenters.
And my parents were obsessive compulsive.
My grandfathers built things – furniture, and houses, and step-stools and workbenches and sawhorses so they could build more things.
Growing up, my early life was filled with saws and cement hammers. And when my maternal grandfather came to live with us he brought his tools, and even though he was old and bent over, he was always drilling and running around with chunks of wood in his hands.
My parents were obsessed with home improvement. From the moment they got home from work, and usually all through the weekends, they were busy trimming hedges and repainting the house and caulking whatever needed caulking and, I suspect, a few things that had no need of caulk whatsoever.
To tell the truth, all that hammering and fixing and painting made me crazy. When I got to be a teenager, I wanted nothing to do with building and home repair.
I wanted to be cerebral. A writer. More to the point, a journalist.
So I enrolled at the University of Missouri and entered the journalism program. It was terrific, and I enjoyed it completely.
Then I graduated. I was 22, and I went right out and got a job. As a carpenter.
Because I was overwhelmed by genetic imperatives. All that carpentry and caulking was in my blood.
And I built furniture, and houses, and workbenches. And I caulked a few things along the way.
I worked for many years at those trades and was very happy. But there was one thing that was not quite right, not quite settled.
I had this wonderful, unused possession-a degree from one of the most prestigious journalism schools in the world, the University of Missouri School of Journalism. And I had a realization. An epiphany as it were.
Until that moment, I had always considered those two things-carpentry and writing-to be mutually exclusive. That the pursuit of the one meant putting the other aside.
But I realized that those two things weren't mutually exclusive. That a personal interest can be-should be-the very essence of a career in journalism.
And so I began to write magazine articles. About construction. And home improvement. And eventually I applied for a job as a building editor for a national magazine.
I was terrified. I was sure my resume was a disaster; that my many years as a carpenter would be my undoing.
But I was wrong. My experience proved incredibly valuable. All those years of cleaning gutters and pounding nails translated into knowledge. And a love.
And I was able to extend those interests to include many things related to home and garden.
And now, years later, I am the editorial director of 144 home and garden magazines and eight Web sites. The culmination of all that has come full circle, so that I am privileged to be with you here today, with all of you, on this wonderful occasion at the University of Missouri, as you begin your own careers.
And my continual epiphany is that journalism by itself isn't necessarily a career. It can be an open vessel. It sits there open, and waiting. Waiting for you to fill it up with the things you, personally, love to do.
For we are blessed, we journalists. We can make our passion our profession. And that is true whether you are an editor, or a graphic designer, or a broadcast technician.
We get to communicate that passion for others, so that they can see, and hear, and understand, and feel.
You hold the key to your future. It's in your heart. Trust that.
And what of the future? What do tomorrow's media bring our way?
For there's no doubt that we are on the threshold of one of the most dramatic, exciting and challenging eras in the history of media and communications.
We are in the midst of an upheaval in the industry that is both exciting and unnerving.
What will happen to traditional print media?
Will magazines survive?
Is consumer-generated content really content?
Is a handheld video of a 30-year-old guy riding a tricycle into an alligator pond and posted on YouTube, is that journalism?
Are we creators of content or merely wire-frame builders of self-generated flash points and video bursts?
The way that information is flowing to consumers is changing so rapidly. There are people out there right now who are working on ideas so clever that by the time we all get out of our caps and gowns, the ways in which content is created and delivered will be different than they were just this morning. And I mean that literally.
Liquid content on multiple platforms, digital news tablets, streaming sunglasses. Podcast webcast flycast plaster cast — what does the future hold for the Class of 2007?
There is an answer.
And the answer is: it doesn't matter.
It doesn't matter because the key to success in the years ahead is not in anticipating the next new delivery system, but in adapting to whatever comes along.
Adaptation, flexibility, a willingness to experiment – those are the essential characteristics of today's journalist.
In that regard, all my media experience pales in comparison to what you have right now — your freshness, your originality, your unfettered, unprecedented thinking.
Those are the requirements of today's media environment. It's not about what you know; it's about how fast you can adapt to what you don't know. And that is true whether you are an editor, or a graphic designer, or a broadcast technician.
There's another reason why "what's next?" can remain unanswered. Because the essence of what we do as journalists remains constant, unchanged and fundamental.
It's all about people.
And that is another wonder of our chosen profession. The essence, the common denominator of journalism is unchanged.
Then, now, and in our future.
It's all about people. And their stories. Their lives, their actions. And when you know that, you will have mastered every tool, every technological marvel, and every change that modern media will present.
And that is true if you are a writer, an editor, a graphic designer, or a broadcast engineer.
Now, the scary part of giving an address to a group of people like you is that someone might actually believe I have something to say.
That said, I do have a small piece of advice. And that is, when you have matured in your careers, in your chosen profession, I urge you to take a community writing class. Or an art class. Or a photography class.
What an odd piece of advice! Take a community writing class! Gee, didn't we get enough classroom experience at Mizzou?
I say this not to have you sharpen your writing skills. No. But to put you close to the people in your community, the young and the old, those everyday faces from our everyday lives.
And to remind yourself that the grocery clerk is capable of exquisite poetry…
And the plumber can be lyrical, and wise.
Remember that every one of us contains an untold story. That the most unassuming, nondescript person you encounter has the capacity for beauty, and pain, and understanding, and sacrifice, and excellence.
Those people – all of us – are the heart and soul of our journalistic endeavors. Journalism – our chosen profession – lives all around us.
People are the essence of journalism. And when we penetrate the veneer of routine and assumption — when we do that — we truly are at the heart of the story.
Student Speaker
---
Christa Koskosky, BJ '07
May 12, 2007
They bring professionalism and integrity to the workplace. They outshine other interns and employees. They come to work with impressive portfolios and are eager to contribute. It is always easy to determine who the MU graduates are.
This is how employers have described MU graduates, and these are the expectations that we are prepared to uphold and live up to. As we begin to enter our first jobs, we can go confidently knowing that our professors and fellow students have never expected mediocre work from us but instead have pushed us to perfection.
And while others have held high expectations for us, we have had expectations of our own. We expected to have articles covered in red pen. We expected to have not only our final broadcast packages graded but even our b-roll footage critiqued, and we expected grades to be docked for pixilated images. These expectations have led the people in Columbia and across the nation to expect excellence from MU journalism students.
When officer Molly Bowden was killed in the line of duty, Columbia Missourian readers turned to their local paper to read the coverage. Not only did they become informed readers, but your words went beyond the page, you made fathers hug their daughters a little tighter that night.
Hate paraded through our streets when the Nationalist Socialist Movement came to our town this year. It was MU photojournalists and broadcasters who were able to capture both the anger and the peace brought by that day.
In trying to visually communicate the emotions of that day, photojournalists did something a picture is rarely able to do; they literally gave their images a voice as they created striking and enlightening multimedia slideshows.
Each year the Television Bureau of Advertisers looks to MU strategic communication students for advice on how to better market to the youth and young adult audience. Hundreds of businesses across Missouri and the nation have benefited from advertising and public relations students' senior capstones.
As if we needed further assurance that we will continue to carry on the superior name of Mizzou, we need only to look to the walls of the School of Journalism to know that we will enter the real world with integrity, dignity and ethics. On those walls are written the words that resound with journalists across the world; it is the Journalist's Creed penned by Walter Williams.
Every year we have all aimed to live up to his profound words, no matter the sequence, no matter the year in school. Perhaps one of the most compelling statements in the creed is when Williams stated, "I believe that a journalist should write only what he holds in his heart to be true." I believe that our graduating class has adhered to this statement and every other word in the creed.
May we continue to live up to our own expectations and carry the lessons that we have learned here at Mizzou into our future. Congratulations class of 2007.
Updated: April 28, 2020
Related Stories
Expand All
Collapse All
---