School to Recognize 544 Candidates at May Graduation Ceremony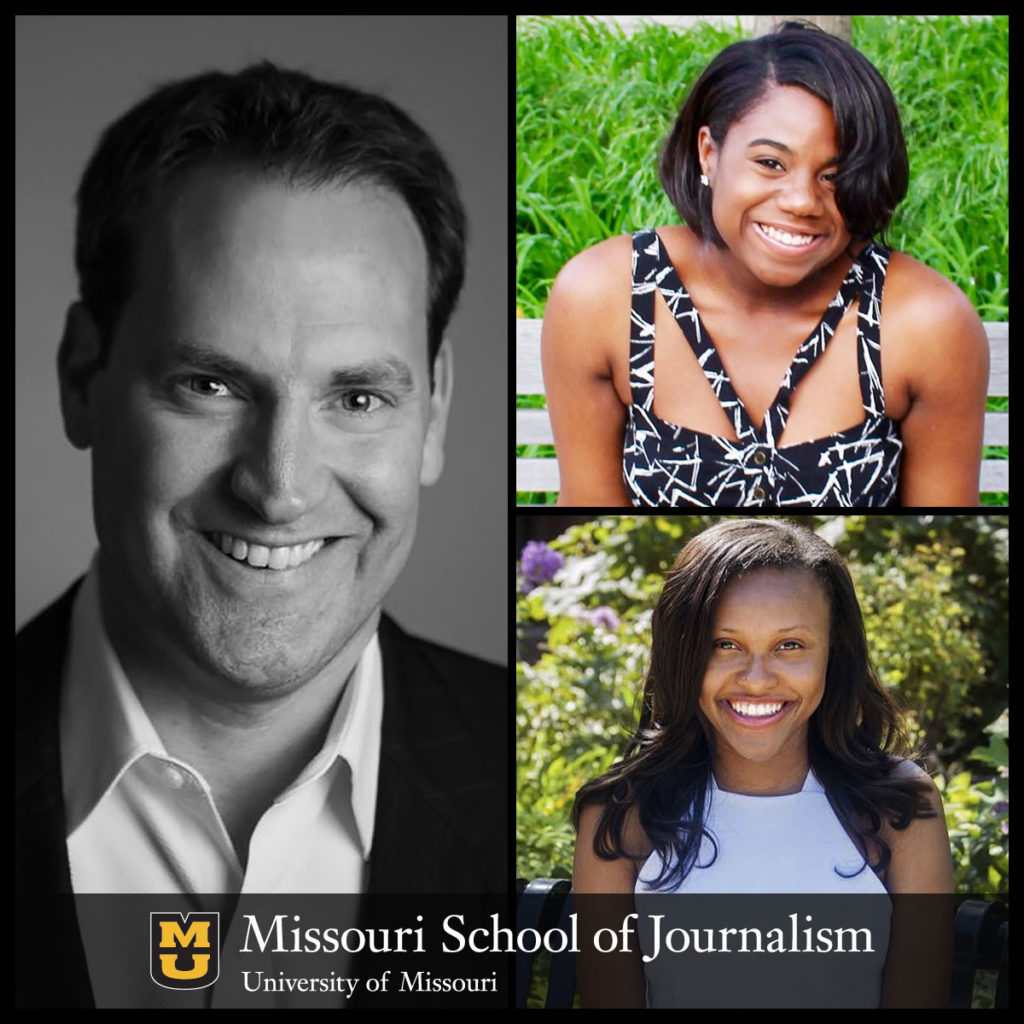 The alumnus speaker for spring commencement will be Jon Cook, BJ '93, global CEO of VML. The master of ceremonies will be Chelsea Haynes from Houston, top right, and the student speaker will be Cristen Milliner from Chicago.
The Program Will Begin at 5:30 p.m., Sunday, May 13, at Hearnes Center
Columbia, Mo. (May 1, 2018) — The Missouri School of Journalism will recognize 544 May and August graduates at its 5:30 p.m. commencement ceremony on Sunday, May 13, at the Hearnes Center on the University of Missouri campus. Seating is open, and no tickets are required. Guests can enter the center for seating at 4:45 p.m.
Graduate degrees will be awarded to 12 doctoral candidates and 56 master's students, of whom 12 earned their degrees online.
Of the 476 undergraduates, 49 percent focused on some aspect of journalism; 51 percent on strategic communication. A total of 46 percent earned Latin honors by achieving at least a 3.5 grade point average.
The top 10 percent of the School's graduates will be inducted into Kappa Tau Alpha, a journalism honor society founded at the School of Journalism in 1910. The KTA reception will be held before the graduation ceremony at 2 p.m., Sunday, May 13, in 88 Gannett Hall, Fisher Auditorium. The 43 new members of Kappa Tau Alpha are:
Doctor of Philosophy: Carlos Cortes-Martinez, Rachel Grant, Kimberly Kelling, T.J. Thomson
Master of Arts: JoDee Kenney, Lea Konczal, Monica Kwasnik, Erin McKinstry, Alexander Van Hulle, Todd Vogts, Tamar Wilner, Daniel Yesnosky
Bachelor of Journalism: Jenna Allen, Elizabeth Berg, Taylor Blatchford, Katelyn Blechinger, Samantha Brown, Kathryn Cornwall, Sophia Cygnarowicz, Hannah Dustman, Hannah Eggert, Carolyn Heger, Annamarie Higley, Delaney LaFon, Abigail Landoll, Mackenzie Lujin, Morgan Magid, Cassidy Minarik, Emily Pagano, Allison Pecorin, Rachel Phillips, Tashan Reed, Daniel Rosenberg, Rayna Sims, Madison Stanze, Madeleine Sutherland, Rachel Szopa, Jenna Tarleton, Victor Topouria, Kara Vitale, Allyson Wallenta, Catherine Wendlandt, Daphne Yu, Lauren Zatz
The alumnus speaker will be Jon Cook, BJ '93, global CEO of VML, an advertising and marketing agency headquartered in Kansas City, Missouri. During his 22-plus year tenure, the agency has grown from 30 employees to more than 3,000 across six continents. The VML global network now includes 33 offices in 15 countries.
VML leads brands across a connected consumer experience, driving inspiring connections. Client partners include Bayer Animal Health, Bridgestone, Colgate-Palmolive, Electrolux/Frigidaire, Ford, Microsoft, NAPA Auto Parts, New Balance, PepsiCo, Sherwin-Williams Consumer Brands Group, Sprint, Tyson and Wendy's.
Under Cook's leadership, VML received Advertising Age A-List honors – recognizing the industry's top ten most influential and impactful agencies – each of the past three years (2016-2018). Cook was named one of the 100 most influential people in advertising, as designated by Adweek and the 4A's (American Association of Advertising Agencies). He was also recognized as the Advertising Professional of the Year by AAF (American Advertising Federation)-KC.
The master of ceremonies will be Chelsea Haynes, who graduates with cum laude honors. From Houston, she pursued a dual major in broadcast journalism and Spanish to prepare for her career as a bilingual journalist. Haynes studied abroad in Barcelona, Spain, where she worked as a production intern at the audiovisual company Kilogram Box. Haynes served as a community affairs intern at ABC13 KTRK-TV in Houston. She is a member of the Alumni Association Student Board, Griffiths Leadership Society for Women, the National Association of Black Journalists, United Ambassador for Minority Recruitment and the National Society of Collegiate Scholars.
The student speaker will be Cristen Milliner, of Chicago, who studied strategic communication with a specialization in public relations. She was selected to be a Multicultural Advertising Intern Fellow by the American Association of Advertising Agencies, serving a summer internship at Ogilvy and Mather Worldwide in New York City. Milliner was one of 10 students who participated in the Novak Future Leaders Tour, a program of the Novak Leadership Institute at the School. She is a George C. Brooks Scholar, member of the Epsilon Psi Chapter of Delta Sigma Theta Sorority Inc. and Tour Team guide. She also served as a co-chair for United Ambassadors Diversity Recruitment Team. After graduation, Milliner will work as a public relations resident at Wieden + Kennedy.
Text of Commencement Addresses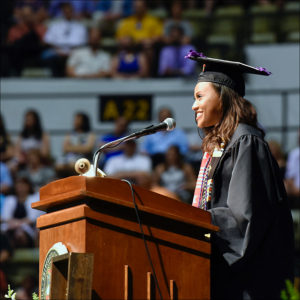 Student Speaker: Cristen Milliner, BJ '18
Friends, faculty, administrators and family: Welcome. We are graduating! And to all of the mothers here today, we hope the conferring of our degrees makes up for stealing some of your shine today.
We did it. We are graduating from the No. 1 School of Journalism in the country! As we reflect upon our journey, we understand that today marks the transition from what was once a dream transforming into a reality. Maybe you always knew you'd attend Mizzou to keep the family tradition alive. Or maybe you visited every campus imaginable before making Columbia your home. However you got here, today we celebrate the legacy that we, the Missouri School of Journalism Class of 2018, will leave behind.
Today, we begin our journey to becoming the best journalists and strategic communicators the industry has to offer. Like so many before us, we know it's possible, and we will do it. Look at the people sitting around you. You've seen them in countless classes you've had together. They're all destined for greatness. And as you look at them, please realize that someone is looking at you, too. YOU are destined for greatness. Today marks the beginning of a journey that we are well prepared to take. As graduates from the world's first school of journalism, we have had the honor to learn and grow among the best.
Four years ago, we were freshmen finding our way around campus to our first journalism class: Career Explorations. From then up until now, you've had a first-hand account of all the J-School has contributed to your story, and as you wear your cap and gown tonight, this chapter has finally come.
But my friends, another chapter is being written. This is only the beginning. Though we may not be sure of what's next to come, one thing is certain: We can do it. You can get anything done on time, and you've met the 11:59 p.m. deadline to prove it. Your presentation skills are top-notch. Your writing abilities are unmatched, and you passed the grammar exam to prove it. And maybe, just maybe, one day if you need to be your own lawyer, you have your communications law course background to prove it.
But most importantly, you're #MizzouMade, and you have the memories to prove it.
Whatever needed to get done at Vox, the Missourian, KOMU, KBIA, AdZou, or MOJO Ad, you did it. And then you did some more. Wherever your path throughout the J-School took you, it brought all of us here tonight. Our struggles, especially that J2100 News course struggle, have shown us that we are dynamic. Journalism is dynamic. And more importantly, so is Mizzou. Congratulations to the class of 2018! Let's show our excitement in the best way we know how: M-I-Z!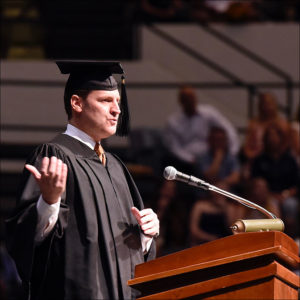 Alumnus Speaker: Jon Cook, BJ '93
Global CEO, VML
Good afternoon.
Before I dive in, I want to add my wholehearted congratulations to each of you of graduating today. And I think we can all agree that as much as this has been an individual accomplishment for each of you, college is definitely a team sport. Given that, I'd like to extend my congratulations to all the graduates, your parents and families that surround you, your friends and everyone that J-School who has supported you along the way. Congratulations, everyone!
I thought a lot about how to use a few minutes with you today, figuring out what would be most helpful. Two things came to mind. I'd like to offer you a bit of perspective, and then some advice.
First, some perspective about this J-School we all love.
25 years ago, I was sitting where you are today. I wasn't exactly sure where my career would lead, but I was confident in one thing. My Mizzou J-School education would work to my advantage. I was right.
It's hard to appreciate the context and history of this place when you're here. Hopefully it feels like a great collegiate experience. But when you get away, start your career and see the respect that Missouri Journalism carries, I think you'll find the same deep appreciation that I have for it. This school was groundbreaking for so many things through the years. But what I respect the most is the fact that from the very beginning, in 1908, the program featured two distinct – yet related – tracks: journalism and advertising – or what's now called strategic communication. An amazing forward-thinking approach.
For me, Mizzou's J-School provided the best communications foundation one could possibly have.
What constitutes "advertising" today was unthinkable when I started my career 25 years ago. As an example, on any given day at VML we're working with some of the best brands around the world. And with them, we're not just doing "advertising" but dealing with things like virtual reality, video production, Internet personalities, original music composition, book publishing, voice-activated devices, and so much more. And yes, we still produce TV commercials. In fact, we had a few that ran during the last several Super Bowls.
What advertising means today really hit home just last month when we created a full-blown hip-hop mix tape for our client Wendy's. Five tracks, all of it a straight shot right at our main competition. It blew up. No. 1 on the Spotify global viral 50. And it made it to No. 3 on the Apple Music hip-hop charts. For some perspective on that, rapper Kendrick Lamar was at No. 11.
I'm quite certain that in 1992 at the J-School there was not a class on how to write a No. 1 hip-hop album for a fast-food hamburger chain. But what we did learn was the power of a clear message, how to reach an audience and how to stand out in a crowd.
And while "where, when and how" we communicate changes so quickly, I've never felt too young, too old or too overwhelmed by any of it. I credit that to Mizzou.
No matter whether you are in reporting…editing…photography…videography…or…advertising, our J-School focuses on the fundamental and foundational aspects of communication. The purity and power of the message. The work ethic and awareness needed to succeed. Those elements of journalism are exactly the same today as they were 25 years ago.
From my perspective, I can confidentially tell you, you have a great foundation to start your amazing careers.
Now…some advice.
For context, I've got three daughters. Two of them are in high school, and my oldest is a freshman in college. So clearly they don't listen to any of my advice. I've given some of this advice to new VML-ers, but they sort of have to listen to me, so I'm not sure they're really listening. So, needless to say, I'm very excited to share advice with young people who might actually listen and put it to good use soon!
Advice No. 1: It's called Pixie Dust and it comes from the best job I ever had that wasn't called VML.
During my junior year, I luckily landed an internship at Disney World. I was in the Theme Park Management program. The program was about learning everything Disney was doing to provide guests a magical experience.
The first thing we learned was that when a family decides to visit Disney, they have off-the-charts, high expectations. The job we had to learn was how to surpass already sky-high expectations.
We learned through hands-on situations in the Magic Kingdom. For example, that the silliest question – like "What time does the 3 p.m. parade begin?" – was a great opportunity to show someone the best place to stand for the parade, to take a great family photo that might end up being next year's Christmas card, and yes, confirm that the 3 p.m. parade does indeed start at 3, but it's best to claim the ideal viewing spot around 2:40. Oh, and here are some rain ponchos for you and your family on us.
That just took a potentially "dumb question" situation and turned it into a Disney experience memory that your family will talk about for years. That's Pixie Dust.
For me, it means that no matter what profession you're in, and no matter who you're working with, there's always an opportunity to go a step further. Regardless of how high the expectations are for what you're supposed to deliver, do one more thing to create your own Pixie Dust.
Advice No. 2: Show up and follow up.
Sounds easy. Sounds simple. Sounds basic. I love this advice because it can work at its most literal. And it can work in the deepest of ways.
Let me explain. The Showing Up part includes more than just being in the right place on time, although that's certainly important. It means showing up and making your mark. If you're going to be somewhere, truly, show up. As prepared as possible, looking the part, being ready and willing to stand up at the white board and share your thoughts, or helping others bring out theirs. You have a choice in everything. Choose to "show up."
Following Up means more than sending thoughtful and timely thank you notes, although again, that's really important. It means make sure that good things happen because you were there. Create actions. Be the one that makes it happen.
Showing up is incomplete without Following Up.
Advice No. 3: Bring your whole self into whatever you do next.
Another piece of advice that sounds easy but doesn't happen often enough.
MU J-School graduates tend to be natural leaders, in lots of different ways. While each of you are totally different, from my experience, with J-School grads, there are some serious common denominators. A sense of energy…distinction…and pizazz. It's part of what sets you apart from other disciplines. J-School swagger! I'm guessing in your family, with your friends, in your groups, you are the ones who have always been the leaders, the tone setters, the creators, the voices.
I've seen some young people who think they need to segment themselves into distinct categories – one for work, another for family, and yet another for friends.
As you begin you careers, please don't suppress that. Bring your personality when you begin your next chapter, bring it with you and more importantly, put it forward in all that you do.
At VML, I see it manifested in lots of great ways, especially with the Mizzou Tigers at VML. For example, there's a young woman who joined us just over a year ago. Her name's Jasmine Cooper. Her job is social media community manager. But she's so much more than that at VML.
Jas created a personal blog where she shares experiences and advice about being a young woman of color in the professional world. She also hosts networking events for like-minded young women in the Kansas City area.
She is confident, stylish and definitely has swagger. She wanted to let her fellow VML-ers know about her blog and activities and asked to share her story at an all-agency meeting. We said absolutely, and everyone loved it.
Her overall VML experience – for herself, the clients she supports, and all the VML-ers who have gotten to know her – is so much better thanks to her sharing her amazing personality with the rest of us.
Jas brings her whole person to VML every day, and we're richer for it.
Bring you!
I know all of my advice may sound simple, but I promise you it will help you make that Mizzou mark on anything you do next.
Spread your version of Pixie Dust on to the next situation you're part of.
Commit yourself to truly Show Up and Follow Up.
And bring your Whole Person to everything you do. It'll turn your next "job" into something much, much more.
Now, unlike my kids and unlike my colleagues at VML, YOU only have to hear me say this once.
I appreciate the chance to be a small part of your big day. Thank you, and congratulations to each and every one of you.
Updated: October 30, 2020
Related Stories
Expand All
Collapse All
---