Chancellor's Leadership Class gives first-year students across campus a head start on their education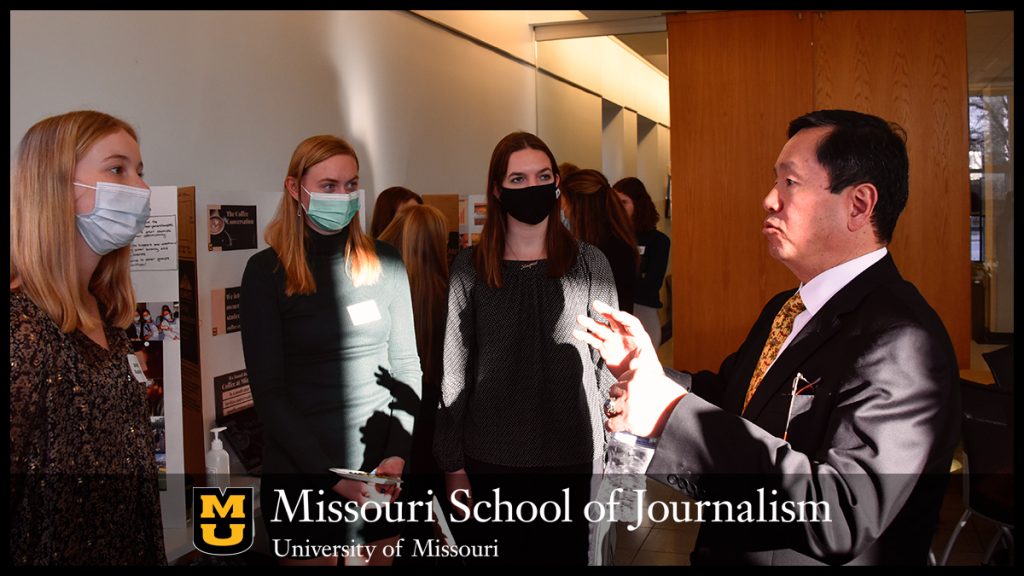 Columbia, Mo. (Dec. 14) — Chancellor's Leadership Class students presented their final projects on Dec. 9, showcasing visual stories of Mizzou's dynamic and varied programs and opportunities. University of Missouri President Mun Choi toured the students' displays and spoke to the 25 teams of two to four students.
"I was so impressed with not only the students' work, but also their thoughtful presentations and enthusiasm," Choi said. "The student projects included analyses of sustainability, the ROTC experience, MU demographics, healthy habits, and featured many service organizations. In fact, the students introduced me to some terrific programs and facts about our university."
The class kicked off in August with a reception featuring President Choi. He spoke to the students about the Missouri School of Journalism's Novak Leadership Institute (NLI), funded by a $21.6 million gift from alumnus and retired CEO of YUM Brands (Pizza Hut, KFC, Taco Bell), David Novak, BJ'74. Choi shared Novak's journey studying advertising at the School of Journalism, then stayed after his remarks to talk with students and offer career advice. The reception was a fitting kickoff for the semester, given the class's emphasis on education that goes beyond the classroom with hands-on activities and learning opportunities centered around the Missouri Method of learning by doing. In addition to the final project, participants take part in team activities like a ropes course and attend events around campus designed to push them out of their comfort zones.
Through an application process, the one credit-hour course is open to freshmen at Mizzou, and sections are taught by Novak Leadership Institute professors and educators who have earned the Novak Affiliate Faculty Certification. A team representing Student Affairs, the Trulaske College of Business, College of Education & Human Development, School of Journalism, Extension and Engagement, and Department of Psychology advised on course content.
"We hope to give students a rich experience where they can explore what the university has to offer, experience different perspectives, and understand how we need others to make big things happen," said Margaret Duffy, executive director of the NLI and one of the course's instructors.
One example of this emphasis on relationships was an assignment that asked students to write thank you letters to people who have been impactful in their lives. The emphasis on serving others is fundamental to the course and recent guest speaker Anne-Marie Foley, director of Mizzou's Office of Service Learning, spoke of the many opportunities to help others and improve society.
The course's focus on a growth mindset also requires a healthy dose of self-awareness from the students, a dynamic that is present in much of the NLI's work. Hunter Hart, a senior studying strategic communication at the School of Journalism, has participated in several of the institute's classes and programs, including an entrepreneurship and innovation course and a book club featuring Provost Latha Ramchand. The institute's focus on helping students think honestly about themselves and their goals continues to stick with him as he prepares to graduate in December and begin a career in marketing.
"All Mizzou students should be taking Novak courses," Hart said. "They do a great job of helping you break down your thoughts and learn how you respond in different situations, so they teach you a lot about yourself at a time when you might not know exactly what you're going to do or where you're going to end up. And once you have ideas, they show you how to make them a reality. It's a really positive experience."
Updated: April 15, 2022
Related Stories
Expand All
Collapse All
---