Mizzou Alumni Association honors two Journalism faculty and two alumni with Faculty-Alumni Awards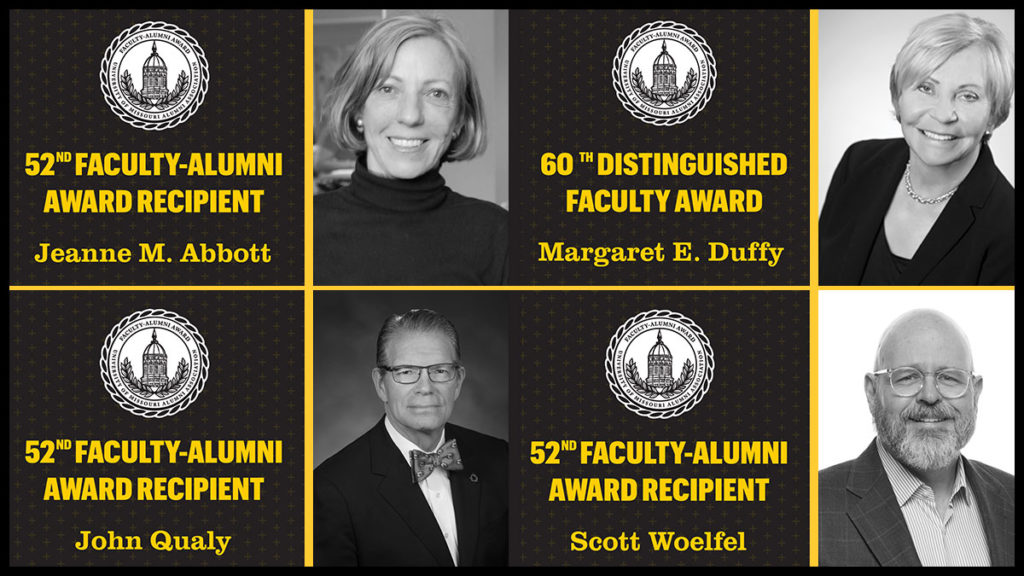 The recognition celebrates outstanding service and professional accomplishments.
Columbia, Mo. (Nov. 14, 2019) — Two Missouri School of Journalism faculty and two alumni are among the 12 that will be honored by the Mizzou Alumni Association (MAA) during its annual Faculty-Alumni Awards ceremony on Nov. 15 at the Reynolds Alumni Center.
Professor Margaret Duffy is receiving the Distinguished Faculty Award. Associate Professor Jeanne Abbott, BJ '67, will be recognized as a faculty honoree and John M. Qualy, BJ '70, and Scott Woelfel, BJ '81, will be recognized as alumni honoree.
The MAA Faculty-Alumni Awards, begun in 1968, recognize the achievements of faculty and alumni. Faculty are considered for their work as teachers, administrators and researchers. Alumni are considered for their professional accomplishments and service to Mizzou.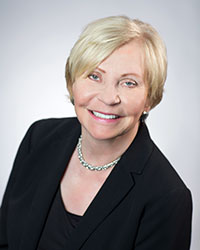 60th Distinguished Faculty Award
Margaret Duffy
Professor of Strategic Communication and Executive Director of the Novak Leadership Institute
Established in 1960, the Distinguished Faculty Award honors an outstanding member of the faculty whose continued achievements have brought distinction to the faculty member and our University. It is awarded on the basis of the total accomplishments of the faculty member, with special emphasis on the faculty member's relationships with students.
Duffy is known for leading from the front and staying ahead of the curve. She currently serves as executive director of the School of Journalism's Novak Leadership Institute. Duffy led the effort to obtain a $21.6 million gift to endow the Institute from David Novak, BJ '74, retired CEO of YUM! Brands (Pizza Hut, Taco Bell, and KFC). The institute benefits future leaders – both students and professionals from around the state of Missouri.
Until 2016, Duffy chaired the strategic communication faculty at the School of Journalism and grew the program from approximately 180 undergraduates in 2003 to almost 600 today, almost half the students in the J-School. She led curriculum reform in the strategic communication program to develop new models to better prepare students for the changing media world. The program has become a world leader in health and pro-social communication research. Additionally, Duffy is the founder of two student-staffed, fee-based ad agencies, AdZou and MOJO Ad, specializing in the youth market for major brands. She also served as associate dean for graduate studies, and she directed the School of Journalism's online master's program from 2001-2016.
Duffy is an award-winning scholar. Her research focuses on leadership, organizational communication, visual communication and persuasion ethics. An author and consultant, Duffy conducts research and advises media companies and brands around the world with clients as varied as Estee Lauder and the U.S. Army.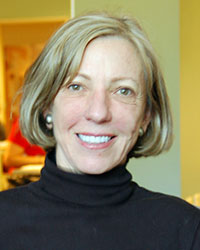 52nd Faculty-Alumni Award
Jeanne Abbott, AB '67, BJ '67, MA '69, PhD '88
Associate Professor and Managing Editor, Columbia Missourian
Abbott has been in the newspaper business for four decades, including the past 10 years serving as managing editor of the Columbia Missourian where she works with committed faculty editors and talented students to practice journalism with the highest standards. After her first graduation from the Missouri School of Journalism, she began in Alaska as a reporter for the Pulitzer Prize-winning Anchorage Daily News, where she served 15 years as a metro reporter, opinion editor, features editor and columnist, covering issues such as Native land claims, the building of the Alaska pipeline and rural education developments. When she returned to Mizzou to earn a doctorate, she worked as a city editor and features editor for the Columbia Missourian. After earning her doctorate, she worked at the Sacramento Bee as a copy editor and designer for the features section, and then the Des Moines Register, where she became assistant managing editor for features. With the powerful emergence of the internet, the newsroom saw a slow decline in staff and circulation, and in 2007, she returned to the Journalism School as a Knight Fellow, working to help pioneer data-based stories at the Missourian.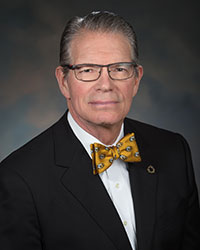 John M. Qualy, BJ '70
Retired Managing Partner, Northwestern Mutual Life Insurance Co.
Over his 41-year career with Northwestern Mutual Life Insurance Co., Qualy reached the highest levels of corporate success, and he has generously shared his leadership capacity with St. Louis community organizations and Mizzou. He began with Northwestern in 1971, as a financial representative operating out of an apartment in Columbia, Missouri. He opened an office in Columbia and expanded to eight financial representatives before being appointed managing partner to develop a financial planning network in St. Louis. Over the next 20 years he quadrupled the number of financial representatives, and the St. Louis office earned the company's prestigious Growth Award every year from 1990 to 2010. During this time, the performance of the St. Louis network he managed increased from $2.6 million in premiums on 2,000 policies sold to $30 million in premiums on 15,000 policies sold. Qualy's group became the national office leader for the entire Northwestern Mutual network. Within his organization, Qualy developed the company's largest College Internship Program, and served several terms on the board of the Leadership of the Northwestern Mutual Managing Partners Association, including a term as president.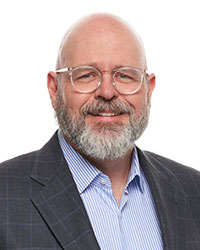 Scott Woelfel, BJ '81
Executive Vice President, IfThen Digital
An innovator and thought leader in the interactive media industry, Woelfel's work has helped shape how a global audience receives and interacts with brands and information online. He is a true evangelist for all things digital. Woelfel began his career in the news business, first in local television, then spending more than 15 years at CNN where he was co-founder of CNN.com and led the news giant's online effort as editor in chief and later president of the CNN Interactive division. Under his guidance, CNN moved from a broadcast-only network to a multi-platform news service with global digital services in ten languages. Upon leaving CNN in 2001, Woelfel formed Armchair, a strategic consulting and interactive design firm that combined the skills of strategists, designers, writers, technologists, and programmers to develop new digital presences for a broad set of clients ranging from start-ups and non-profits to Fortune 500 giants, helping them to reach new audiences with innovative digital strategies and practices. In 2017, Armchair was acquired by IfThen Digital, a leading interactive design-and-build agency, where Woelfel now serves as executive vice president.
The MAA Faculty-Alumni Awards Program
Through the awards program, the Mizzou Alumni Association expresses its appreciation for these individuals and their service to higher education. It focuses attention not only on these outstanding persons and their accomplishments, but also on the vital relationship between faculty and alumni in promoting the best interests of the university.
Updated: November 10, 2020
Related Stories
Expand All
Collapse All
---