Journalism Alumnus Has Guided Fleishman-Hillard's Growth from Small Local Agency to Global Leader
St. Louis (April 7, 2004) — John D. Graham, BJ '59, chairman and chief executive officer of Fleishman-Hillard Inc., recently celebrated 30 years at the helm of Fleishman-Hillard. On March 25, 1974, he was named president and chief executive officer of the firm, which then had only a single office in St. Louis. Today, Fleishman-Hillard is one of the world's leading public relations firms, serving clients from 83 offices around the globe.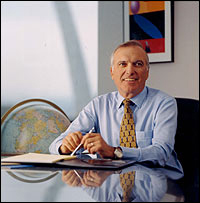 A native of St. Louis, Graham attended the University of Missouri on both a track and field scholarship and a Curator's scholarship. In 2002, he received the Missouri Honor Medal for Distinguished Service in Journalism. The Medal – instituted by the Missouri School of Journalism in 1930 to recognize lifetime achievement in journalism and communications – is one of the most prestigious honors the profession has to offer.
Approximately 50 Missouri alumni currently are working at Fleishman-Hillard. There have been many others who have contributed to the company's growth through the years.
Graham joined Fleishman-Hillard in 1966. He was elected vice president, director, and senior partner in 1970. After becoming president and chief executive officer in 1974, he received the additional title of chairman in 1988.
"Thirty years ago, I knew Fleishman-Hillard had the potential to do great things on a large scale," said Graham. "But I must say the success we have achieved surpasses anything I anticipated when I took on the responsibilities of chief executive officer. That success is a tribute to the hard work and commitment of the people of Fleishman-Hillard.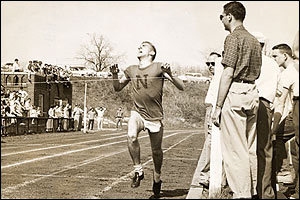 Graham also has been instrumental in developing the firm's reputation for quality service. Fleishman-Hillard has been recognized by the Thomas L. Harris/Impulse Research Public Relations Client Survey as No. 1 in quality for 11 consecutive years among major full-service agencies. The firm also has regularly placed at or near the top of the highly respected annual agency rankings published by the Holmes Report, which last year referred to Fleishman-Hillard as "the best managed firm in the public relations business."Under Graham's leadership, Fleishman-Hillard has grown from approximately 24 employees to more than 2,000 professionals serving clients from offices in 22 countries throughout North America, Europe, Asia, Latin America, Australia, and South Africa. The agency is now a part of Omnicom Group Inc.
Graham has been elected to the College of Fellows of the Public Relations Society of America and in 1990 was named a Public Relations All-Star for agency management by Inside PR magazine. In 1994, he was selected as PR Professional of the Year by the readers of PR News. In 2000, Graham became only the third agency PR executive to be inducted into the Arthur W. Page Society Hall of Fame. He also received the Thomas Mosser Award from St. Bonaventure University for contributions to the public relations profession. In 2001, he was named PR Professional of the Year by PRWeek, and in 2003 he was chosen by the Public Relations Society of America to receive one of the profession's most prestigious honors, the Gold Anvil.
Graham, who has written many articles on public relations is past chairman of the Council of Public Relations Firms, and is a member of the Public Relations Seminar, Arthur W. Page Society, Wisemen, the Public Relations Society of America, and the International Public Relations Association.
Updated: April 28, 2020
Related Stories
Expand All
Collapse All
---