Wilkins, Wright Honored with 2006 MUAA Faculty-Alumni Awards
Columbia, Mo. (Oct. 31, 2006) — The MU Alumni Association has named Lee Wilkins, professor of radio-television journalism, and Dalton Wright, a member of the board of the Missourian Publishing Association, as recipients of the 39th annual Faculty-Alumni Awards.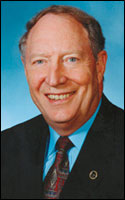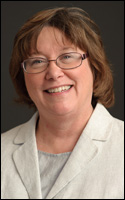 The Faculty-Alumni Awards express the MU Alumni Association's pride in the accomplishments of faculty members and alumni and appreciation for their service to the University. The awards focus attention not only on outstanding faculty members and alumni, but also on the vital relationship between faculty and alumni in promoting the best interests of the University.
An expert in media ethics and risk communication, Wilkins has published extensively in both areas. Her Media Ethics: Issues and Cases, now in its fifth edition, is the leading textbook in the field and has been translated into Korean and Chinese. Her most recent book, The Moral Media: How Journalists Reason about Ethics, received wide praise from scholars when released by Lawrence Erlbaum and Associates in 2005. Wilkins soon will begin co-editing and writing the first-ever Handbook of Media Ethics. In addition, she is the associate editor of The Journal of Mass Media Ethics, the country's leading academic journal on media ethics.
Wilkins received the William T. Kemper Fellowship, one of the University's highest teaching honors, in 1998 in part for her work with students on the graduate level. An alumna of the School of Journalism, Wilkins, BJ '71 and BA (political science), earned her doctorate in political science and master's in journalism from the University of Oregon. She holds a joint appointment with the Harry S. Truman School of Public Affairs, where she teaches about communicating risk to the public.
Dalton Wright, BS '66 (business), is a long-time newspaper publisher from Lebanon, Mo., and a member of the board of the Missourian Publishing Association Inc., which publishes the Columbia Missourian. The paper is the working newspaper lab for students in news-editorial, design, information graphics and photojournalism. Wright and his newspaper, The Lebanon Daily Record, have been hailed as national leaders in community newspaper journalism. Wright is known as a pioneer in the use of the Internet as a publishing tool for community newspapers. He has served as president of the Missouri Press Association and the National Newspaper Association. Only one other Missourian, Walter Williams, founder of the Missouri School of Journalism, has been elected president of the NNA. A Vietnam veteran and active community leader, Wright is a member of the Lebanon Chamber of Commerce and Rotary Club, an aide to the Secretary of the Army for Missouri and chair of the State of Missouri Military Preparedness and Enhancement Commission.
Updated: April 28, 2020
Related Stories
Expand All
Collapse All
---