Stacey Woelfel to Be Honored by Mizzou Alumni Association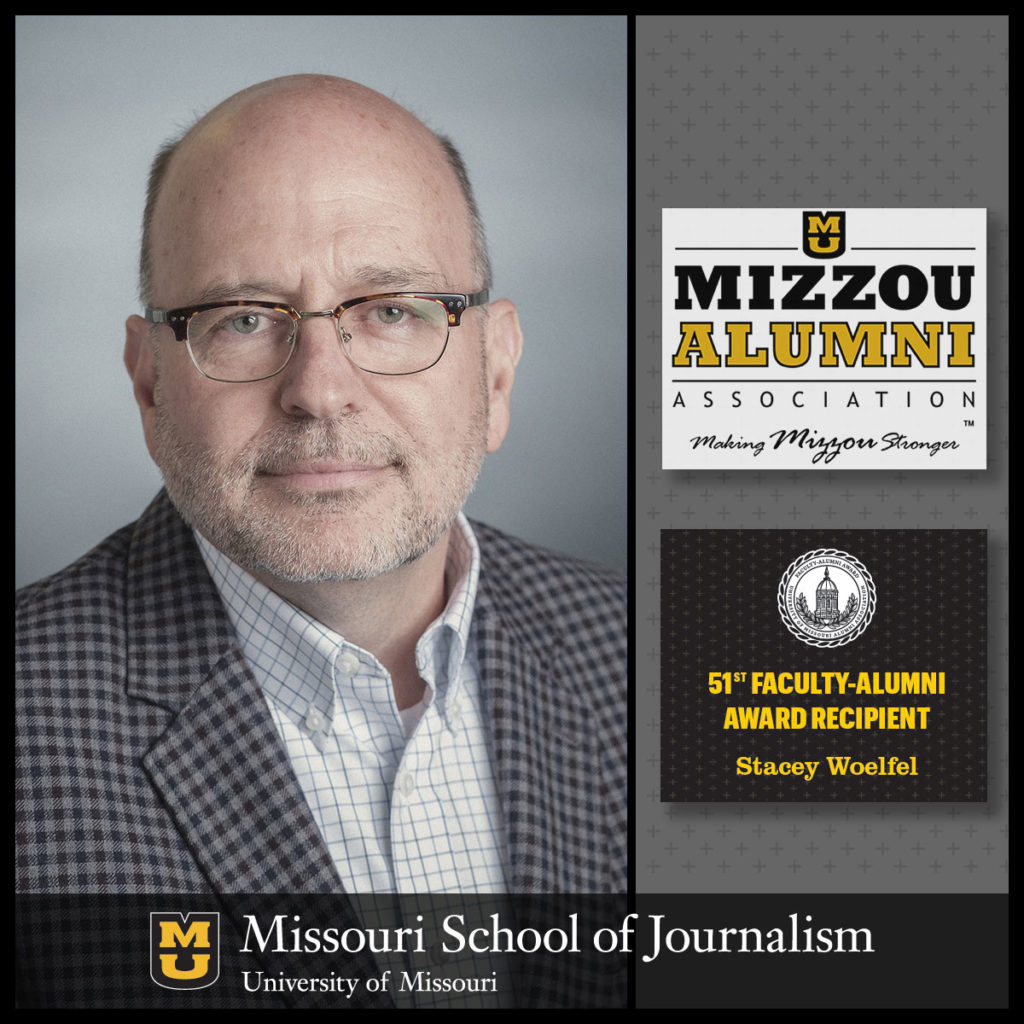 Stacey Woelfel, professor and director of the Jonathan B. Murray Center for Documentary Journalism, will be recognized as a faculty honoree by the Mizzou Alumni Association at its 51st annual Faculty-Alumni Awards Ceremony Nov. 9 on the MU campus.
Annual MAA Recognition Celebrates Outstanding Service and Professional Accomplishments
Columbia, Mo. (Nov. 1, 2018) — The Mizzou Alumni Association (MAA) will honor 14 outstanding faculty and alumni Nov. 9 at its 51st annual Faculty-Alumni Awards Ceremony in the Reynolds Alumni Center. The Distinguished Service Award, the Distinguished Faculty Award and 12 Faculty-Alumni Awards will be presented.
Stacey Woelfel, professor and director of the Jonathan B. Murray Center for Documentary Journalism, will be recognized as a faculty honoree.
The Faculty-Alumni Awards celebrate outstanding faculty and alumni who work to advance the arts, sciences and humanities. Professors are considered for their teaching, research and service. Alumni are considered for their accomplishments in their professional lives and service to their alma mater.
Woelfel's career has been dedicated to teaching and leading journalism students to become the best storytellers they can be. After managing the newsroom at Mizzou's KOMU-TV for 28 years, he became the architect of the School's innovative Murray Center for Documentary Journalism in 2014, writing its curriculum and building its infrastructure.
Woelfel says being a teacher has made him a lifelong learner. "Once you begin to teach, you realize how little any of us really knows. So I make it a priority to learn from my peers and to learn from my students. Over the decades, both of these groups have taught me so much and have made me a better journalist and professor."
Beyond his work with the School, Woelfel currently serves the documentary world as a screener for Columbia's annual True/False Film Fest, a screener for the St. Louis International Film Festival and a member of the board of the Kansas City Film Fest. Woelfel teaches free media practices for journalists worldwide, having instructed working journalists in China, Croatia, Mexico, Moldova and Montenegro.
While his career has been working in the journalism profession, Woelfel says it wasn't always what he thought he would dedicate his time to. "Strangely enough, journalism was not my main career focus in school. I was planning to go to college to be a professional musician and composer," Woelfel said. "But my senior year in high school, I had all my requirements met and just needed electives. All my friends were in the journalism class, so I decided to take it with them. The passion for journalism started right there and has never let up."
Woelfel is an expert on the best practices for leading newsrooms staffed with undergraduate journalism students. He has served the television news industry as the national chairman of the Radio Television Digital News Association, president of the Carole Kneeland Project for Responsible Journalism, and president of the Mid-America Chapter of the National Academy of Television Arts and Sciences.
The Mizzou Alumni Association strengthens MU by supporting the best interests and traditions of Missouri's flagship university. Founded in 1853, the Association keeps 320,000 alumni worldwide connected to each other and their alma mater. Interested Mizzou alumni can sign up online at the MAA website.
Updated: November 5, 2020
Related Stories
Expand All
Collapse All
---