Stronger Than Fiction Film Festival Set for May 9 at the Missouri Theatre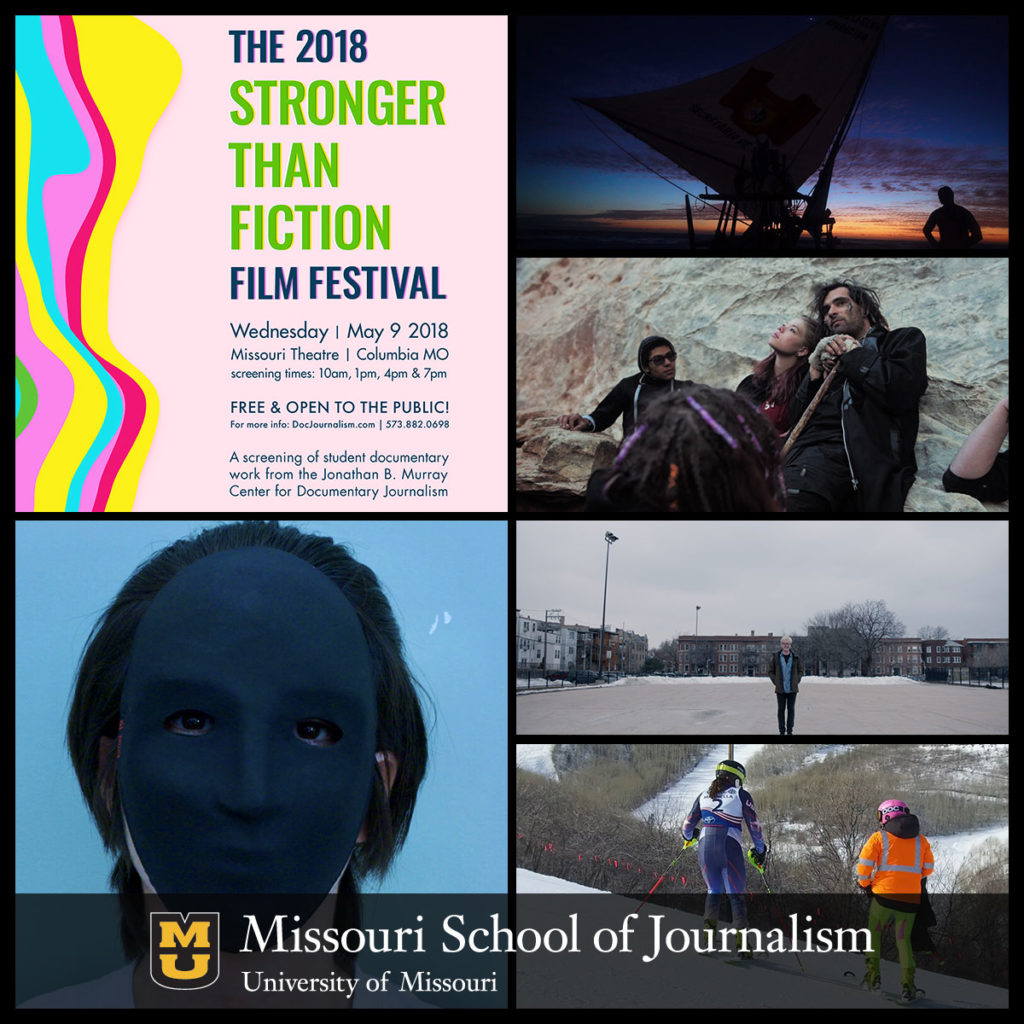 The Stronger Than Fiction Film Festival on May 9 will mark the world premiere for 20 short documentary films, many of which will then go on to other film festivals all over the U.S. and beyond.
20 Documentary Journalism Students to Premiere Their Projects
Columbia, Mo. (May 1, 2018) — On May 9, at the historic Missouri Theatre in downtown Columbia, the Missouri School of Journalism's Jonathan B. Murray Center for Documentary Journalism will hold its second annual Stronger Than Fiction Film Festival, a showcase of the work of the students graduating from the documentary journalism interest area. The festival marks the world premiere for these films, many of which will then go on to other film festivals all over the U.S. and beyond.
Twenty Missouri Journalism students will be showing short documentary films over four different blocks, with each block showing completely different films. Highlighting the industry-focused Missouri Method of training, the students' ideas for these films were approved by an outside panel of documentary professionals last spring.
The students then spent nearly a year developing their short film for the festival. Each student directs their own documentary, while also collaborating with other students in the program as cinematographers, editors, producers and more.
According to Stacey Woelfel, center director, "The festival is the final step in our Missouri Method approach to teaching our students. Like all our journalism students, their work now goes before the public to inform and engage a real-world audience." Woelfel says that holding the festival at the Missouri Theatre provides the festival with "an enormous screen and terrific sound system" on which to play the films.
Project screenings are presented in four blocks, at 10 a.m., 1 p.m., 4 p.m. and 7 p.m., with each block lasting approximately two hours. At the end of each block, there will be a Q&A session with the filmmakers. Following the 7 p.m. block, there will also be an awards ceremony recognizing the best student films. Admission to all films is free (no tickets required) and open to the public.
More information is available on the Stronger Than Fiction Film Festival Facebook event page.
Block A: 10 a.m.
Chiane from Far Rockaway, dir. Cassidy Minarik
Temporal, dir. Jackson Bollinger
Familiar, dir. Madeline Cihak
Moving Houses, dir. Will Linhares
In the Dark, dir. Jessie King
Block B: 1 p.m.
Here I Will Hanker, dir. Sebastian Martinez Valdivia
Basking Season, dir. Morgan Magid
The Locks, dir. Nicky Cook
The Magic of Acting, dir. Jack Tideman
Murder Files, dir. Liza Anderson
The best of me.MP4, dir. Michael English
Block C: 4 p.m.
Ironing With My Hands, dir. Rachel Tiedemann
Staci and Sadie, dir. Suzy Le Bel
Fools at Heart, dir. Nate Compton
Until Arcturus, dir. Abbey Reznicek
The Sit Down, dir. Laura Harris
Block D: 7 p.m.
Roxana, dir. Bella Graves
TAKE A PICTURE OF MY D**K, dir. Olga Breslavets
Ulisses, dir. Beatriz Costa Lima
Nai Nai, dir. Wyatt Wu
Updated: October 30, 2020
Related Stories
Expand All
Collapse All
---