Documentary Journalism students premiere their films at Stronger Than Fiction Film Festival on May 12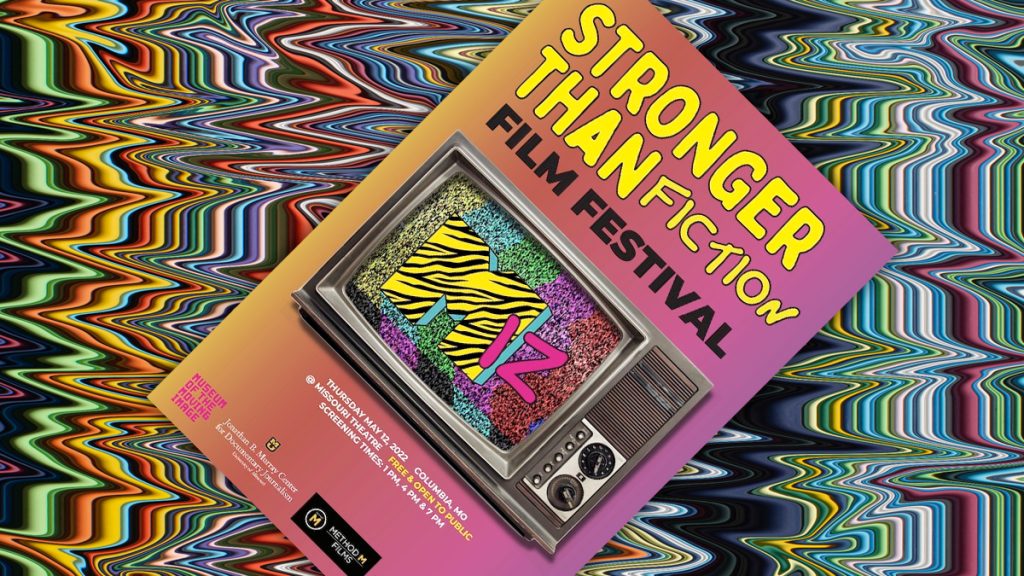 The films are the culmination of more than one year of work
Columbia, Mo. (May 10, 2022) — The sixth annual Stronger Than Fiction Film Festival is taking place on Thursday, May 12 at the historic Missouri Theater in downtown Columbia, Mo. There films are screening in three blocks at 1 p.m., 4 p.m. and 7 p.m. There is no cost to attend.
The 16 films being show are the work of undergraduate students in the Documentary Journalism Program at the Jonathan B. Murray Center for Documentary Journalism at the Missouri School of Journalism.
"We're excited the annual Stronger Than Fiction Film Festival is back at the historic Missouri Theatre for the first time in three year," said to Stacey Woelfel, professor emeritus and director of the Murray Center. "That great location allows people from all over Columbia to see the work of these talented filmmakers for free."
The subject matter of each film below is the personal choice of its director, approved by a panel of documentary experts and guided by visiting artists, faculty and peers. The directors were given a great deal of editorial and creative control over their films, nudged in the right direction by those they trusted the most.
In addition to the in-person screenings the films will be available for streaming from May 13 through May 19 at MethodMFilms.com
This year's students and their films are:
Block 1 (starts at 1 p.m.)
Man at Work directed by Cleo Norman (24 minutes). Man at Work follows a day in the life of the filmmaker's father. Ebby Norman has owned and operated his bike shop, Pro-Velo, for almost 20 years. And he has no plans of stopping. At the bike shop, he is surrounded by conversation in the barber shop-like environment that has been created there. But as old memories and breaking news swirl around him, he stays focused on his craft. Man at Work relishes in Ebby's humble memories, recalling all the reasons that he has found himself in this special place. In the cluttered spaces, Ebby finds moments of reflection and accountability, and reminds us that we are all constantly at work on our craft and the relationships that make up our daily life, while also constantly at work on ourselves.
Accept & Embrace directed by Cameron Geeding (21 minutes). In a Central Florida retirement park, the residents of Buttonwood Bay navigate tropical storms and an ever-aging population as they act in defiance of what seems to always linger over them: death. Here lives Noreen and her sister Sharon as they spend the remainder of their idyllic lives in this tight-knit community of merriment. Accept & Embrace demonstrates the process of transitioning from an observational to reflexive style as the filmmaker is forced to confront his relation to the film's central participant, his grandmother, and how the nature of his photography might intrude on this community of wisdom and embracement.
Fonteece directed by Ray Jude Tubbs (10 minutes). Fonteece is a film that follows the life and times of the Peter Fonteece, an incredibly prolific video maker that nobody has ever heard of. Over the course of twelve years, Fonteece has uploaded more than 7,000 short videos across countless sharing platforms. During this time, he's crafted a bizarre aesthetic that remains compelling despite its amateur style and dubiously-sourced content. Fonteece has persisted in this endeavor regardless of the fact that nobody seems to pay his art any mind — until now.
The Bus in the Woods directed by Joel Feldmann (11 minutes). Tucked away in the Ozark Mountains, Branson, Missouri has become a tourism haven for the state of Missouri due to its entertainment theaters and other attractions. The filmmaker's grandparents, Pete and Victoria Dunn, saw potential in this town and thought they could capitalize by buying a piece of property that could be enjoyed for summer vacations and eventually turn a profit. This is the journey the filmmaker takes to discover the history of Branson and what The Bus in the Woods means to his grandparents decades later.
Mavericks directed by Mark Powers (22 minutes). Mavericks brings the audience to Volcanoes Stadium in Salem, Oregon to meet a quirky cast of characters who inhabit the ballpark during the Mavericks League's inaugural season. Each group of characters reveals a different side of the community that gathers on the weekend to celebrate America's pastime. The film revels in the unique moments in time created by the interactions of normal people with a rolling camera that expects nothing from them. In a society of individualism, these Americans find community in their shared love for baseball.
Block 2 (starts at 4 p.m.)
On Board directed by Taylor Gion (16 minutes). In a boy-dominated sport, members of an all-girl skate crew carve their names into hometown history. Lauridsen Skate Park, located in Des Moines, Iowa, is the largest skate park in the nation and home to the Subsect Kids Skate Crew. On Board follows Luca, Mina, and Azra as they navigate adolescence while learning to skate. This lighthearted portrait of childhood invites viewers to reminisce as they view this lively world through the eyes of three girls.
Me and Eric on a Road Trip directed by Nathan Gregg (19 minutes). Road trips can put a strain on any relationship. What happens when you take a road trip with someone you haven't spoken to in ten years? Eric was a childhood best friend to the filmmaker. They spent every summer, weekend, and recess together. While relationships like this shape who we become, they often fade with time. Are they meant to? Me & Eric on a Road Trip is a nonfiction buddy comedy that tries to answer this question.
Behind the Scenes directed by Eric Gershilevich (13 minutes). Take a look through the lens of student filmmakers in Columbia, Missouri as they struggle to make their visions come to life, whether that be an exploration of their culture or a thriller about a serial killer roommate, all amidst limited resources and a limitless amount of heart.
The Fifty-Five Million Dollar Junkyard directed by Wes Ward (15 minutes). It cost $55 million to protect the town of Valley Park, Missouri from seasonal flooding, but some would question what in that town is worth protecting. One man recounts his fourteen years as a resident and two years as a member of its government.
Sifa B. directed by Audrey Roloff (27 minutes). Sifa B. follows the life of Sifa Bihomora, a Rwandan musician living in Columbia, Missouri. As time progresses, Sifa experiences imperative transformations in her career, home life, and view of self. Gifted with an electric personality, strong compassion and undying ambition, Sifa spreads positive influence within the small community. The film begins to challenge her friendship with the filmmaker by uncovering each other's contradictory communication styles, personal needs, and differing sociohistorical backgrounds. As she finds herself putting the films needs before her own, Sifa must decide to keep going or stop production all together. Using cinema as a tool, the duo strives to fulfill the balance between them.
Temporarily Closed directed by Joe Cross (10 minutes). As teenagers, three best friends went to a filmmaking camp at a dying mall in Dallas where they learned how to make lo-fi short films that were often incomprehensible to anyone but them. The final year they attended, the mall owners had commissioned a commercial from the campers in a rebranding effort. Years later, the mall has closed and one of them isn't sure if they want to make movies anymore. Temporarily Closed asks if these things are related while examining what happens when the creative process suddenly grinds to a halt.
Block 3 (starts at 7 p.m.)
More than Dance directed by Jaclyn Berry (23 minutes). After 40 years of business, a small dance studio led by a mother-daughter duo fosters more than a love for dance. In a post-pandemic world, the pair must fight to keep the music on.
The Best Part directed by Kyndall Hubbard (21 minutes). An attempt to continue a project undertaken a decade in the past, this film illustrates the unique struggle within African American families to record and unearth their histories through the filmmaker's own endeavors to learn more about her grandmother's early life. A home video interview recorded more than 10 years ago serves as a starting point for the journey and provides a glimpse into a not-so distant past. The result is a tribute to stories lost to time that highlights the widespread failure to adequately preserve and acknowledge Black history in the U.S.
Carrie in Control directed by Barb Kuensting (27 minutes). Faced with unaccepting parents and the trauma from a tumultuous childhood in the Catholic Church, 22-year-old Carrie is at an identity crossroads. When her exotic dancing days end abruptly, she's forced to reckon with her reality and question the chains she's worn her entire life. Her only consistency, animals, are a symbol of hope – but even they are struggling at the hands of those above them. Will she find the strength to stand up for herself and those she loves, or will the comfort of the pain lure her in longer?
Werm directed by Ethan Heinz (18 minutes). In the shadows of the looming Chicago skyline, a man crept through the night, turning train cars, brick walls, and bridges into his own personal art gallery. From an early age, Werm became addicted to the thrill of his midnight missions, turning blank walls into colorful canvases for other artists or an occasional pedestrian to enjoy. Considered a vandal, considered an artist, Werm is a story of triumph and tribulation. A man who has risen up through adversities to create an empire, starting from the bottom and rising to the top.
I've Never Been in a Fight directed by Andrew Moore (30 minutes). Have you ever been in a fight? Even thrown a punch? Because Andrew never has. His mom raised him as a pacifist, and she would like to keep it that way. But deep down, Andrew has a question: how much can he know about himself if he's never been punched in the face? More importantly: how much can he know about his mom, the woman that has sacrificed so much for him, if he's never fought for anything?
Updated: May 10, 2022
Related Stories
Expand All
Collapse All
---