Documentary Journalism students premiere their films at Stronger Than Fiction Film Festival on May 10-11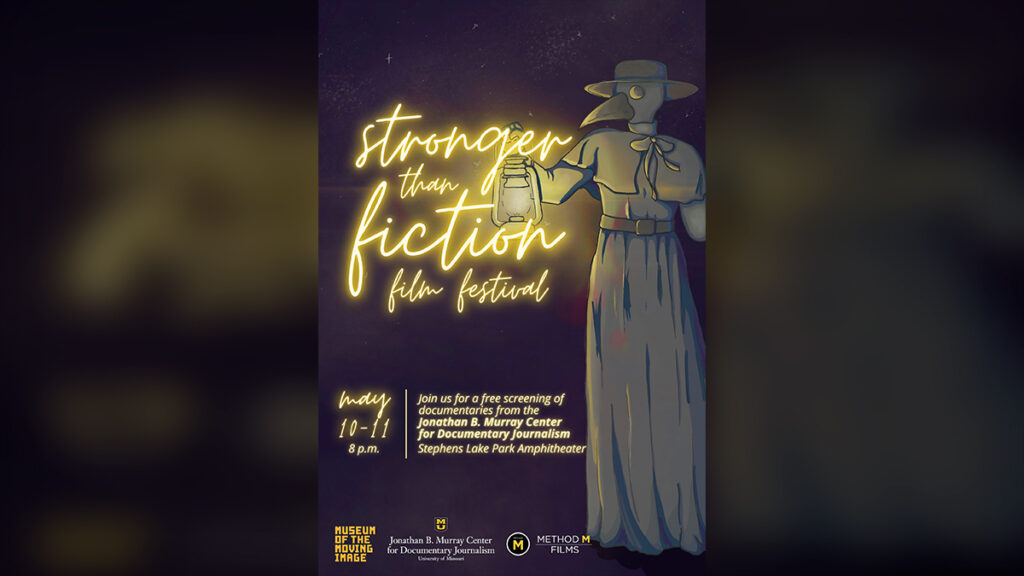 The films are the culmination of two years of work.
Columbia, Mo. (May 3, 2021) — After a virtual-only outing last year, the Missouri School of Journalism's Jonathan B. Murray Center for Documentary Journalism's fifth annual Stronger Than Fiction Film Festival is back for 2021 in both in-person and virtual forms. 
The in-person movie screenings will be shown at Stephens Lake Park amphitheater in Columbia, Missouri. The outdoor screenings will stretch over two nights, taking place on Monday, May 10 and Tuesday, May 11, starting at 8 p.m. each evening. Admission each night is free. Guests are encouraged to bring a chair or blanket to sit on in the socially-distanced spaces around the amphitheater. 
"We're excited to be able to show the films in person again this year, albeit with COVID-19 safety in mind," said to Stacey Woelfel, professor and director of the Murray Center. "Our students had to work smarter throughout the pandemic to get these films done. The work speaks for itself in how they were able to adapt and persevere."
There will be two blocks of films each night, with a Q&A with filmmakers after each block (a schedule and the synopses of the films are below). On Tuesday night, the Murray Center will present awards to the filmmakers from the festival's independent jury after the final block of films. 
In addition to the in-person screenings the films will be available for streaming from May 10 through May 16 at https://www.methodmfilms.com/stf2021
The films are the culmination of two years of work. The students' developed their ideas for these films during their time at Mizzou. The ideas were then approved by an outside panel of documentary professionals during the Spring 2020 semester. From the pitch to production, these 20 students put everything into their work and these films are the fruits of that labor.
"I'm so proud of our filmmakers this year, who persevered in unprecedented times to make their films," said Robert Greene, associate professor and filmmaker-in-chief at the Murray Center. "This year's batch is a mix of personal tales, adventurous formal risks and observational journalism that represents all that documentary can be."
This year's students and their films are:
Monday, May 10
Block 1 (starts at 8:15 pm)
Little Soldier, directed by Victoria Zeyen (28 minutes).

  

Little Soldier

 is an observational portrait of a 14-year-old breaking barriers as she navigates those always difficult teenaged years. The film explores a unique time of life as this adolescent girl cuts her own path to a goal only she can make real.

Ea La Mar's, directed by Jada Page (21 minutes). 

Dust particles and hair residue cover the concrete floor of Ea La Mar's Cosmetology and Barber College. The smell of straighteners burning at 400 degrees lingers in the air, forming a mélange of odors with the scents Gates Barbeque across the street. Days here are never the same and Shirley and Nicole wouldn't have it any other way. Using observational footage, this film reveals the intimate relationship of a mother and daughter determined to maintain their family-owned business and leaves with the question of who will carry on the business next.
The Tribe of Mic-O-Say, directed by Kyle Perry

(15 minutes). 

Deep in the Ozarks there is a controversial secret society hidden behind white rocks. For more than 95 years, teenaged campers have been encouraged to participate in its traditions, to unlock its mysteries and to advance in its ranks. But at what cost? Two ex-patriots of the mock tribe process their experiences, question its methods and wonder if there is a path forward for the problematic program.

American Alien, directed by Jay Encina (13 minutes). American Alien

 is an observational film chronicling the journey of the filmmaker to become an American citizen. Fearing that he will be targeted by the aggressive deportation campaign of the Trump administration and be separated from his loved ones, the filmmaker attempts to go through the process of naturalization, hitting one roadblock after another. With the added obstacle of a worldwide pandemic, can he reach his goal in time and gain a sense of security for himself and the people he loves?

Castaway Hearts, directed by Isaac Robinson

(17 minutes). 

After the death of their father, two brothers set out to play his songs live, songs he wrote nearly 40 years earlier but never revealed to anyone.
Block 2 (starts at 10:00 pm)
Erin, Verified, directed by Madi Baughman (14 minutes). 

In most aspects of her life, Erin Jones is a normal person. She's 27 years old, she works a retail job and she lives in Chicago with her three roommates. That, and she also has more than two million followers on the popular video-sharing app TikTok. 

Erin, Verified

 is an open, honest look at the effect pseudo-fame and parasocial relationships have on people in the age of social media. What do you consider fame?

El Chocó Road, directed by Savannah Ritzen

(17 minutes). 

After the Haitian earthquake in 2010, Chuck Ritzen's compassion and newfound purpose carried him and his wife off to the Caribbean to create a free medical and dental clinic. But their story ended too soon. Four years after their tragic deaths, the filmmaker travels to the Dominican Republic to investigate the legacy of her uncle. As she embarks on her journey, she learns to answer the question: Can heroes be flawed?

Down the Hatch, directed by Justin Goetz

(10 minutes). 

Down the Hatch 

chronicles the story of Joe Connelly, an amateur professional eater looking to make a name for himself. Like any athlete, Connelly has had his share of great triumph and demoralizing failure. The film explores the prestigious world of competitive eating and what it takes for a seemingly normal kid to take the sport by storm.

Obsession, directed by Zoe Shedd

(14 minutes). 

Obsession

 joins two investigative journalists on their turbulent journey creating a true crime podcast. While examining a 40-year-old murder case, the filmmaker explores the meaning behind our society's obsession with true crime.

The Star Compass, directed by Grant Miller

(13 minutes). 

An actor navigates mankind's place in the world as he undertakes the role of a survivor in the post-apocalypse. Mired in existential uncertainty at the precipice of a crumbling socioeconomic landscape, his distinctions between fact and fiction become meaningless. As he takes on the role of a lonely nomad wandering the detritus of society, he begins to understand the fragility of life and the meaning of a civilization to which we have become gradually more indifferent.
Tuesday, May 11
Block 1 (starts at 8:15 p.m.)
The American Frontier, directed by Edward Frumkin (16 minutes). The American Frontier

 looks at Hollywood's depiction of the Old West. With archival footage and scholarly interviews, the film examines the influence of Westerns and how it impacts society through its portrayals of Indigenous people, gun culture, and the idolization of cowboys.

1414, directed by Victoria Heinsohn

(20 minutes). 

From tattoo guns to sending out job applications, there are no in-between steps to adulthood. In a college town, just down the pothole-ridden street called Rosemary Lane, eight friends live together during their last months of college. Holding on tight to wondering memories and good times together, the roommates each face anxieties of their own. With the support of each other, the realities of becoming an adult might not be so tough.

Break A Leg, directed by Matt Schmittdiel

(11 minutes). 

Break a Leg 

follows the journey of a Missouri actor and filmmaker who has always dreamt of the red carpets of Hollywood and the bright lights of Broadway, as he auditions for the most prestigious acting programs in the world. This film transports you into the room with him as you watch him audition in real time. The only problem is, due to COVID-19, the auditions this year are completely virtual—and actors only get two minutes to perform. Will months of rehearsal, years of planning, and lifetime of dreams be fulfilled in 120 seconds…over the internet?

Like Mother, Like Daughter, directed by Grace Conley

(15 minutes). 

Mother-daughter bonding is taken to the next level as a daughter examines her mother's past in an attempt to figure out her own future. A senior in college takes a deep dive into her mom's career as an investigative reporter. Becky Oliver is known for her unorthodox reporting tactics, from doing unscheduled interviews to sending her own kids undercover. Her successful career inspired her daughter to follow in her footsteps.

Sin Miedo, directed by Marian Bouchot

(21 minutes). 

The construction industry in Texas has countless Latinx workers, and Fredy is one of them. He has spent the last eight years trying to make the American dream his reality, but will he ever feel like an American? Every day, white bosses take advantage of immigrants like him because of their legal status and work ethic. But Fredy didn't leave behind his birth country of Honduras to continue living in fear.
Block 2 (starts at 10:00 p.m.)
Ink-Stained, directed by Hunter Pendleton (19 minutes). 

An intimate and humorous portrait, 

Ink-Stained

 follows collegiate journalist Galen Bacherier as he faces his ever-approaching and increasingly uncertain future. Grappling with the challenges of reporting in the midst of an increasingly polarized society, Galen must reckon with the harsh reality that comes with his chosen profession.

The Ginger Witch, directed by Xuan Qi

(16 minutes). 

One August afternoon, Renée, a leftist activist in mid-Missouri, tried to log into her personal Facebook account only to discover it has been permanently purged. After being wrongly identified as a member of Antifa, she had vanished from the Internet without warning. More than ten years of her memories and activism preserved on Facebook were wiped away as if she never existed. After losing her main platform, an activist tries to continue her mutual aid and community defense work.

Gifts from Our Father, directed by Armaja LaRue-Hill

(19 minutes). 

A decade after meeting her father on Facebook, a woman travels through the American south to meet her three paternal siblings for the first time. As she braces herself for the trip, she faces obstacles from her maternal upbringing creating chaos in her identity. As she tries to develop a relationship with her siblings, she must tackle her past and sense of self so she can truly give herself to her brothers and sister.

So Much Stuff, directed by Sylvia Mueller

(15 minutes). 

After years of not questioning what she owns, a young woman moves apartments and struggles to find balance in her world full of so much stuff.

Dear Heart of Glass Kids, directed by Evann Twitchell

(24 minutes). 

Dear Heart of Glass Kids

 is a film that unites four emerging creatives from across the country to document a journey, testing the limits of socially-distanced collaboration, with a shared goal of making artistic work in a time of social disunity. This process-oriented short film allows the viewer a unique perspective on how young artists are capitalizing on transparency and vulnerability to build friendships and navigate a future we must all create.
Updated: May 3, 2021
Related Stories
Expand All
Collapse All
---