Students, faculty preview Mizzou Made documentary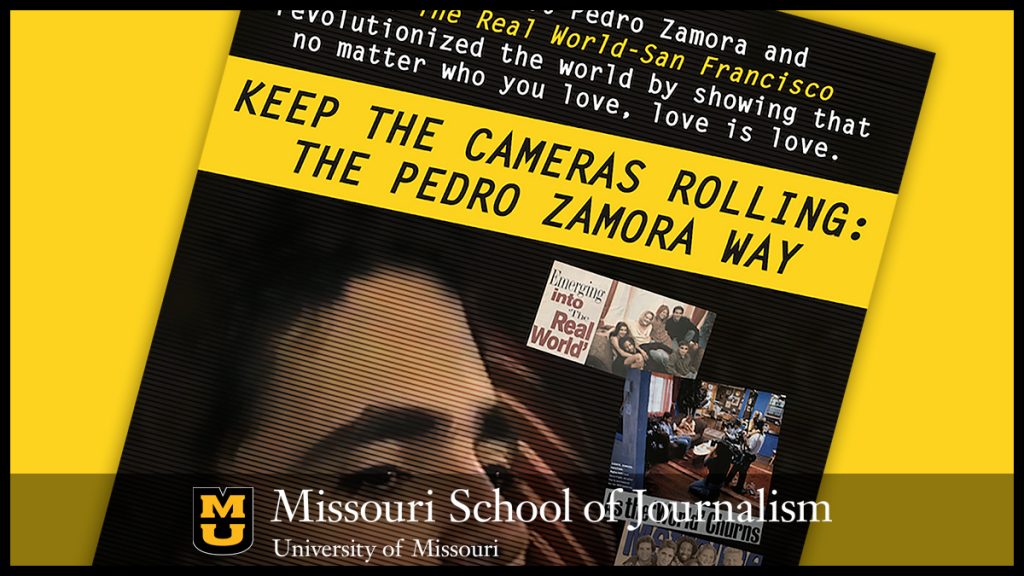 An all-Tiger production team is set to debut a documentary about the life and legacy of AIDS activist and reality TV star Pedro Zamora
Contact: Kenny Gerling, gerlingk@missouri.edu
Columbia, Mo. (Sept. 14, 2021) — When the third season of MTV's hit reality show The Real Word aired in June 1994, millions of viewers were introduced to seven strangers picked to live together in a San Francisco mansion. Among the houseguests was a young activist from Miami named Pedro Zamora.
During the first episode, amid greetings and haggling over bedrooms, Zamora revealed something that would change the course of pop culture: He tells his housemates that he's HIV-positive.
William T. Horner, now a teaching professor of political science at the University of Missouri, was watching the episode while in graduate school researching the cultural influence of World AIDS Day. "I remember at the time thinking, 'This has got to have some kind of impact,'" he said — adding that for many viewers, Zamora's openness and good humor put a familiar face on a misunderstood epidemic.
Decades later, Horner's hunch would grow into Keep the Cameras Rolling: The Pedro Zamora Way, a feature-length documentary entirely created by students and faculty at the University of Missouri. Through archival footage, home movies and big-name interviews, the film charts the lasting impact of Zamora's life and legacy.
The film — produced in association with the Jonathan B. Murray Center for Documentary Journalism's Method M Films and the Harry S Truman School of Government & Public Affairs — was a monumental task that took more than three years to complete. Though all of the students involved have since graduated, their persistence is paying off. The film has been accepted into film festivals across the country and will soon have a special screening for Mizzou students at the Missouri Theatre. It's a fitting finale to a project that brought together schools and colleges across campus in order to share Zamora's story with a new generation.
A life in context
Horner, a co-director and co-producer of the film, brought his idea to Stacey Woelfel, then-professor of journalism, fellow co-producer, co-director and director of the Jonathan B. Murray Center for Documentary Journalism. Together, they secured additional support from MU administrators, including Jim Spain, vice provost for undergraduate studies, who championed the project and is credited as an executive producer. Production began in the fall of 2018 with an initial group of 10 students from a variety of disciplines.
"When we started off, the students didn't know what The Real World was," Horner said. "But they got it pretty quickly and got really enthusiastic."
Zamora's candor about his HIV diagnosis was just one of many representational milestones for the TV show. He also used his newfound celebrity to discuss his life as a gay man and promote his advocacy work. A notable episode was devoted to a commitment ceremony between Zamora and his partner, Sean Sasser — one of the first featuring a gay couple to be nationally broadcast.
The film also covers Zamora's deteriorating health after The Real World wrapped production, including his death in November 1994 (on the morning after the season finale aired), which led to memorials from friends, celebrities and politicians around the country.
Students get involved
Using the TV show as a starting point, Mizzou students began researching Zamora's life and many accomplishments to understand how they fit into the political and cultural landscape of the early 1990s.
Molly Stawinoga, who graduated in December 2020 with a degree in journalism and political science, thought Horner was "crazy" when she showed up the first day of class. "He thinks we're going to interview Bill Clinton," she said with a laugh.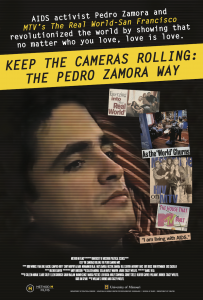 The documentary does feature Clinton, as well as interviews with other cultural figures, including actor Taye Diggs and Anthony Fauci, director the U.S. National Institute of Allergy and Infectious Diseases. Students, including Stawinoga, wrote the questions and traveled to conduct interviews in San Francisco, New York, Miami and Washington, D.C., as well as to Los Angeles to talk with Zamora's family and friends.
Once interviews were complete, Woelfel led another group of students who helped edit approximately 100 hours of footage into the final film. "It exceeded my expectations," Woelfel said of the final product. "Certainly, students made that happen."
Once edited down to a slightly more manageable five-hour runtime, Daniel Vega, who graduated in May with with a master's degree in composition and saxophone, was commissioned to write an original score for the film. Vega said that after receiving the commission, he met with the Horner, Woelfel and their classes to discuss what direction he should take. "I asked them what words signified the emotional impact of movie," he said. "It boiled down to a single word, and that was 'love.'"
The Mizzou New Music Ensemble recorded Vega's score instrument-by-instrument with strict COVID precautions in place, finishing during the 2020-21 winter break. An early version of the film was then test screened for the Mizzou community in May, and an updated cut will be shown again on Sept. 16 at the Missouri Theatre. The film will have its world premiere on Oct. 3 at Out on Film, an LGBTQ film festival in Atlanta.
Not your ordinary student film
Vega moved to Portland after graduating but said the experience continues to reverberate throughout his life and work. "I feel like since I wrote this music, the themes have become closer and closer to my heart," he said. "There are new dimensions after time has passed."
Stawinoga, who is now a morning news anchor at KMIZ in Columbia, said the experience also remains a point of pride. "We did those interviews because we just emailed to see if we could talk with them," she said. "We all learned what that kind of process is like and that things can actually happen if you just ask."
Updated: September 29, 2021
Related Stories
Expand All
Collapse All
---