Documentary Journalism students to premiere their films at fourth annual Stronger than Fiction Film Festival May 16-17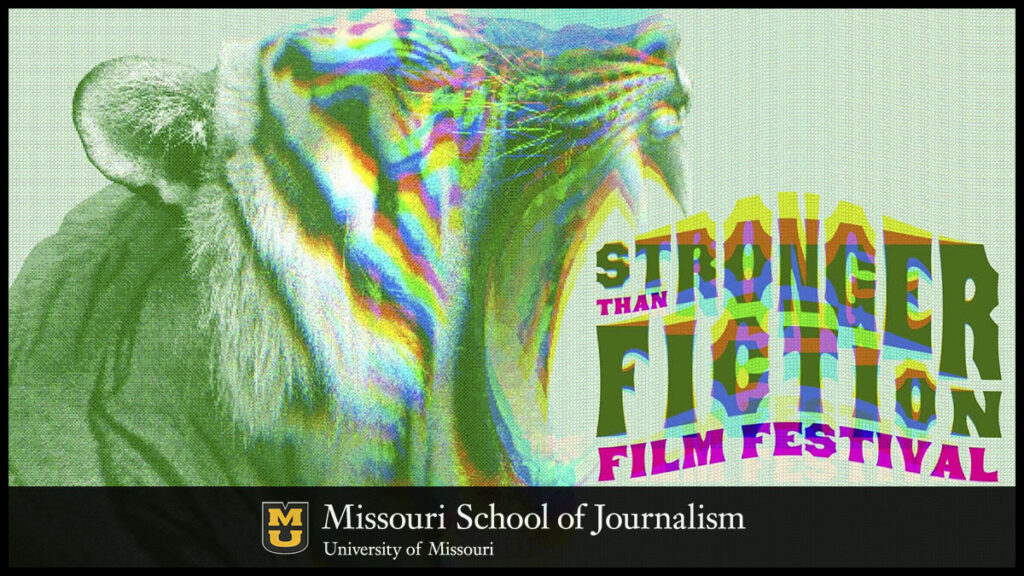 16 students will be showing short documentary films over 48 hours via free online streaming.
Columbia, Mo. (May 5, 2020) — The Missouri School of Journalism's Jonathan B. Murray Center for Documentary Journalism will hold its fourth annual Stronger Than Fiction Film Festival on May 16-17. This festival, normally held in person at the historic Missouri Theatre on the University of Missouri campus, has moved online due to the COVID-19 pandemic.
All 16 films will be available for streaming at http://www.methodmfilms.com/stf for 48 hours.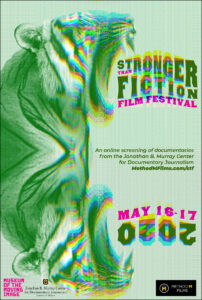 The students' ideas for these films were approved by an outside panel of documentary professionals during the Spring 2019 semester. The films are the culmination of two years of work making them, part of the School's 'Missouri Method', hands-on training of learning-by-doing. From the pitch to production, these 16 students put everything into their work and these films are the fruits of that labor.
According to Stacey Woelfel, professor and director of the Murray Center, "This is our most international group of films yet. These documentaries were filmed in Canada, China, Morocco, Spain, Sweden and in twelve different states in the United States, from the California desert to the Mississippi bayou."
According to Robert Greene, assistant professor and filmmaker-in-chief for the Murray Center, "documentary journalism" is defined in several ways and these films represent a wide array of styles and interests from a diverse group of students.
"The end of this year has been tough on everyone but we're proud of the effort and resilience of our filmmakers," said Greene. "We share these films as an act of solidarity and we hope you enjoy!"
This year's students and their films are:
46 Years, directed by Catherine Hoffman. 46 Years chronicles the Nation of Islam, an unsolved murder in 1967, a man who had to grow up without a father and a man who had to live with the guilt of his brother's death for almost five decades. The filmmaker grew up with broken and contradictory accounts of her grandfather's murder, the stories scattered across states and generations. In 46 Years, she attempts to glue the pieces together and unearth the truth of an event that rocked a family and the Black Muslim community across America.
Being Erika, directed by Seiler Burr. More than six years ago, a lifelong love of insects brought Erika Thompson to a class where she realized her passion for beekeeping. Being Erika is an observational documentary filmed in central Texas that explores Thompson's transition from passion to business, as well as her role in preserving bee populations. This short film takes the audience into the heart of Texas and is a love letter to those who turn their passions into reality.
Compagnon de ma calamité (Companion of My Calamity), directed by Nick Corder. "Last semester, I went to Canada, leaving the Midwest in search of the cosmic je-ne-sais-quoi." Compagnon de ma calamité is an immersive travel film in which the director explores aspects of living abroad vis-à-vis his experience living in Quebec. As summer turns into a Canadian winter, postcard images of his neighborhood pop up like memories. What do we remember when we leave a place? How do we process it? What narratives can we construct from our past? Why?
Diary of a Teenage Zealot, directed by Megan Liz Smith. A diaristic portrait of a woman in flux, Diary of a Teenage Zealot uses home movie footage, diary entries and present-day footage to capture the split of an atheist with her dogmatic Pentecostal family. Featuring transparent confessions to the camera and eye-opening images from the past, the filmmaker examines the chasm religious identity can leave in the middle of families. As the director loses her faith, she struggles to reconcile the reality of her beliefs with the love she has for her family and friends, whose beliefs equate atheism with eternal damnation.
First Holiday, directed by Myles Murdock. On the day the filmmaker's grandfather died, his grandmother was the only person to whom he wanted to speak. When he called her that evening to see how she was doing, she immediately turned the question on him. "Holding a lot back," he said "I'm doing okay. It's just been a hard day," to which his grandmother replied "A hard day because of school or a hard day because Bob died?" The film explores the loss of love and its impact on how descendants of that first couple experience it.
The Forward Momentum of Madellyn Knightley, directed by Jackson Kinkead. Madellyn's past experiences with drugs and an invasive species of poppy flowers overtake the town. Her high school graduation freezes in time.
Green Cheese Moon, directed by Colleen Andrae. The film focuses on Robert Richardson, who spent nearly nine years in prison due to Missouri's HIV criminalization laws. Since being put in place in 1988, these laws have seen few revisions and none of them addresses modern scientific understanding of prevention, transmission and treatment of HIV. Green Cheese Moon chronicles Richardson's fight to change the outdated laws and end the stigma they perpetuate.
The Hat, directed by Thomas Rechenberg. The Hat explores viewers' visceral emotions evoked by the most politically divisive symbol of our time: President Donald Trump's MAGA hat. Director Thomas Rechenberg travels to three US cities capturing thoughts on how an inanimate object can be so polarizing. The film challenges audiences to decide whether the true meaning of the hat lies with the individual wearing it…or the person seeing it.
Las Vegas, directed by Amanda Amodeo. Las Vegas immerses the audience in a modern city symphony situated in downtown Las Vegas. This experimental documentary presents the narrative conflicts of man versus nature, man versus society and man versus himself. This biased portrait of the heart of the city encapsulates its spirit through a naive lens. This film provides an experience of manufactured, man-made beauty of a city built in the Mojave Desert.
My Fellow Countrymen, directed by Aleksandar Petraskovic. My Fellow Countrymen centers on two families who have emigrated from Serbia, one living in Sweden and the other in Canada. In these new lands, the families are reexamining their national identities through the prism of their children who have now spent most of their lives far away from their home countries. Balancing their children's well-being and nostalgia for home, the families have yet to decide whether to return to Serbia home. The question now is just where is home?
My Name's Clotilda, directed by Clotilda Demauro. After rediscovering an old camcorder at the age of 22, a women pieces together her journeys of friendship, self-image and passion using footage taken over the course of her life. Through the process of her discovery, she recognizes parallels between her younger self and her current self. This is the story of her finding what she didn't know was lost in the first place.
Natchez, directed by Daniel Christian. Natchez is a film, mosaic in its construction, that follows the everyday lives of a handful of locals, both black and white, who work in or adjacent to the tourism industry. These lives inevitably intersect with the fraught history of the South, as the characters guide us through antebellum homes, abandoned swamp churches, high school football games, impromptu blues concerts and soulful Mississippi summer nights. Natchez broadly captures the way industry shapes the contours of daily life, as well as access to money and cultural power, all while documenting how a set of individuals, stuck with history that sits stinking in the humid air around them, interact with region's past, and to what degree they desire to confront it.
Parallel, directed by Yuejiao Jiang. The lives of the two young Chinese men cross at a fast food restaurant during the summer in the ancient town of Yueyang. Nineteen-year-old student Huang takes a delivery job to support himself while skating with his friends. Eighteen-year-old Liu dropped out of high school and now owns several small catering businesses. The film observes the peers' intersecting lives, challenging the audience to choose a favorite.
Second Semester Senior Year, directed by Manuela Kalamboukas. Following a state order to close all schools for the remainder of the academic year, a high school senior and her friends try to carry on when all sense of normalcy in their last months in high school have been stolen from them.
Tecopa Lost, directed by Danny Mac Stayton. Tecopa is a small town in the middle of the Mojave Desert just outside of Death Valley. Most people drive right through, drawn like moths to the bright lights of Las Vegas and Los Angeles. But there is something special in this hot, dry place–something worth stopping for. Hot springs pool under the cloudless sky. This hidden gem of the desert is an oasis. But just who are the people who decide to stay and call this oddball paradise home?
Thoughts and Prayers, directed by Sarah Sabatke. Thoughts and Prayers explores how people remember the day of the Columbine High School shooting and how they navigated media coverage of the event, from both sides of the camera. Set against the lead-up to the event's 20th anniversary, the film follows journalists and survivors as they reflect on the past two decades and strive to spread a message of hope. Intimate access allows viewers into the lives of individuals impacted by the tragedy as they deal with the new wave of media attention brought to town by the anniversary.
Updated: November 12, 2020
Related Stories
Expand All
Collapse All
---