Journalism Associate Professor Robert Greene awarded the 2020 Provost Outstanding Junior Faculty Teaching Award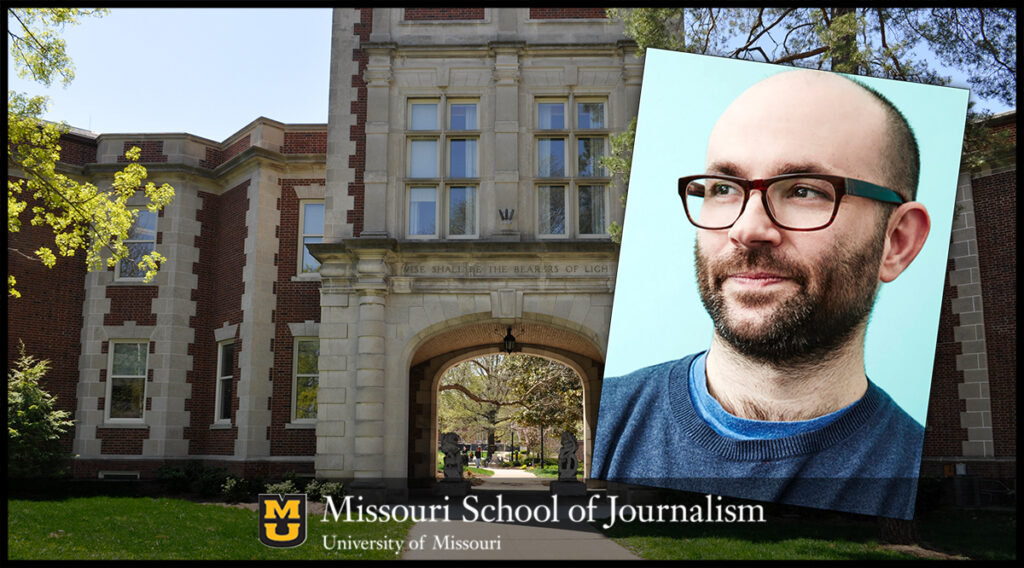 Columbia, Mo. (Nov. 24, 2020) — Journalism Associate Professor Robert Greene has been awarded the 2020 Provost Outstanding Junior Faculty Teaching Award. The award carries with it a $1,000 prize and is awarded annually to recognize junior faculty for superior teaching and advising on the MU campus.
"It's simple for me – I didn't come to Mizzou as an experienced teacher, so winning an award like this means that my goal of becoming the best professor possible for my students is on track!" Greene said. "It's such an honor – I care deeply about this place and the people here, so this means everything to me. What the students have had to endure in these troubled times is extraordinary. I just want to keep pushing as hard as I can for them."
Greene serves as the filmmaker-in-chief at the Murray Center for Documentary Journalism at Mizzou. He is also on the faculty of the School of Visual Studies.
"Associate Professor Greene has the difficult task of teaching in our Documentary Journalism program, working to introduce the students to a challenging and time-consuming branch of journalism that demands equal parts journalistic rigor and artistic expression," said Dean David Kurpius. "His approach to instruction relies on his ability to inspire students to go beyond the limits of what they have done before. He is not afraid to roll up his sleeves, sit down to work with students, shot for shot and edit for edit, making their films reach a level the students didn't expect."
As a capstone experience, each student in the documentary journalism program spends nearly a year creating a short documentary suitable for screening in film festivals. Greene works closely with each student as they work to complete their films. He challenges students to work through multiple versions of their films, finding the story in the editing of the project and to deliver an end product focused on telling a story that engages its audience. Many documentary film students work have played in film festivals around the world, sometimes winning jury awards for their quality.
Through all his teaching, Greene remains a working filmmaker who is changing the definition of documentaries with every film he creates. His most recent documentary is the the award-winning film "Bisbee '17," which premiered to rave reviews at the 2018 Sundance Film Festival. Other movies include the 2016 Sundance Film Festival award-winning documentary "Kate Plays Christine," the Gotham Awards-nominated "Actress" (2014), "Fake It So Real" (2011) and "Kati With An I" (2010).
As a producer and editor, Greene's work is both diverse and prizewinning, ranging from the documentary "Approaching the Elephant" (2014) to the narrative features "Listen Up Philip" (2014) and "Her Smell" (2018).
Greene is also a prolific writer on the subject of film, penning reviews and essays for outlets such as Sight and Sound and Filmmaker Magazine.
Updated: November 30, 2020
Related Stories
Expand All
Collapse All
---