Noted Documentary Filmmaker Joins the Missouri School of Journalism Faculty
Robert Greene Will Share His Skills as a Director, Producer, Film Editor and Film Essayist with Students
Columbia, Mo. (Aug. 6, 2014) — Acclaimed documentary filmmaker Robert Greene will join the faculty of the Missouri School of Journalism, bringing his skills as a director, producer, film editor and film essayist to the new Jonathan B. Murray Center for Documentary Journalism at the Missouri School of Journalism.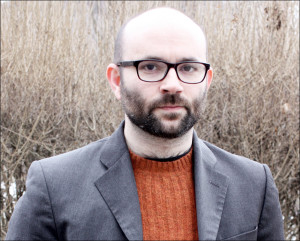 The Murray Center is the result of a gift of $6.7 million from Emmy Award-winning Jonathan Murray, BJ '77, chairman of Bunim/Murray Productions. The new program, established in response to the increasing demand for video content across multiple media platforms, will offer bachelor and master's degrees and fund research that advances the field of documentary journalism.
"Robert brings one of the strongest voices in documentaries to the school," said Stacey Woelfel, associate professor and director of the Murray Center. "Robert's films are creative and original – characteristics we want to be at the core of our teaching. And his writing on documentaries explores important ideas and criticism that will be vital for our students to encounter."
The Independent magazine named Greene as one of its "10 Filmmakers to Watch in 2014." His latest documentary, "Actress," has received critical acclaim and will enjoy a theatrical release this fall. It follows three other noted documentaries by Greene that have caught the eye of critics across the globe. Among his awards, Greene most recently received the Vanguard Artist Award from the San Francisco DocFest in June.
As a producer and an editor, Greene's work is both diverse and prize-winning, ranging from the documentary "Approaching the Elephant" to the narrative feature "Listen Up Philip."
Greene is a prolific writer on the subject of film, penning reviews and essays for outlets such as Sight & Sound, Filmmaker, Hammer to Nail, Nonfics and Indiewire. His first book, "Present Tense: American Nonfiction Cinema 1998-2013," will be published in February 2015.
As a member of the faculty in the Murray Center, Greene will serve as filmmaker-in-chief, teaching courses and working closely with students on their own films, all while he continues his own filmmaking work. Greene shares his faculty appointment with the University of Missouri's Film Studies department, where he will also teach courses.
Woelfel and Greene are the first two faculty members hired for the Murray Center. The Center also will engage visiting professionals from the documentary journalism community around the world.
The bachelor's degree program will be first offered in the fall 2015 semester. The start date for the master's degree is under discussion. Coursework for the degree will focus on the history, business models, advocacy and advanced production of documentary journalism.
Updated: July 30, 2020
Related Stories
Expand All
Collapse All
---