Convergence Journalism Students Use Cutting-Edge Skills to Promote Film Festival
Missouri School of Journalism Sponsors Showcase of International Documentaries
Columbia, Mo. (March 8, 2007) — A documentary about Kurt Cobain. An exhibit about death and the afterlife. State-of-the-art multimedia equipment. An increasingly prominent film festival. And the world's first school of journalism.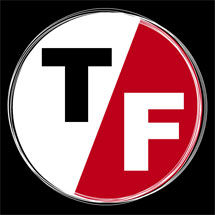 What do all of these have in common? A convergence journalism capstone project initiated and executed by two enterprising journalism undergraduates and a growing partnership between the Missouri School of Journalism and Columbia's own True/False Film Festival.
Since 2004, True/False has been challenging the notion that all documentaries are "stuffy and dry" by bringing together some of the world's best filmmakers and interested movie-goers in downtown Columbia. The annual festival, which ran March 1 to 4 this year, showcased more than 40 documentaries on subjects as lighthearted as an air guitar championship and as hard-hitting as genocide in Darfur. More than a quarter of the directors hailed from outside the United States.
A Story to Tell
The idea for a partnership between the School and True/False began when Mark Johnson, a senior convergence journalism and history major from Highlands Ranch, Colo., attended the 2006 festival. Before he left, Johnson knew he was hooked.
"Everyone comes to the festival with a story to tell, and everyone leaves impacted," Johnson said. "I still vividly remember the four films I saw last year."
Although the festival is well-known among members of the Columbia community, Johnson said, too few Missouri students realize that an internationally recognized film festival takes place only a few blocks from campus. He knew his training in convergence journalism, which incorporates print, broadcast and online media, had prepared him to develop a creative strategy to expose students to the unique experience True/False offers.
"Our goal is to lead students to an awesome weekend, when maybe they'll be impacted for a lifetime, too," Johnson said.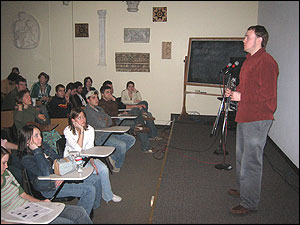 In fall 2006, Johnson approached Mike McKean, associate professor and chair of convergence journalism at the School, and Lynda Kraxberger, associate professor of convergence journalism, about possibly using his capstone project to promote the festival. A capstone project provides an opportunity for students to demonstrate skill proficiency and working knowledge in a particular subject area. The faculty members' response was an enthusiastic yes.
Later in the semester, Jeremy Goldmeier, a senior convergence journalism major from St. Louis, Mo., teamed up with Johnson to plan and carry out the project.
"I'm particularly gratified that the budding relationship with True/False, which holds such great promise for the School of Journalism, was initiated and led by two of our seniors," McKean said. "Mark and Jeremy will be graduating in May, but they've built a foundation that we can build on for years to come."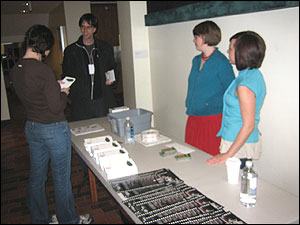 Getting the Word Out
Goldmeier and Johnson's multifaceted plan incorporated both cutting-edge journalism strategies and time-tested methods of event planning and promotion.
About a month before the festival, Goldmeier and Johnson began developing a strong True/False presence on the Internet. Building off of the latest social-networking craze to sweep across college campuses, they created True/False groups on Facebook, YouTube and Flickr, a profile on MySpace and special message boards. They also established a True/False Blog, which featured interviews with directors; links to trailers and music; and compilations of media coverage about the festival.
Creating so many different True/False venues online gave Goldmeier and Johnson the chance to put into practice the convergence concepts they learned in the classroom.
"This was our opportunity to dive into this and see how it works," Goldmeier said. "We're getting to see how we can engage our audience and not just talk to them from our pulpit."
The night before the festival opened, Goldmeier and Johnson booked Pickard Hall, which houses the University's Museum of Art and Archeology, for a special screening of Kurt Cobain About a Son, a documentary shown at the Festival and directed by Missouri Journalism alumnus A.J. Schnack, BJ '90. Cobain, the lead singer and songwriter of Nirvana, committed suicide in 1994, and his death remains the subject of numerous conspiracy theories. To promote the event, Goldmeier and Johnson designed a print flier with the details and distributed the ad to the more than 3,000 student mailboxes on campus. Their flier and online publicity efforts netted a full house for the show.
After the screening, Schnack participated in a question-and-answer session about his film, and audience members had the chance to tour the museum's current feature exhibition, Final Farewell: The Culture of Death and the Afterlife.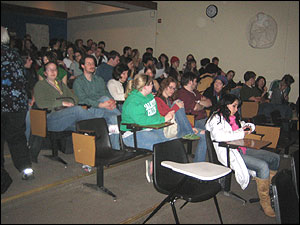 Documenting the Documentaries
Goldmeier and Johnson's work continued during the festival from a kiosk inside the Lakota Coffee Company on Ninth Street. There, they recruited individuals attending various True/False events to become citizen journalists. Armed with Sony Handicams borrowed from the School, these volunteers recorded different festival events from an audience member's perspective. Goldmeier and Johnson plan to edit the hundreds of hours of material they collected into a short documentary about the 2007 festival.
"We wanted to get more people directly involved in covering the festival," Goldmeier said. "We wanted to see it from the ground up."
In addition, Goldmeier and Johnson recruited volunteers to tape every panel discussion during the festival. They will edit the footage and post the files to iTunes-U, making the discussions available to Missouri Journalism students in years to come.
"I really want to make a strong connection between the Journalism School, the University as a whole and the festival," Johnson said. "And I hope to set in place the building blocks to show students what they're missing."
To start this relationship, Goldmeier, Johnson and McKean developed a proposal for the School to become an official festival sponsor. They presented their plan to Brian Brooks, associate dean for undergraduate studies and administration. Brooks signed off on the project quickly.
"This is a great event that attracts national attention, and documentary film is a medium many of our students would like to pursue," Brooks said. "A connection with the festival is logical and long overdue."
As an official sponsor, the School presented a panel discussion titled "Me and My Shadow," during which documentary directors addressed the sometimes contentious relationship between a filmmaker and his or her subject. Schnack moderated the panel, which included Pernille Gronkjaer (The Monastery); Billy Luther and Crystal Frazier (Miss Navajo); John Maringouin (Running Stumbled); and Annie Sundberg (The Devil Came on Horseback). The sponsorship also allowed Missouri Journalism students to receive a number of festival tickets for free.
"Columbia is a town with a rich tradition of journalism, and we think that True/False's focus on new and nontraditional documentary filmmaking helps to extend that tradition into the 21st Century," True/False co-director David Wilson said. "As the Missouri School of Journalism charts a course towards media convergence, True/False is pleased and honored to be a part of that journey."
Updated: April 16, 2020
Related Stories
Expand All
Collapse All
---