Vox Magazine Students Use Digital Tools to Catch Vibe of Roots 'N' Blues 'N' BBQ Festival
Mobile-Friendly Coverage Kept Attendees Connected to the Event
Columbia, Mo. (Oct. 13, 2014) — Vox Magazine continued to expand its mobile and digital journalism repertoire with three days of live reporting from the 2014 Roots 'N' Blues 'N' BBQ festival.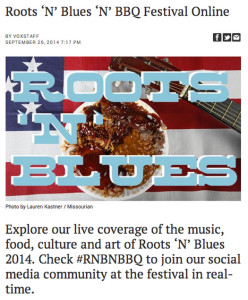 A team of 20 students covered the outdoor music fest, which drew thousands of fans to Stephens Lake Park in Columbia to see acts including The Avett Brothers, John Prine and Rosanne Cash.
For Vox, the weekend was about more than music and munchies. It was about using digital tools to capture and share the festival's vibe.
Vox staffers documented the David Wax Museum band's impromptu dance lesson, shot a time-lapse video of the whirling Ferris wheel at night, and got audience members talking about their hippie-chic fashion choices.
One writer even launched the hashtag #RootsNBeardsNBBQ to collect images of the weird and wonderful assortment of facial hair on display. Attendees joined in the fun by contributing their own photos, including one of a cat that "need(s) a shave."
Vox staffers dominated the official #RNBNBBQ hashtag to the point that their tweets and Instagram photos kept popping up on huge video displays that the festival used to stream social media.
"We owned that hashtag," said journalism graduate student Bryan Bumgardner, Vox's digital managing editor, who led the editing team back at the office.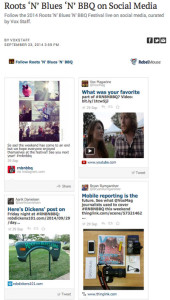 Vox used social media, blog posts and video in its coverage, including mobile-friendly digital tools such as ThingLink, Diptic, TypeA, Hyperlapse, Storify, Google maps, Vine and Instagram.
Students in Sara Shipley Hiles's Magazines Across Platforms class led the digital coverage. Convergence faculty Judd Slivka suggested mobile reporting tools and apps.
The live coverage complemented extensive print coverage packaged by students in Heather Lamb's Magazine Staff class.
Print and digital stories were seamlessly integrated at a special landing page Bumgardner built. Vox used RebelMouse to curate social media coverage all weekend.
"Vox keeps getting better at this," Hiles said. "We learned a lot from covering True/False earlier this year. Every event we cover is a chance to connect with our community and practice the digital skills that set our students apart."
Updated: July 30, 2020
Related Stories
Expand All
Collapse All
---