Magazine Publishing Capstone Turns Fangirl Prototype into Realistic Business Endeavor
Female-Focused Magazine Fills Gap in the Gaming Publication Category
By Allison Lewis
Columbia, Mo. (June 25, 2015) — It's crazy how one class can have an impact on the rest of your life.
For my last semester in the Missouri School of Journalism, I signed up to take the magazine publishing capstone along with 17 other magazine journalism students.
The course, which is led by Professor John Fennell, teaches students the financial building blocks necessary to create a magazine prototype and business plan. Student teams plan and execute ideas throughout the semester and present their final products at Meredith Corporation in Des Moines, Iowa, in May.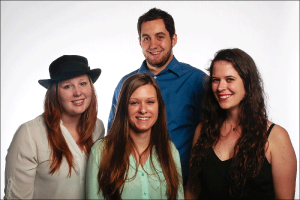 My team included Mollie Barnes, Caitlyn Gallip and Sean Morrison. The four of us had been put together based on similar interests in comics, fan fiction and video games.
During the first couple weeks of class, we met regularly to decide if a gaming magazine geared toward women was a realistic concept. According to 2014 data results from the Entertainment Software Association, women make up 52 percent of gamers. But available gaming magazines such as Game Informer and Electronic Gaming Monthly target male audiences, despite the fact that women are more likely to buy magazines than men.
The more we researched this idea – through surveys, brainstorming, interviews and reaching out to advertisers and industry leaders – the more we realized our idea could fill a gap in the consumer magazine department. We decided to call the publication Fangirl the Magazine.
"When the group first presented this idea in class I was a tad skeptical – that is, until they explained how many women gamers there are and that there was no current publication specifically addressing this audience. That's when I realized it had strong potential," Fennell said. "This hardworking team went on to prove all of their assumptions and created a viable prototype and business plan that demonstrates it has real potential to succeed in the marketplace."
We began planning editorial content, design and how to finance Fangirl. The business side was new for most of us and proved to be extremely educational.
"The publishing capstone was really beneficial because it really allowed us to take our own ideas and see them through until the end," Barnes said. "We also got to learn about the business side of the journalism industry. We got to learn what was needed to legally create a magazine and financially needed to start something new. You don't get to do that in other classes."
However, not everything was a cakewalk.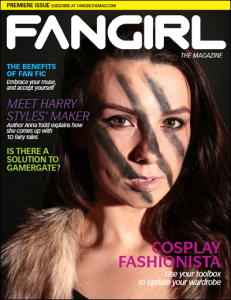 "One of the main challenges that we faced was conceptualizing the look of the magazine," Barnes said. "Since this is something completely new to the market, we had to find a design that would look professional while still stimulating readers in the same fun way that a video game might stimulate someone."
With help from Roselyn Adams and Isabel Casal Nazario, two students in the advanced design class, countless hours of brainstorming, searching Pinterest boards and looking at typefaces, the Fangirl design was finally established and translated to each page of the magazine. In addition, the design was copied into the Fangirl business plan to make sure everything was cohesive. The work we did in class exemplified the magazine industry post-graduation.
"Magazine publishing is the perfect primer for the real world," Morrison said. "You can't get the experience of taking a project so massive from concept to product anywhere else in the School of Journalism."
With the Meredith presentation date closer each day, the Fangirl team continued to work hard.
"As we worked on this project, we fell in love with it, and we began to think Fangirl could become something much bigger than a class project," Morrison said.
The four of us decided to launch our website and social media handles two weeks before we went to Iowa. Barnes created and designed fangirlthemag.com, which received 2,000 unique pageviews per week until the Iowa trip. The social media sites, including Facebook, Twitter, Pinterest, Twitch, YouTube and Instagram also began receiving attention from potential readers and gamers. Morrison also launched a Patreon page for Fangirl, which is a site where individuals can make monthly donations to support the publication.
On May 8, we took Fangirl to Des Moines, Iowa, to present it to executives at Meredith Corporation, which owns Better Homes & Gardens and more than 75 special interest publications.
Feedback from the Meredith leaders was quite positive. One employee purchased a copy of the prototype on the spot. Another told us he would invest in the magazine if he had the money to do so. The experience affirmed our belief in Fangirl, and from there, we worked to get it off the ground.
Things have moved quickly since then. Fangirl is in the process of becoming an LLC through a partnership with the Missouri School of Law and will soon receive funding from the Donald W. Reynolds Journalism Institute.
Randy Picht, executive director of RJI, said it was an easy decision to provide seed funding for Fangirl.
"When we work with startups we look for two things: a great idea that is unique or overlooked and a great team," he says. "Fangirl scores very high in both areas. Also, the other aspect, the cherry on top, is that the whole project was conceived and created by journalism students. We're very proud to be able to support them and help get their efforts to the next level."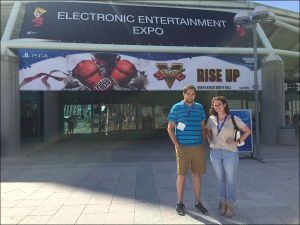 Picht did not disclose the amount of the RJI investment.
In addition, Fangirl has taken up space at the University of Missouri Innovation Center and is collaborating with others in the business incubator. All the while, Fangirl's had a steady stream of daily content, promotional posts and crowdfunding exposure.
The print edition, though just a prototype, also plays a big role.
"I've begun carrying it around in my purse and showing anyone and everyone who will look at it," Barnes said. "It's really gratifying to hear someone say that they would buy the magazine and that they are interested in reading it."
Last week, Fangirl creators attended the Electronic Entertainment Expo, or E3, in Los Angeles, which ran June 16-18. Throughout E3, Morrison and Barnes spoke with potential advertisers, wrote about various companies and games and tried out different video game demos. Both said the event was a great way to get exposure for Fangirl and see where things could go.
In the future, Fangirl hopes to become a bi-monthly printed issue along with an iPad edition. There's a three-year plan to take the publication from online-only to print production.
It might become a full-time gig for some of us, too.
"The School of Journalism gave me a chance to create my own job," Morrison said. "I never thought I'd be doing something like this when I came to MU, and while it's sometimes horrifying, it's also the most exciting and worthwhile experience of my career. Magazine publishing is the Missouri Method at its finest. It's really made a difference in my life and, I think it's fair to say, the lives of others outside our group, too."
To find out more about Fangirl, visit fangirlthemag.com. Financial support can be made at the Fangirl Patreon page.
Updated: September 8, 2020
Related Stories
Expand All
Collapse All
---