Magazine Club Travels to New York for Annual Networking Trip
Members Tour, Network and Learn at Top Magazine Titles
By Abby Kass
New York (March 31, 2016) — The Missouri School of Journalism Magazine Club traveled to New York City March 8-13 for its annual networking trip. Participants spent three days touring magazine offices, hearing from editors and networking with alumni.
The leadership staff of the Magazine Club coordinated the trip to give club members a chance to see what it is like to work in the magazine industry in New York. The 24 participants not only visited both print and digital departments of magazines, but also digital media outlets such as BuzzFeed and Mashable. The experience gave students a chance to ask questions and learn how the magazine industry is changing and evolving.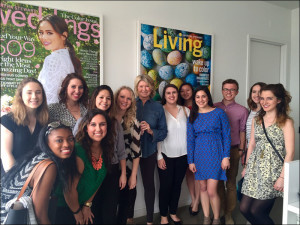 Divided into two groups, students of all ages and interest levels got to visit more than 16 magazines including Cosmopolitan, Conde Nast Traveler, Teen Vogue, Entertainment Weekly, Food Network Magazine, HGTV Magazine, Hearst Digital, Redbook, Martha Stewart Weddings, US Weekly, Family Circle Magazine, Women's Health and more. Students visiting Martha Stewart Wedding even got the chance to talk with Stewart herself.
"My two favorite visits were Buzzfeed and Entertainment Weekly," graduate student Max Havey said. "I got a better representation of sites that I visit every day, and it really showed me how things actually work in the industry."
Even though many people think the magazine industry is struggling, editors talked about how it might be more challenging, but there are still lots of opportunities in the field. Many of these opportunities are in the digital field. Liz Pierson, BJ '13, MA '15, assistant photo editor at Mashable, stressed how the news outlet is constantly growing, which gives editors more freedom and opportunities to pursue stories that interest them.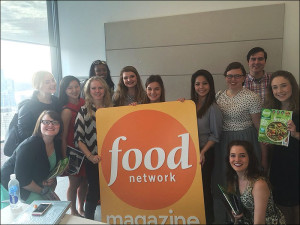 Along with learning how the industry operates, students got to hear advice from editors on tips to securing a job or internship in the field.
"The trip is such a great opportunity because you are able to hear straight from editors how to make it in the magazine industry," Ciera Velarde, BJ '15, and a current master's student, said. "As I enter into my job search, I feel so much more prepared now that I've gotten priceless advice and tips from the people who are actually hiring for entry-level jobs."
Many editors stressed the importance of securing internships and actually being in New York in order to be considered for a job. They also reminded students that making connections and keeping them is key. And while a good resume is essential, a good cover letter is even more important.
"Always send a cover letter, even if it doesn't say so," said Becky Mickel, associate editor at Martha Stewart Weddings. "And say something you did that's not in your resume."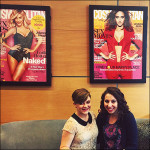 Editors also talked about keeping an open mind and saying yes to opportunities. Senior editor at Cosmopolitan Julie Vadnal, BJ '07, explained how she always saw herself working for a men's magazine. She had two successful internships with Esquire, she accepted a job at Elle and has since worked for Martha Stewart Living and now Cosmopolitan.
"I never saw myself working for a women's lifestyle brand, but here I am," Vadnal said.
Associate Professor John Fennell and Assistant Professor Heather Lamb accompanied the group.
On Friday night, students met and networked with alumni at Percy's Tavern who work at a variety of publications, including New York Magazine, Broadway.com, Travel and Leisure, Mental Floss, Self and more.
Throughout the year, Magazine Club members learn about the magazine industry, hear from upper-class students about internships. They also tips on how to craft the perfect resume and cover letter. Professionals working in the field visit with the students as guest speakers in the classroom and via Skype.
Updated: September 22, 2020
Related Stories
Expand All
Collapse All
---