Alumni Profile: Eimear Arkins
Columbia, Mo. (May 2, 2018) — Her journey began in Ruan, a village on the west coast of Ireland. Since then, she's traveled across the world to fill her life with music and culture. Eimear Arkins, an MU graduate and international Irish performer, started singing as soon as she learned to talk. Now her journey is bringing her back to her alma mater, Missouri – but this time as a performer.
Arkins graduated from MU in 2016 with two impressive degrees. She earned a Master of Laws (LLM) in Alternative Dispute Resolution from the School of Law and a master's degree from the School of Journalism. After working in the advertising industry for about a year, she decided to apply for a P-3 visa, which allows people to come to the United States to share their culture.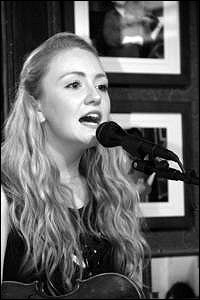 She now works as a full-time musician, music teacher and promoter of Irish culture at St. Louis Irish Arts.
On May 20, Arkins will perform on the MU campus at the Museum of Art and Archeology. The concert is free to the public and takes place from 2-3 p.m.
For the past nine months, Arkins has worked with an aspiring Irish performer through the Traditional Arts Apprenticeship Program. The program is through the Missouri Folk Arts Council and seeks to preserve the traditional arts that have impacted Arkins' life so greatly.
The passionate musician has travelled to France, Italy, Spain, Estonia and the United States to promote Irish culture.
"I taught music all throughout college and have travelled all over the world performing," said Arkins. "Music is the greatest passport one can find. Not to mention all of the wonderful people I've met and the friends I've made through music."
Arkins has been working with her apprentice on a form of traditional Irish music very close to her heart, Sean Nós singing. Sean Nós is not a common art form in America.
"There are very few people who sing in the Irish language and the Sean Nós style," Arkins explained. "It's still a style that I love and cherish, and I feel that it's hugely important to pass on."
Not only does Arkins' heart for music make her an exceptional master in the apprenticeship program, but her talent has been recognized internationally.
When Arkins was nine years old, she entered into the Fleadh Cheoil, which she explained as the World Championships of Irish Music. She qualified from her county and province and went on to compete in Fleadh Cheoil na heireann, the All-Ireland Final.
Arkins was named winner of the All-Ireland Final at age nine.
Since then, she has been awarded many other musical honors including winning the senior English category of the All-Ireland Final in 2013 and the senior Sean Nós category in 2016.
Arkins is excited to return to Columbia and perform with the Traditional Arts Apprenticeship Program.
During her time as an MU student, Arkins was a member of MOJO Ad, where she worked with teams on campaigns for Enterprise CarShare and Bengay. Other college highlights include meeting fellow international students, studying abroad in South Africa and attending her first American college football game at Faurot Field.
One of Arkins' all-time favorite memories took place where many Mizzou memories are made – the columns on Francis Quadrangle. Here, she and three of her closest friends got their picture taken while lounging in a hammock that was supported by two columns. Of all the places that she's been, that picture at the columns is still her desktop background to this day.
Arkins is excited for the coming months, which include the performance in Columbia, many shows in St. Louis and the launch of her first solo CD. The CD will contain a mixture of singing and fiddle tracks.
To Arkins, music is more than a hobby. It's her all day, every day and carries important meaning.
"Music is about keeping the tradition alive, doing something that makes you happy and making friends," Arkins believes.
Updated: October 30, 2020
Related Stories
Expand All
Collapse All
---