Magazine Journalism Students Visit Magazine Offices in New York City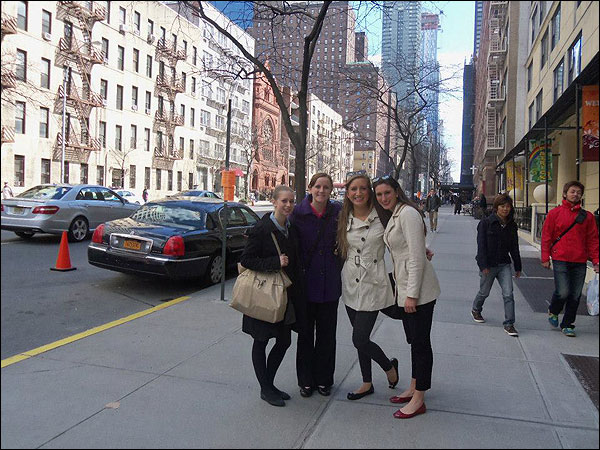 By Heather Riske
Columbia, Mo. (April 3, 2013) — Missouri School of Journalism students and professors recently traveled to New York City to visit with some of the biggest national titles in the magazine industry.
Over two and a half days, the group of 24 students and two professors toured 20 offices and spoke with the School's alumni and other staffers at the publications. Among the magazines visited were Food Network Magazine, Harper's Bazaar, Redbook, Glamour, Cosmopolitan, Self, Popular Mechanics and StyleBistro.com.
"A trip like this is such an eye-opening experience for students because they see how these magazines operate," said John Fennell, associate professor, Meredith Chair. "They meet top editors as well as former students from the School who work at these magazines in very responsible positions. These visits give students hope that they too could be part of this dynamic industry."
Alumni of the School's magazine journalism program hosted the majority of the visits. These include Tova Diamond, BJ '11, art assistant at Real Simple; Brett Knight, BJ '10, copyeditor at The New York Times and John Haskins, managing editor at The New York Times Magazine; Geraldine Sealey, MA '99, editor-at-large at Marie Claire; Clint Carter, BJ '07, associate editor at Men's Health; Emem Offong, MA '07, designer at Entertainment Weekly, and Sara Morrow, BJ '07, senior editor at Country Living.
"Hearing industry professionals share their knowledge and insight into the magazine world is something that has only furthered my passion of working in this industry," said senior Karee Hackel, who serves as co-president of the Magazine Club. "As a magazine journalism major, it's always interesting to hear about the inner workings of a major publication."
David Granger, editor-in-chief of Esquire magazine and a 2011 Missouri Honor Medal recipient, hosted the group at the magazine's Hearst tower offices. The group discussed the controversial March 2013 cover story, "The Man Who Killed Osama bin Laden…Is Screwed."
At each appointment, staffers shared their personal experiences, advice for landing jobs and internships and insight into their magazine's editorial processes.
Magazines Visited
"As a woman who is fresh out of college herself, it was truly invigorating to meet with the Mizzou Magazine Club," said Maura Brannigan, Web assistant at Marie Claire. "Their careers are certainly bright, and I'm very glad I was able to provide any words of advice for them as they venture towards graduation."
At Martha Stewart Living Omnimedia, J-School grads Kelsey Mirando, BJ '11, Taylor Combs, BJ '11, and Julie Vadnal, BJ '07, played hosts to the group. They spoke about their own transitions from Columbia to New York City. They also gave the group a tour of the magazine's block-long offices, which include design labs, test kitchens and studio spaces.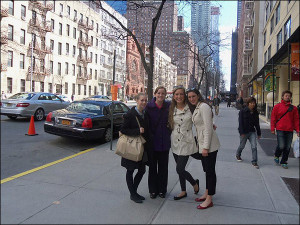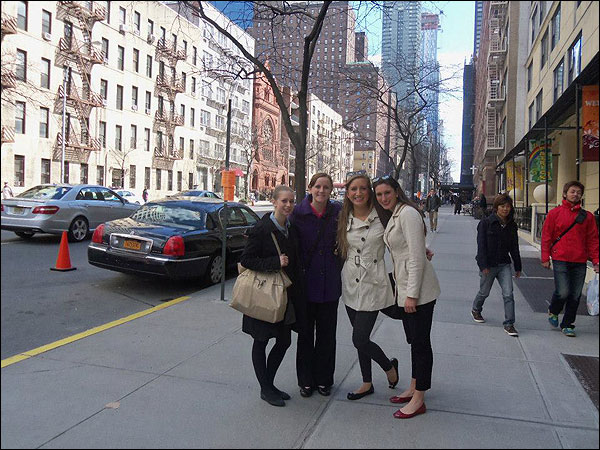 New this year to the club's lineup of magazines was Condé Nast Traveler. Students met with print and Web editors as well as the magazine's research director, deputy copy editor, photography director and designer for Q-and-A and case studies. Molly Fergus, BJ '07, assistant Web editor, spoke with the group about the magazine's Web presence. Assistant Editor Geraldine Somers said she hoped to further a relationship with students and faculty at the Missouri School of Journalism.
"It's crucial for the magazine faculty and our students to maintain ongoing relationships with these magazines and publishing companies," said Jennifer Rowe, associate professor. "The visits are mutually beneficial in that we learn of changes and trends in the industry and ensure the relevance of the material we bring into the classroom. In addition, these visits have resulted in internships, freelance work and full-time job offers for our students or graduates."
Mark Godich, BJ '79, along with editors B.J. Schecter and Richard Demak, talked to students at Sports Illustrated. They shared advice about the writing and editing processes and thoughts on how the end of Saturday mail delivery might affect the magazine industry.
Front of book editors at Fast Company – Jillian Goodman, Neil Janowitz and Andrew Simon – highlighted the magazine opportunities in business journalism.
"You don't realize but almost everything is a business," Janowitz said.
"The experience was definitely invaluable for my future career in magazine journalism," senior Caitlin Sole said. "I can't imagine entering the work force without having the insight I gained on this trip."
Updated: July 14, 2020
Related Stories
Expand All
Collapse All
---