Ad and PR Students Visit New York Agencies and Corporations
Columbia, Mo. (March 3, 2006) — Missouri School of Journalism strategic communication students were encouraged to "be a sponge" and to have diversified skills during a recent visit to New York advertising and public relations agencies and corporations.
Tips from the Pros

About the Work

Research drives companies.
It's all about building relationships.
Business is not a philanthropy.
The assignment can change in an instant.
Creativity is expected in all areas.

For Internship/Job Seekers

Be a sponge.
Do your homework.
Find people to help you learn.
Pick things that interest you.
Be able to motivate yourself.
"It was fantastic," said Yuriy Melnyk, a master's student. "Personally I felt very empowered by the presentations. You see that the people who move the stars of advertising and public relations are accessible, encouraging, willing to share and help."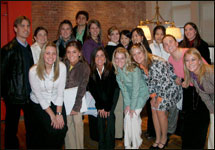 The 25 participants studying strategic communications met with journalism alumni and other representatives from the creative, art direction, account management, internal and external communication, sales and interactive areas at six offices: McCann Erickson, Ketchum public relations, Ruder Finn, Meredith Corporation, Deloitte Touche Tohmatsu and Colemanbrandworx.
"Each agency and corporation opened our eyes to the variety of careers available in media, advertising and public relations. All of the speakers were welcoming and engaging, yet candid when speaking of the challenges and realities of the industry," said Amy Smith, BJ '05, and a master's student.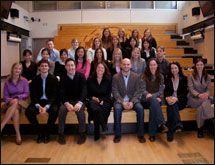 The benefits of the trip go beyond gaining a behind-the-scenes perspective of what it actually takes to create the work, according to Suzette Heiman, organizer of the trip and the director of planning and communications for the School.
"The opportunity to meet industry professionals at all levels and to experience the culture of each office are invaluable as students try to figure out what they want to do and where they want to work," said Heiman.
Melynk felt that the critical mass of the trip's positive encounters added to his knowledge and confidence for future success. "This trip is a great chance to get the foot in the right door and in the right place and time."
A common thread throughout all the speakers was that students might not end up where they expect, but in the end that's okay.
"They taught us to do anything we can to get our foot in the door, take a risk, ask questions and learn, and to embrace the unknown. We are at any exciting time in our lives," noted Smith.
Some of the students will participate in the School's New York Summer Program, an interdisciplinary program in partnership with the New School University in Manhattan.
This was the ninth annual strategic communications trip to New York. Offices visited are rotated to allow students to participate in successive years.
Updated: April 8, 2020
Related Stories
Expand All
Collapse All
---