Magazine Journalism Students Present Prototypes to Meredith Executives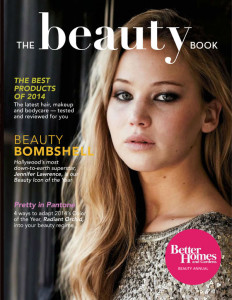 All Aspects of a Magazine, from Idea to Business Plan, Are Part of the Semester-Long Project
By Allison Pohle
Des Moines, Iowa (May 14, 2014) — To prepare for their four-hour bus ride to Meredith Corporation's Des Moines headquarters on Friday, May 9, Missouri School of Journalism magazine students packed their bags with reading material. In addition to copies of well-known national magazines, they also brought four lesser-known titles. These rare publications don't exist yet on newsstands because students conceived, wrote and designed them as part of their magazine publishing and design capstone classes.
This bus trip to Des Moines was the culmination of a semester for 31 magazine students who presented their magazine prototypes and business plans to executives from Meredith Corporation, which publishes national titles such as Better Homes and Gardens, More and Family Circle.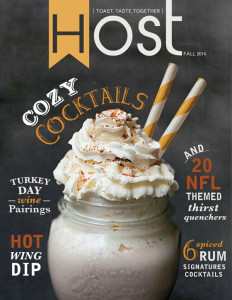 The four magazines students produced this year were:
The Beauty Book, a celebrity-focused annual trend forecast with health advice, product reviews and tips for women of all ages.
Host, an entertaining magazine for young adults with a focus on making and enjoying alcoholic beverages and light appetizers.
UNION, a magazine for gay men who are planning their weddings. The editorial includes columns and features on fashion, venues, vows, etiquette and more.
Vintage Now, a modern lifestyle magazine that incorporates fashion, beauty and home décor trends from decades past.
The Journalism School has partnered with Meredith Corporation for eight years, and for the past seven years students and their professors have traveled to Des Moines to present their prototypes. The partnership gives magazine students the opportunity to invent new publications as well as allows the Meredith editors to gain a new perspective on industry trends from students about to enter the workforce.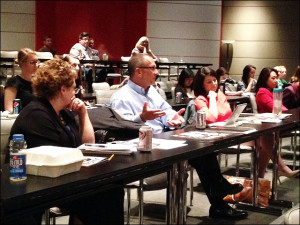 With guidance from faculty members John Fennell and Erica Mendez Babcock, students began working on the projects in January. Students in the Magazine Publishing capstone class started by narrowing down an initial topic, researching the marketplace and then developing editorial content. The publishers then partnered with a team of designers, who are students in the Advanced Design capstone class. Each designer proposed a visual concept for the magazine. After reviewing their proposals, the publishing team hired one creative director to oversee the execution of the design with the help of two art directors. The team then spends the next three months writing copy, designing layouts, and often, rewriting articles and redesigning layouts.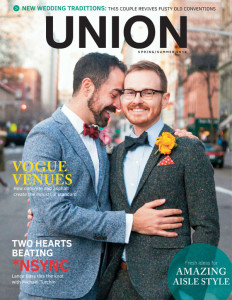 In addition to creating the physical publication, the team of publishers also produced business prospectuses. This document considered the financial aspects of their start-up magazines, including first-year costs, circulation plans, the price of advertisements and why advertisers would want to purchase ads in that specific magazine, which is especially important to the viability of magazines today.
The publishers also put a heavy emphasis on the multiplatform capabilities of their brands. Many of the publications would need to create websites and tablet editions. Social media platforms such as Facebook, Twitter and Instagram accounts also would allow the publishers to further communicate with their potential readers and remain a constant presence in their readers' lives.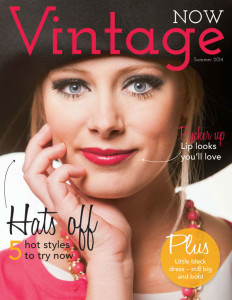 The students had a full day at Meredith, beginning with a 4:30 a.m. departure from Lee Hills Hall. Two publications presented in the morning, followed by two after lunch. Sydne Hayman, a publisher from Host magazine, was nervous to stand in front of a room full of executives to receive feedback.
"I was pretty anxious when I approached the podium to speak, but the most gratifying part of the trip, for me, was hearing the feedback from the Better Homes and Gardens managing editor and all of the foodies who came out to see my group present our cocktail book," Hayman said. "We worked for many months in anticipation of the presentation, so to hear kind words about our project felt nice."
The level of thoughtfulness in all of the products and the presentations impressed Karman Hotchkiss, deputy director of home content at Better Homes and Gardens Special Interest Media. She said this type of project helps prepare students for the future, as they learn the importance of defining a concept.
"The most important part of (the project) is the ability to really focus an idea and figure out how the focus carries through and turns into real stories that fit together in a cohesive magazine," Hotchkiss said. "You really have to narrow it down to deliver this level of a product."
After presenting their ideas and business plans in presentations that averaged 45 minutes, the students received feedback from editors. The editors questioned the students about everything from their editorial concepts and ad placements to sources of revenue.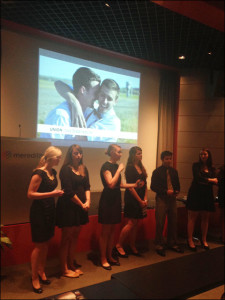 Greg Kayko, managing editor of Better Homes and Gardens, believes this is a partnership in which everyone benefits.
"I'm not sure who gets more out of it – the students or the Meredith staffers who participate and are forced to ask and think about the most difficult questions facing our industry," Kayko said. "The return on our investment would be envied by any CEO."
"All of the effort was so evident," adds Ellen Miller, BJ '04, Better Homes and Gardens fashion and beauty director. "I kept thinking – wow – there is no way I would have been able to answer the finance and publishing questions when I was in my senior year. It takes guts to get up in front of a panel of pros, and I'm really impressed. It's really exciting to see that students are getting such a great education applicable to real world publishing and all of its challenges."
Students also received a tour of the Meredith facilities, including the test kitchens, which they could smell from feet away because a muffin-scented aroma wafted down the halls. They also saw the in-house photo sets and storage closets filled with thousands of props ranging from containers to kitchen tables and chairs.
At the end of a long day, the proud publishers and designers boarded the bus to go home. The only wrench in the day came when the bus broke down a few miles away from Moberly, about 30 miles from Columbia. It traveled in three-minute spurts with frequent pullovers to the side of the road to get to the nearest gas station. Luckily, the students had reading material, some of it they produced themselves, to keep them occupied as they waited for their rides to take them back to Lee Hills Hall.
Updated: July 27, 2020
Related Stories
Expand All
Collapse All
---