Magazine Journalism Students Produce a 40-Page "Top Doctors" Issue
Publication Is the Largest Ever Produced in Vox's 10-Year History
Columbia, Mo. (Feb. 5, 2009) — The day before the Columbia "Top Doctors" issue went to press, second-year graduate student Carly Toyzan debated the angle to take for her editor's note that would appear at the front of the 40-page issue of Vox Magazine. Along with explaining what readers would find in this special medical issue, the biggest in Vox's 10-year history, she wondered if she should confess her childhood fear of doctors. After wrestling with the idea, Toyzan successfully weaved that personal anecdote into a piece about how difficult — and sometimes fearful — it is for some people to choose a doctor. It was just one of the many professional decisions she had to make before the issue went to press. For her, 16 other student editors and the 15 reporter/writers who worked on the issue, Top Doctors was the culmination of a semester of professional challenges.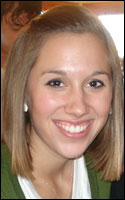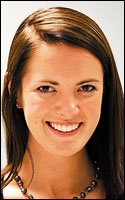 "Working on the Top Docs issue was the best learning experience I've had since starting graduate school in August '07," says Toyzan. "I was able to see how top doctors packages come together, from creating and sending surveys to coordinating photo shoots with doctors to making sure each comma is in its proper place. I'm confident the four months I spent with the package will help me stand out in the application stacks at city magazines, where top doctors packages and other service packages are valued for their ability to attract, retain and serve readers."
A First for the City of Columbia
In what is believed to be a first for a journalism school, a faculty-led, student-staffed weekly city magazine partnered with a journalism class to publish the Top Doctors issue for the city of Columbia, Mo. The tabloid-size publication hit the newsstands on Dec. 18, 2008.
Many city and regional magazines around the country annually publish the results of surveys that ask physicians in a community which local doctors they would send their family members to if they were ill. However, this kind of survey had never been published in Columbia until students took on the project.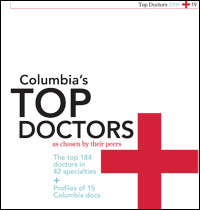 "Top Doctors stories have become very important to readers in many cities across the country," says Associate Professor John Fennell, whose service journalism class undertook the project. Fennell, who holds the Meredith Chair in Service Journalism and who as editor of Milwaukee Magazine for 13 years published a number of Top Doctors issues, adds that other than word of mouth there are few ways for consumers to find out who are the respected physicians in their community. "This kind of survey breaks through that information barrier. As a result, readers seek out these issues and often ask for updates. For most city and regional magazines, they become the top-selling issues of the year."
Survey Identifies Top Specialists
Fennell's class of 15 students sent questionnaires by mail to 826 Columbia-area physicians. The doctors had three votes to place in each of the 50 specialties listed. A total of 101 surveys were returned, a respectable response rate of 12 percent. Based on the mail surveys that students conducted, a total of 136 doctors in 39 specialties were identified.
Of the 136 physicians who rose to the top, students selected 15 doctors to profile. Among those were an emergency room physician, a genetics researcher, a heart surgeon and a sports medicine and orthopedics specialist, Dr. Mark Adams, who served as the Olympics physician for the U.S. women's soccer team in 1996. As in the profile about Adams, students wrote about what motivated these men and women to become doctors, the challenges they face and their personal interests.
Students also conceived of and wrote a series of other articles that accompanied the list of Top Doctors. These stories included a history of medical care in Columbia told through a timeline that stretched from 1873 to the present, profiles of the major hospitals in Columbia, how nurses view working with doctors, a behind-the-scenes look at medical tests, a story that focused on top medical research programs at the University of Missouri, and how University Hospital's burn unit saved the life of a two-year-old girl, among others. Working with faculty advisors, students suggested numerous story ideas, ultimately narrowing down the list to 13 feature and department stories.
A Reporter Scrubs In to Research Her Story
In reporting a story about a day in the life of cardiothoracic surgeon Dr. Richard Mellitt, student Jessi Wood, a junior magazine design major, asked Dr. Mellitt if she could observe him in surgery, thinking that she might be asked to sit in a glassed-in gallery watching from above, as typically seen in a television show like "Grey's Anatomy." Instead, Dr. Mellitt asked Wood to dress in scrubs and mask and allowed her to stand at the head of the patient so she could see every detail of the surgery for her story, "Hearts in his Hands." "At first I was really nervous – they told me about some techniques to use in case I felt sick – but when they opened the patient's chest, I wasn't nervous at all. It was an awesome experience," says Wood.
Once students in the service class completed the research and writing, they sent their stories to student editors at Vox working under the direction of Associate Professor Jennifer Rowe, the magazine's editorial director. The editors worked with class members to perfect their reporting and writing. And for the timeline, students researched historical archives to find photos of Columbia's first open heart surgery and images of local hospitals from 1921, 1939 and the 1950s. The stories from the issue can be found online at www.voxmagazine.com/stories/2008/12/18/top-doctors/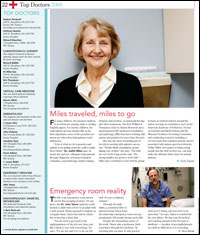 Student photographers were assigned to shoot the profiles and student art directors designed the issue. In one two-page feature story, designers inspired by the game board game "Operation" created a humorous cartoon of a man to illustrate a health profile of the people of Columbia and Boone County.
Noted Taryn Wood, a five-year master's student who served as the special issue's art director, "I was posed with a unique challenge to do a one-time redesign of Vox in a way that we never have before. Our intended audience was somewhat different, so it took a lot of trial and error to come up with the clean, subdued concept. We used other city magazines' Top Doctors issues as models and tried to put our own touch on a staple of service journalism."
"This project provided an incredible editing experience for the 17 Vox staff editors. The 40-page issue is the largest prepared by the student staff in the magazine's 10-year history, and the editors shaped all the editorial content often seeking additional sourcing, more description or clearer explanations. The completed package included longer narrative articles, concise profiles, a timeline, infographics and more to provide readers a sense of the medical landscape in the Columbia community," says Rowe.
Issue Complements National Database of Top Doctors
As a complement to the story and to validate the students' work, Vox also published in the same issue a complementary list of Columbia-area doctors excerpted from The Best Doctors in America 2008 database. That list, produced by Best Doctors, Inc., of Boston, Mass., using a different methodology, offered similar results as the student survey. In fact, 65 doctors made both lists. By publishing both lists, the magazine could offer Vox's 15,000 readers an even wider choice of respected physicians, a total of 184 in 42 specialties.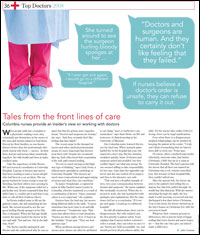 "In working on such a story from start to finish, students discover what will be demanded of them professionally as they pursue their careers," says Fennell, "The in-depth reporting this issue required teaches them that every fact, every detail is important to the package. Then they face the challenge of turning their reporting into stories that inform and inspire."
After working with Missouri School of Journalism students for four years, adds Fennell, he has been impressed by their talent and work ethic and was confident they could handle a difficult assignment like this. "They not only met my expectations, they surpassed them. The issue is as good as and even better than similar stories published by city and regional magazines."
Updated: April 30, 2020
Related Stories
Expand All
Collapse All
---