41 Magazine Journalism Students Present Prototypes to Meredith
Des Moines (May 11, 2010) — Someday, people who want to decorate small spaces, or learn better ways to barbecue, or serve a scrumptious brunch, or sharpen their do-it-yourself skills, or fix up a home they're about to sell, may be able to buy a magazine published especially for them.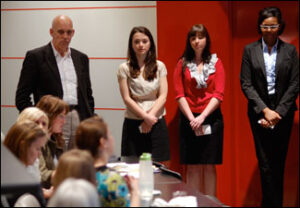 Forty-one students enrolled in the capstone courses Magazine Publishing and Advanced Design spent a semester creating the prototypes for those publications – named CozyHome, Cooking Out, Better Brunch, DIY Summer, and Boost – then traveled to Meredith Corporation to show off their work to editors, who ended up bowled over by the publications' creativity and originality.
"I was struck by how often during the day I thought I was speaking not to students but to professionals," says Greg Kayko, editorial director of Meredith's Special Interest Media business. "The quality and sophistication of the work and the presentations were phenomenal, especially considering they have not been in a publication environment like this. We were impressed with how articulate everyone was. That these were students didn't matter; we all got lost in the conversation about what would or would not work in magazines today."
Inspired by faculty members John Fennell and Jan Colbert, the students worked in groups to develop their magazines from initial concept to finished project. Their task not only entailed coming up with the publication's look and content but also required them to consider the business end, including costs, circulation, advertising, websites and social media plans. When they stood in front of the editors to present, the students' pitches mirrored those of magazine entrepreneurs trying to get an idea off the ground.
"Hearing feedback from the staff at Meredith, who are so deeply immersed in the magazine world every day, gave me insights on the major challenges editors are facing and what I can learn from them," said Nancy McMullen, a graduate student who worked on CozyHome.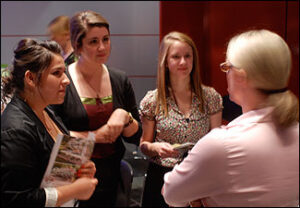 The capstone classes are a "total immersion experience," says John Fennell, the editor of Milwaukee Magazine for 13 years before joining the journalism school.
Magazine Publishing students partner with those in Advanced Design in a way that replicates what happens in the industry. Based on research and discussions with Meredith editors, students in the publishing class dream up the ideas for the prototypes. The publishers then present their ideas to the designers who propose visual concepts for the magazines. The student publishers then "hire" a creative director and the rest of the design team. Then, everyone goes to work for months, transforming what they imagine into the reality they must present to Meredith editors, who don't mince words when it comes to critiquing the work.
"Although I was nervous, presenting our magazine to Meredith editors was a great learning opportunity because they gave us constructive feedback," says senior Danielle Karstens.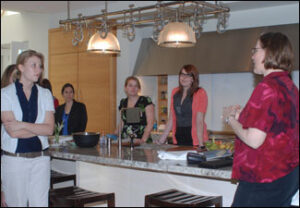 "We critique the student work with the same rigor we use to critique our own," says Jill Waage, the deputy home content core director for Special Interest Media. "We ask them how they came to their decisions, and we willingly acknowledge that every day we face the exact same questions and decision-making that they experienced in this very real exercise. I think that reinforces the total immersion concept even more – especially when they see the Meredith editors and designers jotting notes and exchanging glances. I always come away from these presentations with a fresh perspective on our familiar topics. The thinking is so high quality; there are always concepts here for us to explore."
This is the fourth year of a partnership with Meredith Corporation and its Special Interest Media business, but this is the first time students have presented their prototypes and business plans in Des Moines. Making the five-hour trip – one by bus that began in Columbia at 5 a.m. – meant that more Meredith editors and designers could attend the presentations, giving the students more exposure to their expertise and ideas.
This is also the first year technology took center stage as well. Adjunct Professor Kristin Kellogg, along with publishing student and computer whiz Jason Goldstein, showed Meredith editors, who took copious notes, how the magazines could be presented on Apple's new iPad. Meredith's endowment to the journalism school funded the purchase of two iPads that students can use to innovate on the latest electronic publishing equipment.
"Over and over again this year, Meredith executives commented on the quality of the publications our students created and their professionalism," Fennell says. "The magazines, business plans and polished presentations clearly demonstrate that the Missouri School of Journalism's magazine sequence continues to graduate new generations of editors, designers and publishers who will lead this industry."
From left: CozyHome created by Charlotte Atchley, Nancy McMullen, Brooke Still, Ladan Nikravan, Amber Wade, Elise Catchings, Bailey Jones and Kathryn Palagonia. CookOut created by Catherine Barker, Leslie Beddingfield, Morgan Browne, Elizabeth Eberlin, Jason Goldstein, Sarah Herrera, Erica Mendez and Kelly Pack. Better Brunch created by Ashley Cirilli, Madeline Giangrosso, Claire Hanan, Jennifer Koppelman, Valeria Turturro, Ashanya Indralingam, Breanna Holman, Laura Mazuch and Julie Vaughan. DIY Summer created by Kristin Aronow, Danielle Karstens, Brittany March, Kathryn Rookstool, Laura Medina, Lauren Stine, Lyndsey Nielsen and Jessi Wood. Boost created by Kelsey Allen, Jenna Dunbar, Dolores Obregon, Cory Stottlemyer, Lindsey Underwood, Cara Willenbrock, Stef Kienstra and Cassie May.
---
Updated: May 11, 2020
Related Stories
Expand All
Collapse All
---