Professor Emeritus Honored as Namesake of Inaugural Awards Program
Columbia, Mo. (Dec. 14, 2006) — There are the Pulitzer Prizes for print reporters, the Edward R. Murrow Awards for broadcasters and now the Ranly Awards for publications professionals.
The Missouri Association of Publications (MAP), a professional organization affiliated with the Missouri School of Journalism, has named its new awards competition after Professor Emeritus and MAP Founder Don Ranly. The Ranlys will honor excellence in quality print and electronic publications, one of the goals of the relatively new MAP organization.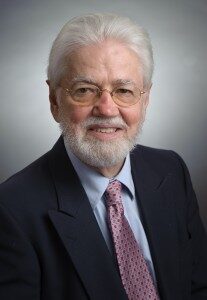 The 20-member MAP Board of Directors decided unanimously to name the awards after Ranly, who will be stepping down as executive director of the organization he founded in 2004.
"After the board's decision, I could hardly fight it," Ranly said. "It is tremendously humbling and a great honor."
While Ranly is excited about the competition, he said its primary purpose is to provide continuous education for MAP members who will submit work to be judged.
"We have many outstanding publications in this region, and these awards represent the hard work and creativity that go into all of them," Ranly said.
MAP President Gary Whitaker, president of Springfield-based magazine 417, said that the awards competition is the next step for the growing organization.
"MAP has grown to include more than 200 publications professionals from across the state in just two years," Whitaker said. "As our board examined opportunities for continued growth, we agreed that a regional publications competition would benefit our members, providing them with valuable feedback and recognition."
A professor of journalism for 31 years at the Missouri School of Journalism, Ranly has conducted nearly 1,000 writing and editing seminars for press associations, corporations, associations and individual newspapers and magazines. He has also authored or co-authored five books and published several audio- and videocassettes on reporting, writing and grammar.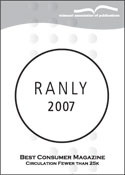 "Don Ranly represents the best in journalism and journalism education," said Dean Mills, dean of the School. "His passion for magazines, service journalism and newsletters is legendary. It's fitting testimony to his career that this important new award will carry his name."
Categories for the Ranly Awards include magazines, newsletters, e-zines and Web sites. The Ranlys will be presented at MAP's third annual Publishing Summit, March 1-2, 2007, in Columbia, Mo. Jacqui Banaszynski, Pulitzer Prize-winner and Knight Chair in Editing at the School, will give the keynote address.
For more information on MAP, membership, or the awards, visit the MAP Web site at www.missouripublications.org.
Updated: April 16, 2020
Related Stories
Expand All
Collapse All
---