Professor Emeritus Don Ranly Named an 'Icon of Education' by Ingram's Kansas City Business Magazine
By Nathan Allen
Master's Student
Columbia, Mo. (Feb. 1, 2012) — Professor Emeritus Don Ranly has been named an Icon of Education by Ingram's Kansas City Business Magazine.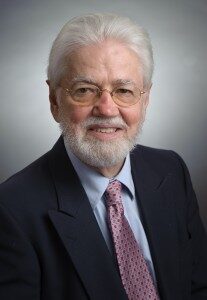 Since 2009, Ingram's has honored the region's top administrators, researchers and classroom instructors with the its Icons of Education program. This year, Ranly was selected for his excellence in and dedication to magazine journalism education. Ranly spent nearly 30 years as head of the magazine journalism program at the Missouri School of Journalism until retirement in 2004.
"This award was out of nowhere," Ranly said. "This award is another tribute to the school."
Ingram's described Ranly as "a man whose personal commitment to inquisitiveness – not teaching, but learning – spanned 23 years and seven institutions." Some of those stops include a master's degree in journalism and speech from Marquette University, a certificate in film, radio and television from New York University and a doctorate from the Missouri School of Journalism.
Ranly is a sought-after speaker at national seminars on writing and editing. He has presented nearly 1,000 seminars during his career. Ranly is author or co-author of five books and has published many audio- and videocassettes on reporting, writing and grammar.
The University of Missouri has honored Ranly with its most prestigious teaching awards, including the William T. Kemper Fellowship and the Golden Chalk. He received a Mizzou Alumni Association Faculty-Alumni Award and was selected as an O.O. McIntyre Distinguished Professor of Journalism. In 2005, Ranly won a Lifetime Achievement Award from the American Society of Business Publications Editors. In 2002, Ranly was named a Fellow of the International Association of Business Communicators, its most prestigious award. He is a member of the University of Missouri Jefferson Club.
Updated: June 4, 2020
Related Stories
Expand All
Collapse All
---