Caleb O'Brien Wins the Don Romero Prize for Magazine Writing
Judges Say O'Brien Fuses Lyrical Writing with Vigorous Reporting
Columbia, Mo. (April 30, 2015) — Missouri School of Journalism graduate student Caleb O'Brien is the winner of the 2015 Don Romero Prize for outstanding magazine writing.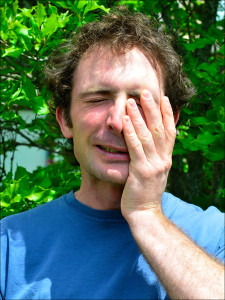 The prize was established in honor of Don Romero, a former magazine professor at the Missouri School of Journalism, by two of his former students. The award acknowledges Romero's contribution to and his encouragement of outstanding magazine journalism.
O'Brien, a Columbia native, will complete his master's degree this year. He is a graduate of Washington University in St. Louis, where he studied philosophy-neuroscience-psychology as an undergraduate. He is currently a science writer and graduate assistant for the University of Missouri Bond Life Sciences Center, and he has also written for Vox Magazine and the Columbia Missourian.
"I'm tickled pink to have won the Romero Prize," O'Brien said. "It's exciting and quite humbling to join the roster of past recipients, and I owe an enormous debt of gratitude to the canny professors, scrupulous editors and indefatigable designers who've helped bring my stories to fruition."
The contest was open to all students with preference given to magazine journalism majors.
"This was an incredible field of entries from talented writers. Caleb stood out for his ability to fuse lyrical writing with vigorous reporting," the judges said. "His stories showed a deep understanding that solid reporting is the foundation of quality storytelling, and were intricately detailed and evocative."
O'Brien submitted three feature stories to the contest.
"In 'Columbia's Plastic Cups: More than Tradition,' Caleb captured the emotion behind this restaurant and bar staple, and in 'Columbia's Life Line' he brought poetic pacing and a sense of importance to the everyday sights along one of the city's main thoroughfares. 'Last Resort,' about dancers in a Costa Rican beach town, was as light and breezy as the story's setting," the judges said of O'Brien's submissions.
O'Brien receives a $750 award.
Updated: September 4, 2020
Related Stories
Expand All
Collapse All
---