Missouri Association of Publications Publishing Summit to Be Held March 3-4
Columbia, Mo. (Jan. 18, 2005) — The Missouri Association of Publications (MAP) will hold its first Publishing Summit at the University of Missouri campus in Columbia on March 3 and 4.
The new association, founded by J-School faculty member Don Ranly, along with 18 other board members representing the publishing industry in and about Missouri, seeks to provide continuing education opportunities for its members by means of seminars, workshops and roundtables where members may share expertise and resources and network with one another. The association is based at the School of Journalism, and two magazine faculty members are on the board.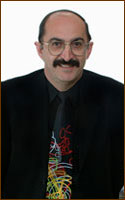 The March publishing summit, which MAP hopes will be annual, will feature Samir Husni, a.k.a. "Mr. Magazine" as its banquet keynote speaker. Husni, a Missouri School of Journalism Ph.D., serves as a magazine industry consultant and journalism professor and head of the department at the University of Mississippi. Dubbed "the country's leading magazine expert" by Forbes ASAP and "the planet's leading expert on new magazines" by the Chicago Tribune, he is the author of the annual Samir Husni's Guide to New Consumer Magazines.
Other speakers include Ellen Payne, Director of Editorial Operations at Hearst Magazines, leading industry experts and Missouri School of Journalism faculty. They will address numerous topics, including writing, editing, graphic design, photography, printing, circulation and advertising.
The summit will provide the opportunity for publications professionals from all over the region to improve their skills and be reenergized about their profession. In addition, the professionals will be able to attend the annual Magazine Fair during the afternoon of Friday, March 4. There they will meet high-quality students who are seeking possible internships and future jobs.
"The association provides an excellent chance for publication professionals of all kinds to become more acquainted with our students and faculty," says Don Ranly. "Perhaps more important, it provides an opportunity for our students to become acquainted with a wide variety of magazines, newsletters and electronic publications where they may find employment and valuable experience."
You can visit MAP's Web site to learn how to join or to learn more about the summit at www.missouripublications.org, or you can write to info@missouripublications.org. Faculty and students of journalism and related fields may join free.
Updated: April 1, 2020
Related Stories
Expand All
Collapse All
---