Article by Magazine Journalism Senior Allison Pohle Selected for Longreads Blog of The Atlantic Magazine
Pohle Also Selected for American Society of Magazine Editors Summer Internship Program
By Rebecca Dell
Columbia, Mo. (Sept. 6, 2013) — The Longreads blog of The Atlantic magazine recently selected an article by a Missouri School of Journalism magazine journalism senior as an exemplary piece of college journalism. Longreads is dedicated to aggregating and celebrating the best long-form journalism, with the belief that in-depth articles are the future of online journalism.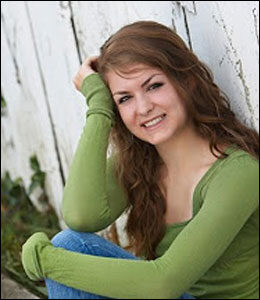 Allison Pohle's piece, "School's Out Forever," was originally published in Inside Columbia magazine. The article introduces readers to the practice of "unschooling," which is a type of homeschooling where students choose what and how to study. Pohle's story delves into the lives of several homeschooled families, explaining why they chose unschooling and how they implement it in their homes. She concluded that, like any parents, unschooling parents are simply trying to do what's best for their children.
Pohle wrote "School's Out Forever" as an assignment in the Intermediate Writing class taught by Associate Professor Berkley Hudson in the fall of 2012.
Syracuse University professor Aileen Gallagher commented about Pohle's article on Longreads.
"Stories about people outside the margins of convention can have a 'Check out these weirdos!' leitmotif. We write about these people because they are different. But a clumsy writer accentuates the differences instead of finding the common humanity. In her examination of the 'unschooling' practice, Allison Pohle of the University of Missouri found families who seem pretty average, except in the educational choices they make for their children. There's no eye rolling in this story, and it's the mark of a writer who isn't jaded. Try to stay that way," Gallagher wrote.
The news of the Longreads selection came on the heels of Pohle's summer in the 10-week American Society of Magazine Editors internship program. Only 33 college students around the country were invited to participate. Pohle worked in the print editorial department of the Ladies' Home Journal.
The ASME internship is one most magazine students only dream of: working at a major magazine in New York, lunching with editors and getting a head start in the magazine landscape.
Pohle held various responsibilities at the magazine, including writing blog posts for the health section of LHJ.com. She researched for feature stories, transcribed celebrity interviews, and copy edited pages. On the administrative side, Pohle answered hundreds of readers who wrote in with feedback for the magazine.
"Allison Pohle combines the best of the qualities of our Mizzou students who are prepared to create the innovative future of magazines," Hudson says. "She is becoming not only a capable writer of top-notch magazine journalism, but also she is emerging as a competent student of editing. Her selection as a New York intern for Ladies' Home Journal as part of the incredibly competitive American Society of Magazine Editors program and the recent selection of her magazine story for longreads.com testify mightily to this."
Updated: July 20, 2020
Related Stories
Expand All
Collapse All
---