Junior Magazine Student Chosen for ASME Internship Program
Columbia, Mo. (April 4, 2005) — Kate Schweitzer, a junior in the magazine sequence at the Missouri School of Journalism, has been selected for the summer 2005 American Society of Magazine Editors Internship Program. ASME has selected her to intern at Reader's Digest in New York City.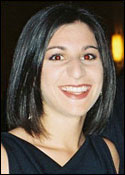 "I am excited to work for Reader's Digest and get a taste for a different kind of publication than I am used to. From what I've heard so far, the Reader's Digest internship allows me to get involved in nearly every part of the process, from editorial operations to circulation to public relations," said Schweitzer.
The internship is a ten-week program for college juniors who are placed with magazines in either New York or Washington, D.C. Last year, interns who won slots in this nationally-competitive program were placed at magazines such as National Geographic, Glamour, Business Week, People, Newsweek, Ladies Home Journal, Seventeen, In Style and Real Simple.
Schweitzer, of St. Louis, is the president of the J-School's Magazine Club. She has interned and freelanced for St. Louis Magazine, a city magazine in her hometown. This past summer, she interned at Details magazine in New York City and plans to return to Manhattan after she graduates.
"When I spent this past summer interning in New York, I couldn't help but notice that the ASME interns came highly regarded. It seems that nearly all of my favorite magazine editors were ASME interns before they got their start," Schweitzer said. "If I can have just a small portion of that kind of experience, it will be the best opportunity I could have hoped for."
Berkley Hudson, one of Schweitzer's professors, and chair of the ASME Internship Selection Committee at the School, recommended her for the internship program.
"Without question, Kate Schweitzer is one of the most promising, energetic and creative undergraduate students in the Mizzou Magazine Sequence. This is why we nominated her for the highly-competitive ASME internship," said Hudson. "This will be a great pairing: a superbly-talented student from the world's first journalism school who will work for a preeminent magazine that describes itself as 'the largest-selling magazine in the world.'"
Updated: April 3, 2020
Related Stories
Expand All
Collapse All
---